Driven: Toyota Hilux Invincible X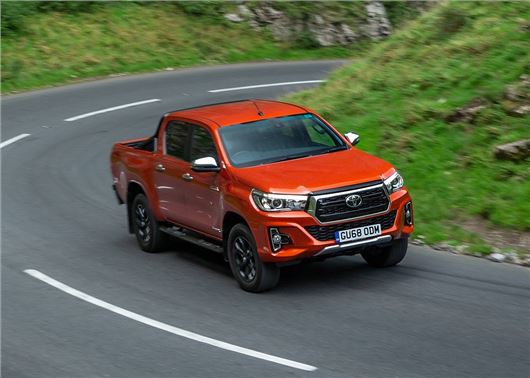 Published 14 December 2018
It might not match its rivals in terms of comfort or running costs but the Toyota Hilux Invincible X delivers where it matters, thanks to its gargantuan load shifting potential and bulletproof reputation for reliability. 
Traditionally pitched at utilitarian business users, who prioritise towing limits and payloads over car-like styling and comfort, the Toyota Hilux is now available in Invincible X trim, which is intended to appeal to the outdoor and active lifestyle buyer.
In the process, Toyota has given the Hilux a bit of an exterior makeover with 18-inch alloy wheels, bright paintwork options and a new, aggressively styled front-end. Prices for this larger-than-life 4x4 monster machine start at £31,046 and rise to £32,483 (before VAT) for the Invincible X Limited Edition - tested here. And that puts it up against the Ford Ranger Wildtrack X and Nissan Navara N-Guard. 
For that considerable outlay, you do get a pick-up that looks notably better than anything else in the Hilux range: Toyota has effectively facelifted the styling for the front end, with new bumpers, lights and radiator grille. It has also reduced the amount of chrome, which gives the Hilux a much more sophisticated appearance compared to the standard version.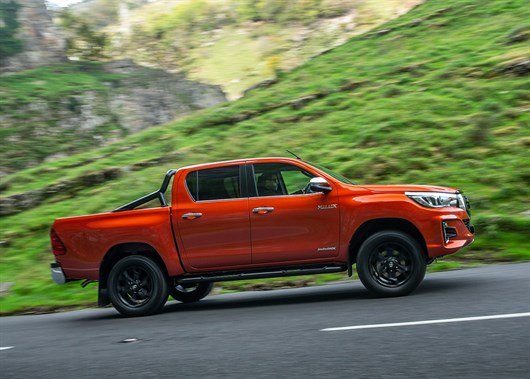 Under the metal, the Hilux is unchanged from the standard model and its impressive four-wheel drive system comes matched to the capable - but somewhat pedestrian - 150PS 2.4-litre D-4D and six-speed automatic transmission.
Slow and noisy, the 2.4 turbodiesel feels somewhat limp wristed compared to the powerful 200PS 3.2 TDCi that's found in the Ford and 190PS 2.3 dCi in the Nissan. Toyota wins back some valuable points on fuel economy, with a respectable 36.2mpg compared to the Ranger's 32.1mpg. But neither gets close to the 41.0mpg promised by the range-topping Nissan Navara 2.3 190PS N-Guard. 
As you might expect from a Hilux, it excels at the business end of things. In fact, it has one of the widest load beds of any double cab pick-up on the market, with its 1645mm load width providing much more useable space than the 1549mm you get in the Ford or 1560mm you get in the Navara., That means you can fit a Euro pallet weighing up to 1115kg with ease, while the over bars - and tie hooks - make it easy to secure loads.
The 3.5 tonne towing limit also provides a heavy hit when it comes to shifting trailers, although drivers who want to make full use of the Hilux's load lugging for business might need to fit a tachograph.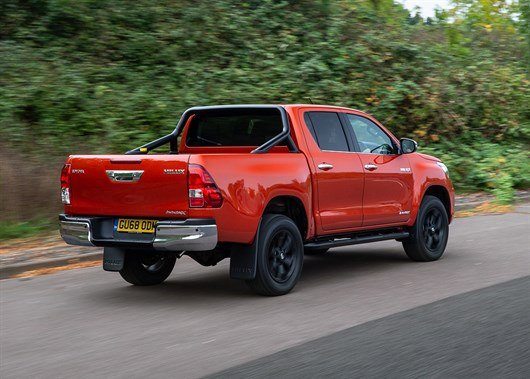 While the Hilux impresses at the business end of things, it falls flat when it comes to on-road comfort and refinement with even smooth roads returning a bumpy ride quality. If you prioritise practicality over comfort this won't be an issue, but there's no denying that both the Navara and Ranger are more comfortable to drive over long distances when unladen. 
The Hilux does have a few aces up its sleeve. First and foremost, it has one of the best reputations for reliability of any pick-up. It's also superb off-road, with selectable four-wheel drive and a rear diff. The Toyota also gets a comprehensive array of electronic driving aids, including an automatic braking function that controls the vehicle's speed when navigating steep hills. The system also works in reverse, which means you can safely retrace your steps - back up a hill, for example - if you find your path blocked. 
Stylish, well-equipped and backed by an enviable reputation for reliability, the Hilux Invincible X has plenty of substance to back up its flashy exterior. However, against the Ford Ranger Wildtrack X and Nissan Navara N-Guard, it struggles to truly live up to its premium promise.
Builders who need a tough, dependable pick-up will be better served with the cheaper, standard Hilux - it's an honest, hardworking machine with huge load carrying potential. Lifestylers who want to break into the pick-up set, however, might find the Navara to be more agreeable, with its refined engine and SUV-like ride quality making it the obvious choice at this end of the pick-up market. 
Essential stats 
Prices start from: £31,046 (before VAT), claimed economy: 36.2mpg, CO2 emissions: 189g/km payload: 1115kg, towing capacity: 3.5 tonnes (braked), length: 5330mm, width: 1855mm, height: 1815mm, engine: 2393cc four-cylinder in-line turbodiesel, power output: 150PS.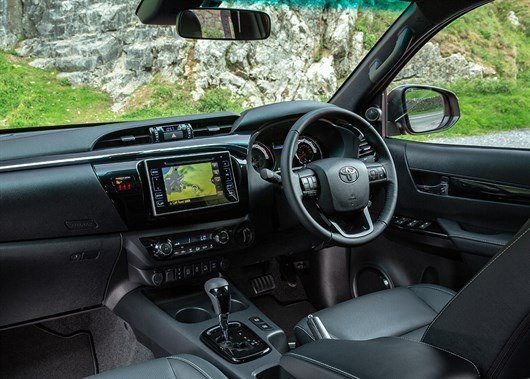 Comments
Author

Dan Powell
Latest