Driven: Mercedes-Benz X 350 d 4Matic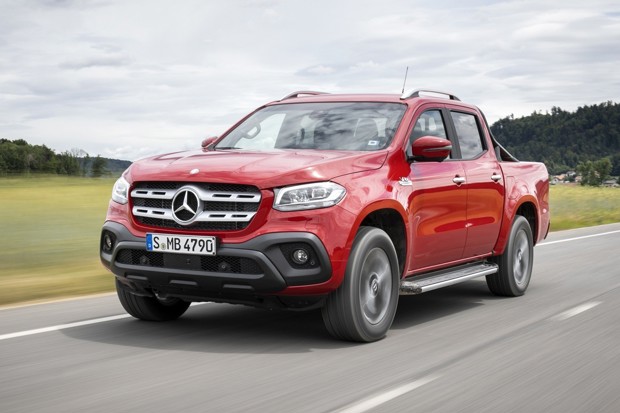 We've been very impressed with the new X-Class. Yes, it's based on a Nissan Navara, but it feels every inch the premium pick-up that the huge Mercedes-Benz badge on the grille suggests. And one thing the X-Class offers that the Nissan doesn't is a V6 engine. 
In fact it's the same 3.0-litre V6 engine used in the Sprinter and the last generation E-Class. As a result, the X 350 d rivals the most powerful Volkswagen Amarok for power with an identical 258PS although with 550Nm of torque, it's 30Nm down on the Volkswagen.
It certainly isn't shy of pulling power and that extra 100Nm of torque compared to the X 250 d means the most powerful X-Class is very strong in the mid-range, even when laden. It is in fact quick enough in acceleration to embarrass many a family hatchback and is ideal for swiftly and safely overtaking slow moving HGVs.
The standard fit 7G-Tronic automatic is a different gearbox to the seven-speed auto fitted to the X 250 d yet still feels a little slow witted at times. In straight line acceleration it's fine, shifting through the gears quickly and smoothly, but it can get caught out at roundabouts, when slowing down before accelerating. In these situations there tends to be a delay, before it suddenly gives you a burst of power.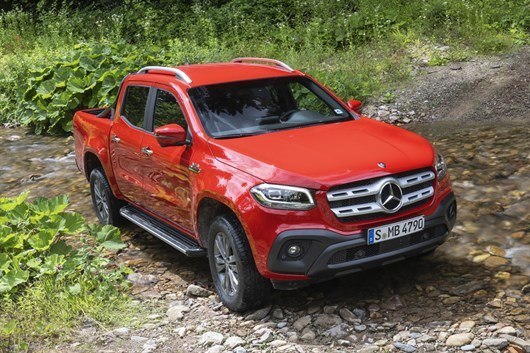 But generally it's very rapid and the fact it's a V6 gives this X-Class a bit more character than the four-cylinder 2.3-litre engine in other models. What may surprise you is while you're spending more for the V6, there's no improvement in towing ability.
True it can tow more than even the most powerful Amarok with a capacity of 3500kg braked (or 750kg unbraked), but in terms of towing there's no advantage in getting the V6 X-Class over a standard 220 d. It also has a lower maximum gross payload - 1060kg compared to 1140kg in the 220d - due to a heavier engine. 
What might disappoint some is that the 350 d - despite coming in 'Power' trim - looks little different from the other X-Class models, with the exception of some different wheels. The benefit of this is that it's more of a blank canvas for those who do want to personalise their pick-ups. 
The fact there's no difference in body means you get the same wide pick-up bed, sturdy feeling rear tailgate and handy features such as the built-in bumper step that allows you to load/unload without opening the tailgate and a brake light that doubles up to illuminate the loadbed at night.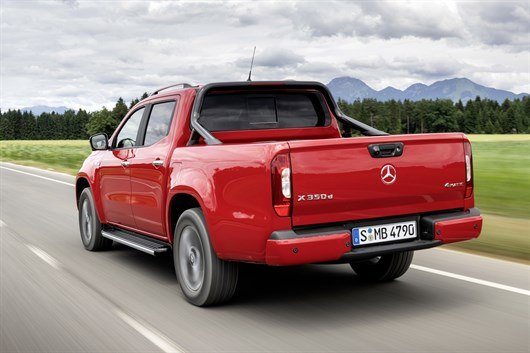 At speed, the X-Class feels stable and reassuring, even when empty, so although the ride is on the busy side, it's still very comfortable. There's nothing better when it comes to pick-ups. The same goes for the handling which is very much SUV like rather than commercial vehicle-esque, helped by precise and responsive steering.
The interior is excellent too with supportive and comfortable seats set in an environment that feels far more premium than most pick-ups and is even better than the excellent Amarok. 
As you'd expect though, the X 350d 4Matic not cheap. It's priced at £38,350 (excluding VAT) while a Volkswagen Amarok with the a more powerful V6 TDI starts at less - £35,790 (excluding VAT) in Highline Trim. However, it is cheaper than the new Ford Ranger Raptor.
If you want the most luxurious pick-up with the best engine - this is the model to go for. It offers genuinely quick performance and sounds good too. We can really see the appeal if you're spending long hours behind the wheel. However, while it does have all that power and torque, when it comes to towing, a lesser 220 d can pull the same max weight.
Essential stats: 
Prices start from: £38,350 (before VAT), claimed economy: 31.4mpg, CO2 emissions: 236g/km payload: 1067kg, towing capacity: 3.5 tonnes (braked), length: 5340mm, width: 1920mm, height: 1819mm, engine: 2987cc six-cylinder V6 turbodiesel, power output: 258PS, 550Nm