Renault trials EZ-Flex last-mile-delivery van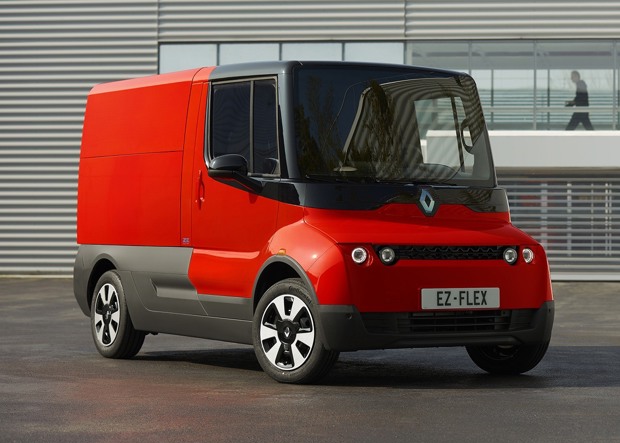 Renault has started road trials for its next-generation of small electric vans. The EZ-Flex covers up to 62 miles on a single charge and will be tested over the next two years by delivery and postal firms in France.
The Renault EZ-Flex delivery van has a turning circle of just 4.5 metres and provides three cubic metres of load space, which should make it apt for last-mile delivery companies who want a small van that will not fall foul of urban low emission zones. 
A dozen EZ-Flex vans will be loaned to companies in France and each will be equipped with sensors to gauge the van's daily usage. Renault says it will use the data (range, use of cargo, speed, stops, etc) to create a new range of electric city vans.
>>> Is your van ULEZ compliant? Find out with our free van checker
The electric battery pack is stored under the loadspace floor to maximise carrying capacity and the van will travel up to 100km (62 miles) on a single charge. Renault has not released any payload details or charging times, but claims the EZ-Flex's range will be more than enough for delivery companies. Renault's in-house research shows that a typical urban van driver covers 31 miles per day on average.
Measuring 3.9 metres in length and 1.6 metres wide, the EZ-Flex will be small enough to navigate small city streets, while its 1.8 metre height will allow it to access most urban car parks.
The interior has extra wide opening doors to make it easier for the driver to hop in and out, while the folding passenger seat will allow parcels and packages to be carried securely in the cab.
Renault will display the van to the public at the VIVA Technology fair from 16 to 18 May at Paris Expo Porte de Versailles.