Skoda reveals new Mountiaq pick-up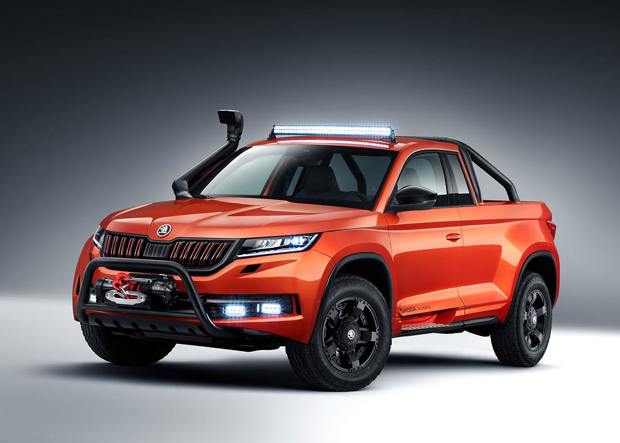 Skoda has dropped its biggest hint yet that a new pick-up is on the way, with the unveiling of the Mountiaq Concept.
The one-tonne pick-up has been developed as part of Skoda's Student Car initiative. A total of 35 apprentices worked eight months to create the Mountiaq Concept, using the Kodiaq Scout as the vehicle's base.
Finished in a specially designed Sunset Orange paint finish, this one-off concept is geared-up for life off the road with 17-inch Rockstar II wheels, special off-road tyres and enhanced LED lighting strips.
Powered by a 190PS 2.0-litre turbocharged petrol engine, the Mountiaq uses the same four-wheel drive system as the Kodiaq Scout, while its 290mm ground clearance – 100mm more than the Kodiaq – makes it apt for muddy, rocky or snowy terrain.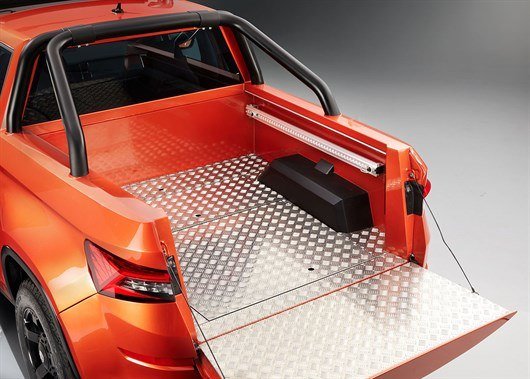 The underbody has been reinforced to protect the engine and suspension from damage by loose rocks and tree stumps. The rear end has also been completely redesigned, with the rear seats and roof being replaced by a one-tonne load bay that's accessed via a tailgate. The load bed comes with a tough steel floor, which features hidden and lockage storage compartments for tools and equipment.
The cab has space for two adults, with additional load space behind the seats. The students added an LED backlit Skoda logo to the roof lining, along with built-in walkie-talkies that allow the driver to speak to co-workers hands-free when behind the wheel.
The students beefed up the Kodiaq's Columbus infotainment system, with the 320-watt speakers being complemented by a 2000-watt amplifier and a 2000-watt subwoofer.
Skoda's previous venture into the pick-up segment was the short-lived Felicia Fun. However, since axing the Felicia in the early 2000s, Skoda has remained absent from the market. There are no plans to put the Mountiaq into production, but it could pave the way for a future model. 
It's rumoured that Volkswagen Group - Skoda's parent company – is keen to widen its pick-up appeal by launching a smaller and cheaper alternative to the Amarok.