Driven: MS-RT Transit Connect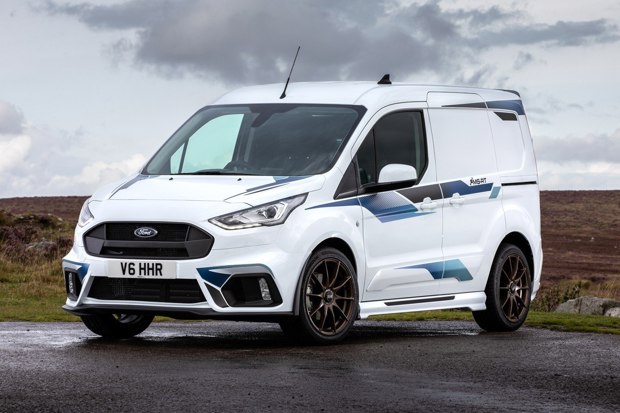 MS-RT is the Gwent-based conversion company that has made a name for itself by adding a number of enhancements to Ford's commercial vehicle range, most recently with the impressive MS-RT Transit Custom.
Now it has introduced an upgraded version of the Transit Connect, with a similar emphasis on sporty looks and an improved driving experience without sacrificing any of its functionality. Better yet, MS-RT is one of Ford's Qualified Vehicle Modifiers (QVM), so you get Ford-approved levels of quality across all the conversion work.
The most obvious change to the MS-RT Transit Connect is the custom-designed bodykit, which is manufactured and fitted on-site. It comprises a deeper front bumper with a pronounced chin spolier, side skirts, rear bumper and a modest spoiler, all finished in body colour.
Combined with the standard 18-inch OZ alloy wheels and a quad-pipe stainless steel sports exhaust system, the changes make the most of the Connect's shape and give it a real impact. It is still recognisably a Connect, but could easily pass for something that the M-Sport WRC team would use as a support vehicle.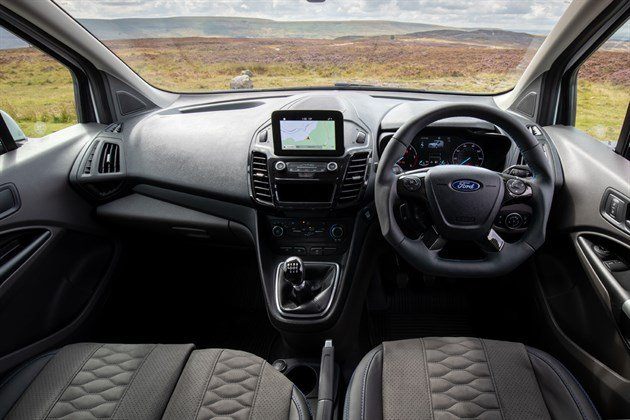 On the inside, the regular Connect's dashboard remains largely unchanged, but the cabin itself gets a huge lift from the retrimmed Nappa leather and suede seats along with the reshaped and retrimmed steering wheel.
It's a big boost in quality and the standard of finish is impressive, giving the MS-RT Connect the feel of something that is more than just a workhorse. The standard specification includes Ford's SYNC 3 infotainment system including sat nav and reversing camera, heated driver's seat, LED loadspace lighting and cruise control amongst other features.
Mechanically the MS-RT Connect is offered with the same options as the standard model, which means the 1.5-litre EcoBlue diesel engine but only in its most powerful 120PS and 270Nm form. It's offered with a choice of six-speed manual or eight-speed automatic gearbox, as tested here. Although quick enough for most eventualities, the improvement in handling that the bigger wheels and tyres provide show that the Connect could handle a good deal more power.
The driving experience is a step up from the standard van, striking a good balance between sharper handling and everyday convenience. Inevitably, the bigger wheels will pick out bumps a fraction more readily than standard, but with the same suspension settings there is little compromise in comfort for passengers.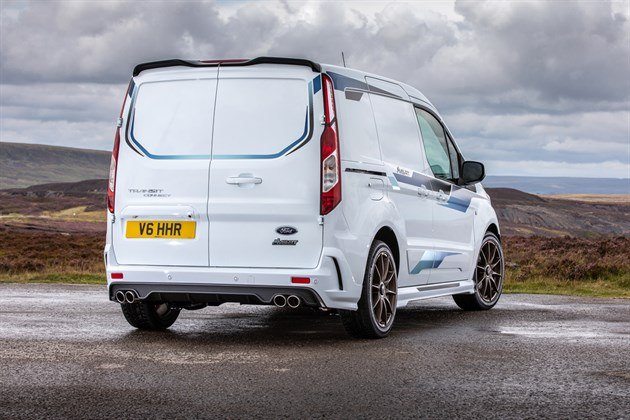 Where the MS-RT Connect really shines is out on the open road, where the extra grip and chunky steering wheel allow you to make the most of the performance on offer. There is no discernible increase in road noise either, which means the MS-RT is as relaxing as the standard van on longer journeys - arguably more so thanks to the retrimmed seats.
In practical terms the MS-RT Connect is no less handy than the standard van. Initially available in L1 form, both long-wheelbase and double cab versions will be introduced shortly, while twin side-loading doors are standard.
Buyers can also add bronzed alloy wheels, a Maxhaust exhaust system that allows control through an app and a full carbon steering wheel, while 40 Launch Edition versions are also being produced, each finished in Magnetic Grey with upgraded alloy wheels, numbered plaque and unique interior.
With its distinctive looks and improved driving experience, the MS-RT Transit Connect is ideally suited to a sole trader or small business that wants to make a strong visual statement, while giving the person behind the wheel something more fun to drive without impacting on its usability. For a modest increase over the price of a similarly-equipped standard Transit Custom, MS-RT offers a van with real personality.
Essential stats:
Prices start from: £23,995 (L1 manual transmission exc. VAT) £24,995 (L1 automatic transmission exc. VAT) claimed NEDC economy: 56.5mpg(est), CO2 emissions: 130g/km(est) payload: up to 718kg, towing capacity: 1459kg (braked), length L2H2: 4425mm, width: 1835mm (excluding mirrors)