Morris Commercial unveils all-electric Morris JE van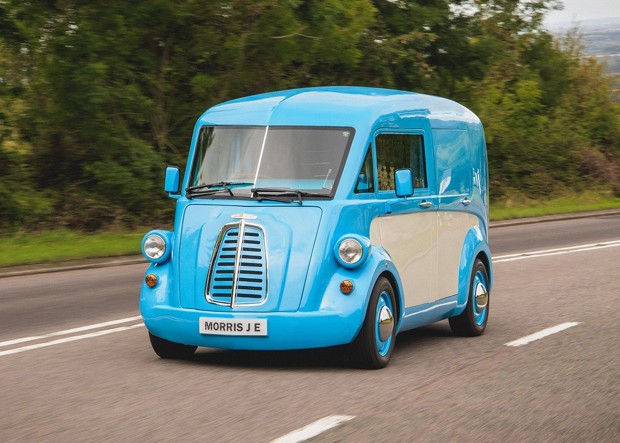 UK-based automotive engineering firm Morris Commercial has unveiled a bold, retro styled panel van. The all-electric Morris JE is inspired by the classic Morris J-type and is expected to cost in the region of £60,000. It is proposed to go on sale in late-2021.
If it makes it into production the Morris JE will sit in the 2.5 tonne van segment and be one of the lightest vans in its sector, says Morris Commercial, thanks to the use of a modular chassis and carbon-fibre body construction.
The lithium-ion battery pack sits under the loadspace floor and provides a maximum advertised range of 200 miles; Morris Commercial hasn't said how long the battery will take charge or how much power will be available from the front-mounted electric motor. It is not known if the powertrain will be built in-house by Morris Commercial or sourced from another vanmaker. 
The Morris JE is being advertised with a maximum payload of 1000kg, while its 5.5 cubic metre load space will accommodate two Euro pallets. Access to the load area is provided by two rear doors and a sliding side door at the nearside of the van.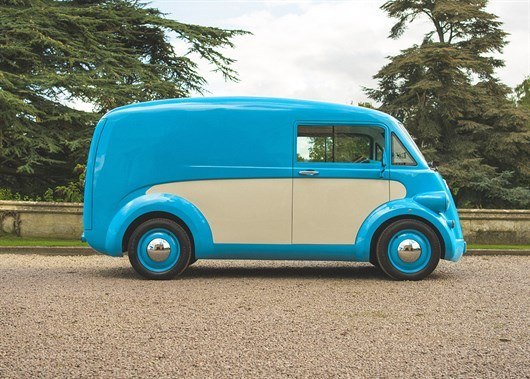 The exterior styling takes a number of cues from the original 1948 Morris J-type, with a pear-shaped grille, split-windscreen and curved roofline. The short overhangs at the front and rear provide a clear nod towards the post-war classic Morris van. 
It isn't clear where the Morris JE van will be built or what sort of warranty will be supplied. As things stand, there are no Morris van showrooms anywhere in the UK. 
Morris Commercial has made it clear that its target market is small boutique businesses that crave individuality, as well as larger corporate fleets who want halo vehicles that will promote their brand.
"From the outset, our vision was to bring a new concept to the LCV market, not just in terms of the battery electric powertrain, but also to introduce a timeless design that takes the aesthetics and appeal of such a vehicle to a whole new level," said  Dr Qu Li, CEO and Founder of Morris Commercial.
"What we have created is a beautiful, retro design that sits upon a cutting-edge, modular BEV platform, delivering practicality and functionality to compete with the best in its segment."