2022 Ford Ranger: prices, specs, pictures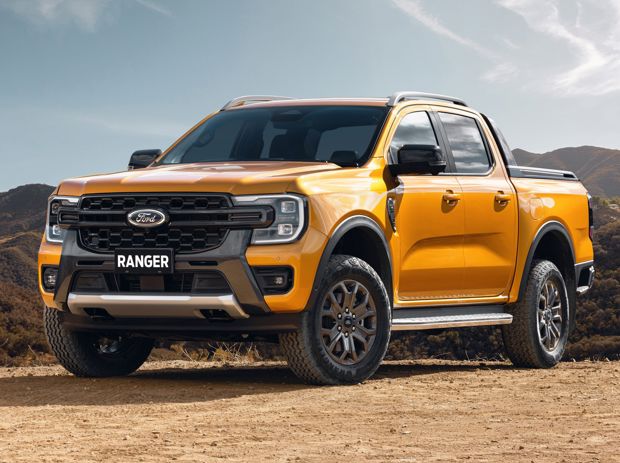 Powerful V6 3.0-litre diesel model

Price from £25,000 excluding vat

On sale end of 2022 
The new Ford Ranger will go on sale at the end of next year with a price tag of around £25,000 before VAT, but how do you improve the UK's most popular pickup?
Easy, you ask owners what they'd change on their current model. Afterall they are, as Ford says "living the Ranger life". Evidently, it's a life that demands butch looks, high-tech interiors and muscley motors.
European trucks look great in isolation but park your Ranger next to its F150 American big brother and you're once towering rig is a bit, well, underwhelming.
Not any more and it's Australia – where you'll find Ford's Product Development Center – that you have to thank.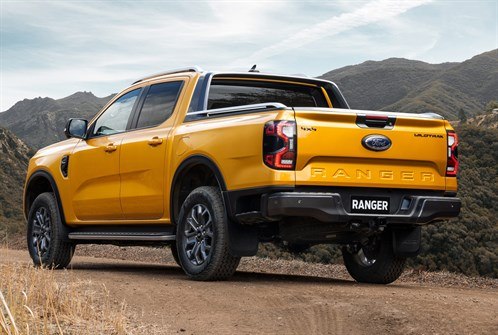 The land of Oz has given the Ranger a bluff nose that screams Stars and Stripes and boxed wheel arches that give it the presence of a padded-up American football player – it's 50mm longer and wider than the old model. 'Ranger' pressed into the steel tailgate – dog-tag style – replaces the namby-pamby sticker on the old truck.
Matrix LED headlights are a new option and you can also have Zone Lighting which illuminates the truck's immediate surroundings. 
Not keen on what you see? With more than 150 accessories – many of which come from 4x4 specialists ARB – a visit to the options list should sort that. 
If you're expecting the interior to feature swing doors and sawdust on the floor, don't worry – it's high tech in there. You get soft-touch plastics and a portrait-style infotainment screen that looks to be lifted straight from the Mustang Mach-E (yeah, the electric one). It is either 10.1 or 12 inches in size.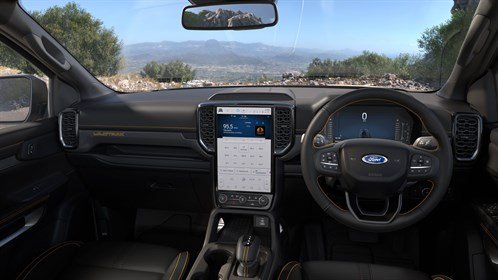 It's a fully connected system with sat-nav that can route around congestion, lock/unlock from the cloud, remote start and the option to check things like remaining range via the FordPass app.
You can use the screen to access off-road information and for the optional 360-degree view parking camera. Wireless downloads mean it's easy to keep updated. 
Basics have also been improved. You get a huge storage bin between the front seats, bigger door pockets than the old model, two gloveboxes and storage underneath the front seats. 
The biggest load space of all – the hulking great cargo bay – also gets a number of improvements.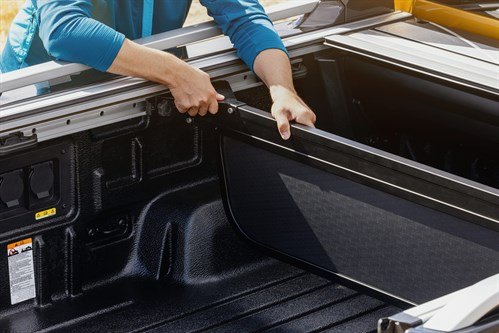 For starters, it's 50mm wider meaning sheets of plywood can sit flat and integrated steps behind the rear wheels make loading easier. There's also plastic load-bed protection, additional tiedown hooks and load-bay dividers for separating smaller items.
If you're hulking a big load, you'll want a powerful engine and Ford will oblige by offering a 3.0-litre V6 diesel that will serve huge clouts of torque and power. Expect more than 200PS and at least 500Nm. Two 2.0-litre, four-cylinder diesels will also be offered in single or bi-turbo guises.
You can have your Ranger with two-wheel drive or choose from a pair of four-wheel-drive systems – one semi-permanent, the other permanent. Improved approach angles and wheel articulation mean all new Rangers should be better off-road. 
The new Ford Ranger goes on sale at the end of 2022 with first deliveries expected in early 2023 – we'll have a full review in the coming months.