Top 10: Products to improve van security
Having your van broken into or stolen can be a nightmare. Not only does it lead to the stress of dealing with insurers and police, but can mean days - or even weeks - of lost work as you go through the hassle of replacing tools and equipment. Thankfully there are lots of useful products on sale to improve your security.
We've picked 10 products to protect your van and its contents, whether they're kept on the inside or the outside.
Click through our gallery below to see our top 10 picks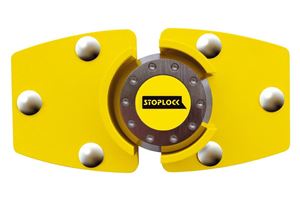 1
Stoplock – around £40
These devices are typically fitted to the rear doors of a van and work by linking the two together, making it difficult for a thief to use a pry bar to force the doors open. It also adds an additional layer of security to vans with weak, vulnerable lock mechanisms.
Owners simply use a key to undo the mechanism, which is straightforward. This Stoplock model can be fitted to rear doors or sliding side doors. Fitting requires the door skin to be drilled, so those who aren't confident themselves should get a professional to install it.
Buy it now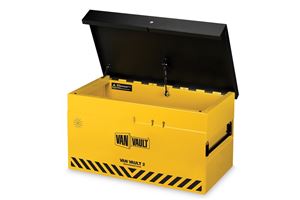 2
Van Vault equipment storage – from around £120
It's always best to take expensive tools and equipment out of a van where possible, but when out and about that's not always an option. A secure storage system can really help deter thieves and give some peace-of-mind. Van Vault produces secure tool chests and other van security products including a lockable roof tube for safely transporting copper pipes.
There are various designs of Van Vault storage box, including drawer systems, chests and even one designed specifically to keep tools safe in the back of a tipper van, which includes weather protection. There are also two sizes of lockable roof tube. Both are the same length at 3152mm, but with differing width and height to increase capacity.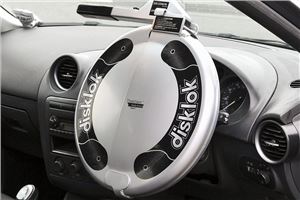 3
Disklok – from £99.99
Something of a classic design now, the Disklok has been around since car and van crime peaked in the 1990s. It's one of the more difficult-to-defeat security devices, recommended by police forces and is approved by independent security experts Thatcham. It can even reduce insurance premiums.
Various sizes are available so make sure to measure the steering wheel on your van before placing an order. There are some additional accessories that might be useful for some drivers too, including a steering wheel cover to protect the wheel when the lock is in use, along with a storage bag for the lock itself.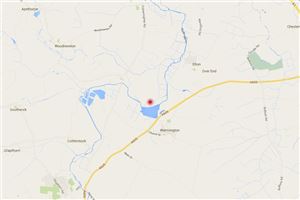 4
Vehicle location by Tracker – from £249 plus subscription
Once a vehicle is stolen there is a good chance it'll never be recovered. That's often an even bigger deal for a van owner than a car owner, since a van is an essential tool for working and earning money – so a tracking system can make a real difference. Following a theft, the owner can contact the tracking provider who will turn on tracking and send details to the police.
The police can then track the vehicle using in-car equipment, increasing the chance of recovery and sometimes even resulting in the thief being caught red-handed at the wheel. Tracker.co.uk provides a variety of different products to suit differing needs and budgets, starting from £249 plus an annual subscription of £119.