Review: Bailey Autograph 75-4 (2017)
Rating:
Strong engine, plenty of internal storage, external awning and barbeque point are standard.
Pricey, lounge bed very uncomfortable, main bed has corner cut off.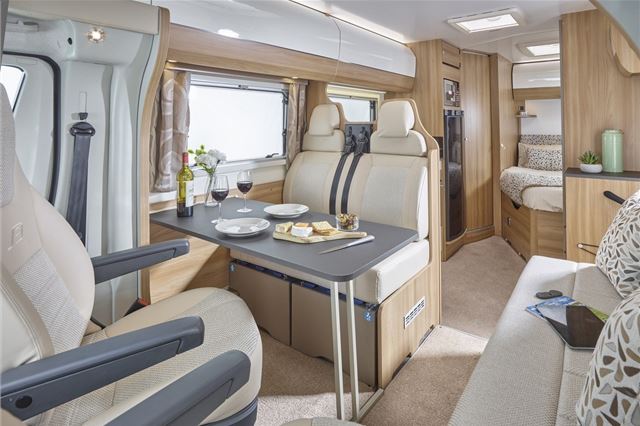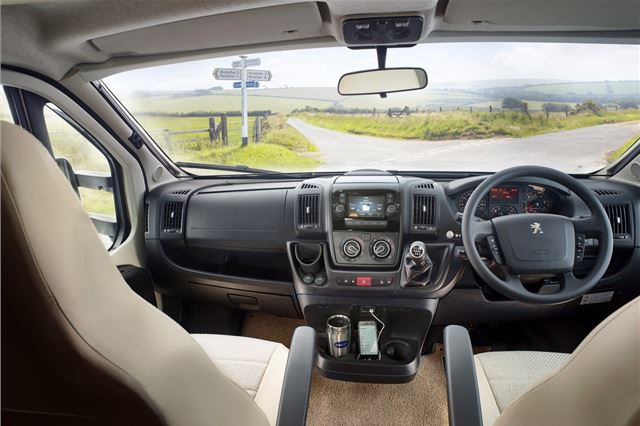 Bailey Autograph 75-4 (2017): At A Glance
When it launched the Autograph range in 2013, Bailey quickly established itself as a serious contender in the motorhome department. For 2017, Bailey revised its Autograph range of motorhomes with more stylish interior and exteriors and cleaner, more economical engines.
Power comes from a Euro6 compliant six-speed Peugeot 2.0-litre Blue HDi. While standard kit includes a Fiamma awning, Truma 100w solar panel and excellent Alde heating system.
The 75-4 that we tested was the 7.5m long, four-berth, low profile end-bedroom. Outside, there is an updated polar white bodyshell as well as revised graphics as well as aero-style bumpers and individual LED lights.
There are also improvements to the doors, which are now flusher-fitting while the storage compartments feature heavier duty rubber seals and compression locks that pull the hatch in tight when it is closed.
Inside, there are a host of more premium feeling finishes while a new bed making system improves things over the previous generation – although we still feel it is not quite up to scratch. Which is a shame, because it lets down an otherwise excellent motorhome.
What does a Bailey Autograph 75-4 (2017) cost?
Bailey Autograph 75-4 (2017): What's It Like Inside?
Moving inside, there are a host of premium features to enjoy, most notably the fit and finish as the aero soft-push cabin locks.
The kitchen has a combo oven and grill with three gas-burning hobs plus one electric plate. And the microwave is mounted above the fridge, which is fine for a six-footer but could perhaps be slightly uncomfortable for those of a smaller stature.
The square stainless-steel sink comes with a handy drainage board cover and there's plenty of cupboard space and drawers with soft close action, while the fridge freezer can be powered by either gas, electric supply or the on-board leisure battery.
Our 75-4 can seat four people day or night. Here the dining area becomes the sleeping area with revised squab design. Sadly, it's still one of the areas that lets it down as we found it far too easy for the cushions to move, leaving the mattress sunken in the morning.
The French-style bed at the rear can just about accommodate one six-footer, but the angle of the cut-off on the corner could make it awkward to sleep to tall people. It also means that the toilet is behind the privacy curtain.
Inside the washroom is a shower, sink, toilet and mirror with cupboard space. There's not a huge amount of room but there is plenty of storage space and the shower is more than adequate.
One thing you won't have to worry about is sockets or charging points for your devices – there are plenty of points located all over the van.
What's the Bailey Autograph 75-4 (2017) like to drive?
Based on the running gear of the Peugeot Boxer panel van, the 2.0-litre Blue HDi is a 130PS unit. It's Euro6 compliant and very smooth until it's worked hard. This might not sound like much considering the size of the motorhome, but it's more than ample for getting the 75-4 moving. In fact, this is where it seems right at home, compared to the larger 75-6 where it felt a little laboured.
That said, the chassis provides reassuring control and the motorhome feels very planted on the road. You won't be racing anyone, but it's good to know that should you need to take drastic or dynamic action, you shouldn't have your hands too full.
There's no automatic option, so all units come with a six-speed manual gearbox and other standard items like (non-adaptive) cruise control. All vans weigh in at 3.5 tonnes, which is handy for younger drivers because it can be driven on a standard licence.
One thing that isn't standard, though, is navigation. Whether this is a problem really depends on your point of view. Some people prefer a hard-wired nav, while others are more than happy to use Waze or Google Maps on their smart phone via a dashboard or windscreen mount.
Front seats are both captain-style chairs that swivel, and there's plenty of storage including two good size cup holders, shelves above the driver and charging points.
Visibility is always an issue our 75-4 came fitted with a reversing camera that was always on – in effect giving you a rear-view mirror. There's also plenty of sensors to help you avoid any obstacles you may not have spotted.
At the rear of the car, there's points for fitting a bike frame as well as storage space for putting muddy outdoor clothes. The centrally located gas bottle storage can take refillable units while access to the chemical toilet cassette is easy.