Review: Citroen Berlingo (2018)
Rating:
Comfortable and easy to drive, high payload capacity, economical, lots of high-tech options.
Many innovative features are optional, automatic transmission only available in flagship engine variants.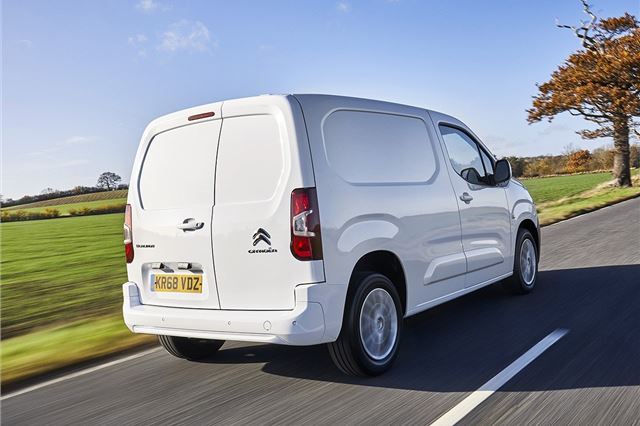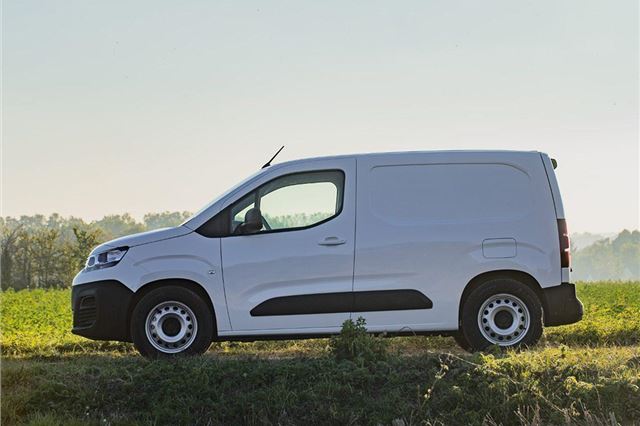 Citroen Berlingo (2018): At A Glance
The Citroen Berlingo first arrived in 1996 and, since then, it has proven a popular choice– with over 1.5 million first- and second-generation vans being built. The new third-generation version builds on its predecessors' successes and capabilities by adding a range of new features, more powerful engines and modern options.
More prominently, it's also capable of handling heavier payloads – up to 1050kg in some configurations. It still has the same 1.2 metre load width between the wheel arches, too, so Euro pallets will slide right in.
The Berlingo, which is the result of a joint PSA project, features a revised platform that's shared with the Peugeot Partner and Vauxhall Combo. The revamped underpinnings, improved payload aside, grant a shorter front overhang and a smaller turning circle. Consequently, the Berlingo is more nimble and agile than before.
The engine line-up starts with a 75PS 1.6-litre BlueHDi diesel but a more powerful 100PS variant dubbed the 100 is also available. A five-speed manual transmission is standard; there's also a 1.5-litre BlueHDi 130 diesel that puts out 130PS, which is offered with a six-speed manual transmission or an eight-speed automatic.
A 110PS 1.2-litre PureTech petrol is also available, in conjunction with a six-speed manual transmission, and a more powerful 130PS automatic. Running costs should be low, in any case; as an example, all the diesel versions are claimed to average in excess of 60mpg – making them ideal for those covering higher mileages. The most frugal is the mid-range BlueHDi 100, which is advertised with 67.3mpg.
Two sizes of Berlingo are offered – M and XL – which are 4.4 and 4.7 metres long respectively. There are several trim levels available, too; there's the entry-level X, the rugged Worker variant, the well-equipped Enterprise and the plusher Driver model. A host of new features are also on offer, including an overload indicator, a surround-view camera system and adaptive cruise control.
In any case, the third-gen Berlingo represents a notable improvement over its predecessor. It's not expensive to run, it can deal with heavier loads and it's still a comfortable, easy van to drive. Plus, for those willing to fork over the cash, it's available with a range of advanced and useful equipment. 
What does a Citroen Berlingo (2018) cost?
Buy a used Citroen Berlingo from £16,520
Citroen Berlingo (2018): What's It Like Inside?
The interior has been completely reworked to deliver a far more modern look and improved usability. Aside from comfortable seats, the Citroen benefits from a plethora of storage points – including overhead storage bins and door pockets that can hold 1.5-litre bottles. Visibility out of the cab is also good and further improved with the optional Surround Rear Vision system that emulates a rear-view mirror. In any configuration, the Berlingo's car-like dimensions and behaviour make it painless to drive.
Both front doors open wide and the standard 60/40 split rear panel doors open up to 180 degrees, making loading and unloading straightforward. A variety of body configurations with one or two sliding doors are also available and these doors have been lengthened by 78mm for the new Berlingo, further boosting access to the rear.
Load volumes range from 3.3 cubic metres to 4.4 cubic metres, depending on variant and whether the Extenso folding front passenger bench seat is fitted – which, if you fold the front seat down and have the through-loading bulkhead, can increase the payload length by almost 1.3 metres to a potential maximum of 3.4 in XL versions. Similarly, depending on engine and options, payloads range from 667kg to 1050kg – giving it an edge over rivals such as the Fiat Doblo and Ford Transit Connect.
The rear load bay, in any case, is fitted with six tie-down hooks to help you secure any load – but Worker variants, which feature 30mm of additional ground clearance and underbody protection, also get four mid-height load securing rings. Fortunately, this is also available as a cost option on other versions for those regularly transporting taller objects.
The Worker model also comes as standard with an overload indicator, which warns the user if the van is approaching or exceeding its maximum payload. This useful addition is also available as a cost option on other models.
Even entry-level X models come with a USB port, an auxiliary audio jack, a 12V socket and Bluetooth connectivity – so most shouldn't find the Berlingo lacking on the connectivity front. Neatly, the Worker version even includes a 220V socket. There's plenty of storage space on offer, too, so you won't struggle to find a place to stow documents, bottles and tools. X and Worker variants don't come with air conditioning as standard, though, but it is available.
Usefully, the middle seat in the three-abreast Extenso seating arrangement can be folded down and features an integral pivoting writing table in its back – so the Berlingo can serve as a mobile office. The X has a single passenger seat but all other versions come with the three-seat Extenso set-up. A Crew Cab variant, offering a folding second row of seats to up the total count to five, is also available in XL variants.  
What's the Citroen Berlingo (2018) like to drive?
Berlingo buyers can pick from a range of Euro6 engines, including both petrol and diesel options – some of which are available with an automatic transmission, which could be a great benefit for those driving regularly in heavy traffic.
The entry-level engine is a 1.6-litre BlueHDi 75 diesel that produces 75PS and 230Nm. It's only available with a five-speed manual gearbox and, so equipped, will accelerate from 0-62mph in 15.7sec in the lightest unladen X variant. Citroen claims CO2 emissions of 114g/km and an average consumption of 64.2mpg.
A BlueHDi 100 is also offered, which produces 100PS and 254Nm of torque. Although the torque figure isn't much higher, it's noticeable quicker on paper with Citroen stating a 0-62mph time as low as 12.5 seconds. Because it doesn't have to work as hard, it can also be fractionally more economical; Citroen states this version can average up to 67.3mpg.
We tested the BlueHDi 100 carrying a 300kg load and it coped without fuss, accelerating comparatively swiftly – although steeper inclines would often require dropping down into a lower gear. The steering was also accurate and quick, making manoeuvring easy, and the brakes effective. It's wasn't overly noisy and it was smooth, too; all in, very little effort was required to drive the Berlingo.
The 1.5-litre BlueHDi 130 is the flagship diesel and produces 130PS and a substantial 300Nm, making it far quicker – the 0-62mph sprint takes around 10 seconds – and more adept at coping with heavier loads. It's also offered with a six-speed manual transmission or a swift-shifting eight-speed automatic transmission; the manual version offers the highest maximum braked towing weight in the Berlingo range, clocking in at 1200kg.
In entry-level X variants, the driver benefits from equipment including hill start assist and automatic lights. In Enterprise or Driver specifications, however, the Berlingo also comes with upgrades that include cruise control, an automatic parking brake and more seat adjustments. Consequently, these are better options for those putting more miles on their vans. The Worker van, which is designed for use on construction sites, gets features such as an automatic parking brake and a traction-boosting Grip Control system with a hill descent mode.
Citroen also offers a range of driver assistance aids as optional upgrades. In Enterprise and Driver versions, for example, you can opt for a colour heads-up display. A Safety Pack is also available on all models and includes a lane departure warning system, speed limit warning, automatic emergency braking and distance warning.