Review: Citroen Berlingo First (2002 – 2011)
Rating:
Good value for money, decent ride quality even when fully loaded.
Wooly brakes are below par, some mechanical problems, early models lacked refinement, engine noise at speed.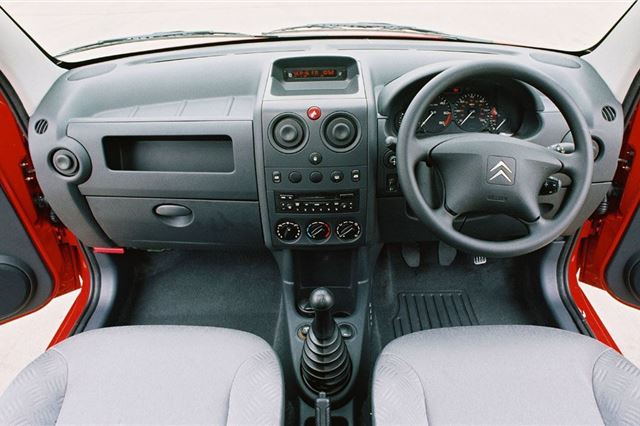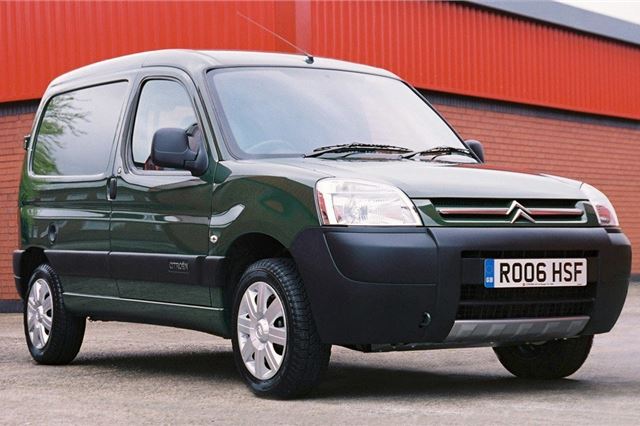 Citroen Berlingo First (2002 – 2011): At A Glance
As the name suggests, the Citroen Berlingo First is based on the previous generation of the French firm's hugely popular compact van. Rather than simply discontinue this original Berlingo when the new model arrived in 2008, Citroen cannily saw a gap for an affordable, no frill model.
So although the Berlingo First name has only been officially around since 2008, this van has actually been on sale as the Berlingo since 2002. The Berlingo First still offers all of the excellent space and usefulness it did when the model was facelifted to its current style. Yes, it's basic, but it can cope with loads of up to 600kg and can swallow a Euro pallet.
Citroen also doesn't force you to live like a pauper in the Berlingo First as it comes with electric windows, power steering, CD stereo with steering wheel controls and driver's airbag.
Power comes from either a 1.4-litre petrol engine with 75PS or the preferred 1.6-litre HDi diesel that also delivers 75PS but offers better low and mid-rev pull. The diesel can also run on 30% bio-diesel to further reduce fuel bills. It's not the last word in refinement and feels dated compared to the model that replaced it, but as a used buy the Berlingo First is a cheap and reliable choice.
What does a Citroen Berlingo First (2002 – 2011) cost?
Citroen Berlingo First (2002 – 2011): What's It Like Inside?
Getting in to the Citroen Berlingo First couldn't be easier thanks to the large cab doors that open wide to reveal seats at the ideal height for most drivers. There's no need to haul yourself up into the cab or drop down into the seat and then have to drag your way back out. It's one of the little touches that means the Berlingo First is still a relevant choice for small van buyers despite its gently ageing design.
Once in the cab, you'll find the usual mix of Citroen plastics and fabrics, which mean they are decently durable if a little bland and cheap looking. Some may find the driving position isn't as perfect as it is some rival vans, but a height adjustable steering wheel helps and the driver's seat slides back and forth. More lower back support would be welcome in the seat, however.
As for the dash layout, it's about as simple as vans get and all of the instruments are easy to see, while the controls are close to hand and simple to fathom. Electric windows are a useful touch and the driver is treated to a standard airbag. A single passenger seat sits on the other side of the cab but there's no airbag on offer.
Visibility is good for the driver and the Berlingo First's compact size means even reversing in compact spaces poses no problems thanks to the large door mirrors. Storage inside the cab is also good thanks to an overhead shelf above the windscreen, glovebox and plenty of smaller cubbies and pockets dotted around the interior.
Twin side-hinged rear doors are standard for the Berlingo First, though you can order a single-piece tailgate with wash-wipe and heated rear screen if this better suits your needs. For some, the tailgate is ideal as a shield from the rain while working out of the back of the van. Sliding side doors are another option, though when the load area is as compact as the Berlingo's it's of minimal use unless you regularly carry weighty items.
Inside the load bay, there are floor mounted securing eyes, an interior light and a simple ladder frame bulkhead behind the driver. The bare metal floor is tough, but the optional plywood flooring or plastic protector will save it from scuffs. Maximum payload for the Berlingo First is 600kg, which should be more than sufficient for most buyers of this size of van. Gross weight is 2000kg.
What's the Citroen Berlingo First (2002 – 2011) like to drive?
If you spend most of your time doing short-hop trips and deliveries around town, the 75PS 1.4-litre engine could be a good bet for you in the Citroen Berlingo First. While it doesn't offer the same slug of low-rev pull as the diesel, it works keenly and gets up to working temperature more swiftly than the diesel. The five-speed manual gearbox is light and combines with a lightly weighted clutch to make urban use its forte. However, it's of less interest to most van buyers than the diesel, which is reflected in weaker residual values for the petrol version compared to the diesel.
Go for the 75PS 1.6-litre HDi diesel engine in the Berlingo First and you have the ideal combination of low-rev punch for nipping through town traffic and sufficient urge to keep pace on the motorway. You will have to get used to a fair degree of diesel engine noise inside the cabin at higher speeds, but it's not so rowdy as to leave you dazed and deaf at the end of a longer trip.
The diesel also has a five-speed manual gearbox and can easily return more than 40mpg at a cruise, even when laden with cargo in its sizeable load bay. On faster roads, the Berlingo First 1.6 HDi is happy to zip along and it has a chirpy, easy going nature that is missing from some of its more modern rivals. This is underlined by the Berlingo First's supple suspension that soaks up the worst of UK roads with ease and leaves the driver and passenger unperturbed by even the most rudimentary of rural roads. Citroen is famed for building its 2CV to cross a ploughed field without breaking a basket of eggs: the Berlingo First feels like it could pull off the same stunt.
Even with its comfortable and accommodating suspension, the Berlingo still handles corners with surprising confidence and less body lean than you might expect. While it's no match for a Ford Transit Connect when it comes to driver enjoyment, the Berlingo has a style all its own and inspires the driver to feel relaxed with the world. Light and reasonably accurate steering helps here and it also helps when it comes to backing into tight parking spots or getting round those acute city street turnings. Standard power assistance is also a boon.
If you make full use of the Berlingo First's 600kg payload capacity, the suspension does begin to wallow and sag, so best to be careful over more rutted roads or speed bumps. However, the diesel engine still does sterling work to pull the van along without complaint.