Fiat Fullback (2016–2019)
Last updated 31 July 2019
Based on the Mitsubishi L200, 3.1 tonne towing capacity, strong 2.4-litre diesel engine.
Some versions are more expensive than their Mitsubishi counterparts, ride can get uncomfortable on rough roads, noisy five-speed auto gearbox.
Updated 7 September 2017
Fiat Fullback Cross launched
It is priced from £26,495 (excl. VAT) for the 2.4 180PS 6Spd manual Cross. The new vehicle feature aerodynamic textured black sport bar and a front grille with black ingots, a satin silver skid plate,...
Introduction
The Fiat Fullback is a strong and capable one-tonne pick-up that's based on the Mitsubishi L200. Like the Mitsubishi, the Fiat has impressive off-road credentials, with four-wheel drive, rugged styling and lots of ground clearance. It's excellent at the heavy duty stuff too, with its 2.4-litre diesel engine capable of towing 3.1 tonnes when hooked to a braked trailer. 
Officially, the Fullback is the based on a 'technical platform of absolute and tried and tested value'. However, in layman's terms, the Fullback is basically a rebadged L200. Admittedly, it gets its own grille design and tweaked headlight lights, but there isn't much else to tell it apart. 
The Fullback is powered by the same 2.4 litre diesel engine, with two power options: 150PS or 180PS. There's a six-speed manual or an optional five-speed automatic gearbox. Like the L200, the Fullback is at its best with the 180PS engine, which provides lots of low-gear grunt, with 430Nm of torque and a 3.1 tonne towing capability. The 150PS unit, in comparison, feels a bit more lethargic and will only pull 2.7 tonnes. 
Claimed economy is good for both versions of the 2.4-litre diesel. The 150PS unit will return an official 40.9mpg, while the more accomplished 180PS unit will provide the same, or 37.7mpg when linked to a five-speed automatic gearbox. CO2 emissions range from 180 - 196g/km depending on which output and gearbox you choose. 
Like the L200, the Fullback is a monster off-roader and all versions are capable of ploughing through mud, snow, sand or anything else that stands in its way. Things aren't quite so impressive on road, with the Fullback's ladder chassis frame and leaf springs producing a bumpy ride. Things improve when driving with a full load, but the Fullback lacks the refinement and comfort found in the Volkswagen Amarok and Nissan Navara. 
The Fiat is a great workhorse though and well-equipped, with Bluetooth, DAB, front fog lights, side steps and a host of safety kit all thrown in as standard. However, compared to the L200, the range is more expensive to buy new, while the fiddly infotainment system is somewhat inferior to the one found in the Mitsubishi.
That said, the Fullback is backed by Fiat's extensive professional dealer network and is ideal for any builder, forestry worker or engineer who wants a go anywhere works vehicle. However, given the fact it is virtually identical - and built in the same factory - as the Mitsubishi L200, the choice between the two will boil down to whichever you can get the best deal on. 
Also consider...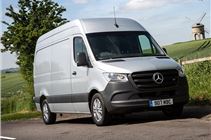 Mercedes-Benz Sprinter 2018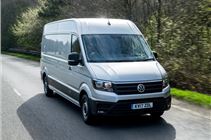 Volkswagen Crafter 2017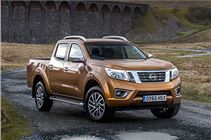 Nissan Navara 2016
Contract hire from

£190.00

+VAT pm
Lease from

£221.00

+VAT pm