Review: Fiat Fullback (2016 – 2019)
Rating:
Based on the Mitsubishi L200, 3.1 tonne towing capacity, strong 2.4-litre diesel engine.
Some versions are more expensive than their Mitsubishi counterparts, ride can get uncomfortable on rough roads, noisy five-speed auto gearbox.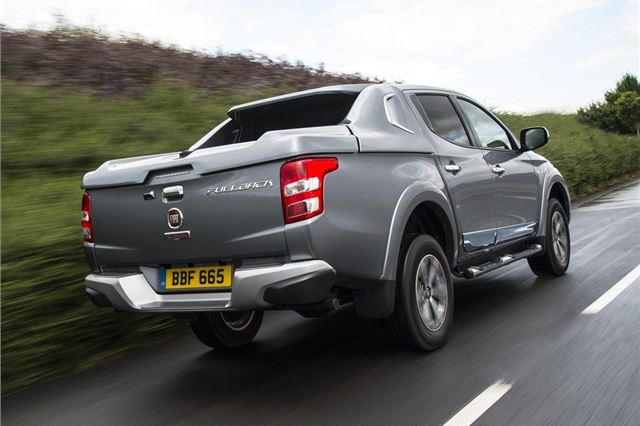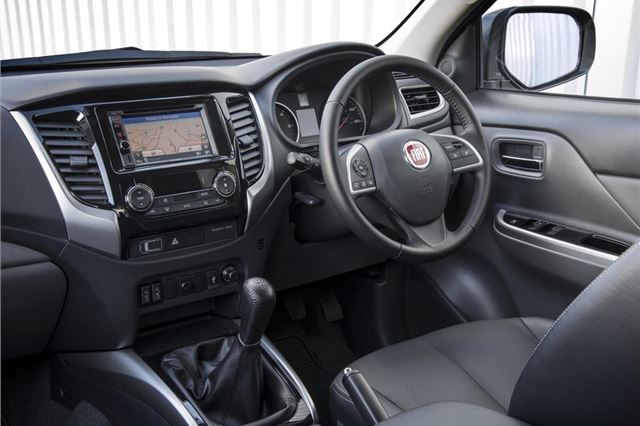 Recently Added To This Review
7 September 2017 Fiat Fullback Cross launched
It is priced from £26,495 (excl. VAT) for the 2.4 180PS 6Spd manual Cross. The new vehicle feature aerodynamic textured black sport bar and a front grille with black ingots, a satin silver skid... Read more
10 November 2015 Fiat reveals Fullback pick-up
The new, medium-duty pick-up will launch in the UK in autumn 2016 and will be available only with a practical double cab body style configuration in the UK. Measuring up to 1,780mm in height, 1,815... Read more
Fiat Fullback (2016 – 2019): At A Glance
The Fiat Fullback is a strong and capable one-tonne pick-up that's based on the Mitsubishi L200. Like the Mitsubishi, the Fiat has impressive off-road credentials, with four-wheel drive, rugged styling and lots of ground clearance. It's excellent at the heavy duty stuff too, with its 2.4-litre diesel engine capable of towing 3.1 tonnes when hooked to a braked trailer. 
Officially, the Fullback is the based on a 'technical platform of absolute and tried and tested value'. However, in layman's terms, the Fullback is basically a rebadged L200. Admittedly, it gets its own grille design and tweaked headlight lights, but there isn't much else to tell it apart. 
The Fullback is powered by the same 2.4 litre diesel engine, with two power options: 150PS or 180PS. There's a six-speed manual or an optional five-speed automatic gearbox. Like the L200, the Fullback is at its best with the 180PS engine, which provides lots of low-gear grunt, with 430Nm of torque and a 3.1 tonne towing capability. The 150PS unit, in comparison, feels a bit more lethargic and will only pull 2.7 tonnes. 
Claimed economy is good for both versions of the 2.4-litre diesel. The 150PS unit will return an official 40.9mpg, while the more accomplished 180PS unit will provide the same, or 37.7mpg when linked to a five-speed automatic gearbox. CO2 emissions range from 180 - 196g/km depending on which output and gearbox you choose. 
Like the L200, the Fullback is a monster off-roader and all versions are capable of ploughing through mud, snow, sand or anything else that stands in its way. Things aren't quite so impressive on road, with the Fullback's ladder chassis frame and leaf springs producing a bumpy ride. Things improve when driving with a full load, but the Fullback lacks the refinement and comfort found in the Volkswagen Amarok and Nissan Navara. 
The Fiat is a great workhorse though and well-equipped, with Bluetooth, DAB, front fog lights, side steps and a host of safety kit all thrown in as standard. However, compared to the L200, the range is more expensive to buy new, while the fiddly infotainment system is somewhat inferior to the one found in the Mitsubishi.
That said, the Fullback is backed by Fiat's extensive professional dealer network and is ideal for any builder, forestry worker or engineer who wants a go anywhere works vehicle. However, given the fact it is virtually identical - and built in the same factory - as the Mitsubishi L200, the choice between the two will boil down to whichever you can get the best deal on. 
What does a Fiat Fullback (2016 – 2019) cost?
Fiat Fullback (2016 – 2019): What's It Like Inside?
The Fiat Fullback is well-suited for long distance driving, with claimed economy exceeding 40mpg. Things do get rather bumpy on rough roads, but on the motorway the Fullback with a full load the pick-up is impressive and smooth. It also gets cruise control as standard. 
The interior might not be quite up to Nissan Navara or Volkswagen Amarok levels, but it's comfortable, spacious and hardwearing. Everything feels like it has been bolted together with purpose and the attention to detail is good throughout, with no worrying creaks from the trim or dashboard. Safety kit is also good, with all getting front fog lights, seven airbags, electronic trailer stability assist, hill hold and a lane departure warning system. 
The infotainment system is disappointing, with fiddly controls and confusing menus. However, there is lots of cup holders, pockets and cubby storage. The tall cab also provides plenty of headroom in the front and back, which means the Fullback can carry five adults in comfort. 
The Fiat isn't the class leader when it comes to towing - many of its rivals will pull 3.5 tonnes - but its maximum 3.1 tonne towing limit is still decent. However, the 150PS versions will only tow 2.7 tonnes, which might make them a little lightweight for those who regularly shift heavy loads. 
The loadbay is a good size though - 1850mm long and 1470mm wide - which means fitting a Euro pallet sideways is easy enough. The maximum payload is 1035kg across the range and the fold-down tailgate has a slowed opening mechanism that prevents it from crashing down the moment you release the handle. 
Parking can be a problem. The Fullback is more than five metres long and almost two metres wide. A reversing camera is standard across the range, but there are no parking sensors and rear visibility is awkward owing to the huge size of the load bay. 
There are two trim levels - SX and LX - with the former getting allow wheels, electric mirrors, Bluetooth connectivity (phone calling and music streaming), DAB digital radio and a leather steering wheel. LX trim adds leather upholstery, xenon headlamps, rear privacy glass and a 6.1-inch touchscreen infotainment system.
What's the Fiat Fullback (2016 – 2019) like to drive?
Powered by a Mitsubishi-sourced 2.4-litre diesel, the Fiat Fullback is offered with the choice of 150PS or 180PS. However, given its 3.1 tonne towing capacity and thumping 430Nm of torque, it's the 180PS unit that provides the best all-round performance.
The 2.4 diesel pulls strongly through all of the gears and seldom feels short on performance. A six-speed manual gearbox is fitted as standard and provides excellent weighting between all of the gears, which means - even with a full load - you can trundle along in fourth at 35mph and not have to worry about the engine struggling for power. A five-speed automatic is available as an option, but ramps up the noise levels and can feel rather indecisive. 
Compared to the likes of the Isuzu D-Max and Ford Ranger, the Fiat Fullback is relatively refined. It's also relatively efficient - for a pick-up at least - with an official 40.9mpg. The 180PS version - which is the most-powerful engine in the range will return the same economy as the 150PS, although claimed economy drops to 37.7mpg when you opt for the five-speed automatic gearbox. All versions will tow up to 2.7 tonnes. 
Engine noise is generally suppressed and it's only when joining a fast moving motorway that you'll notice any unpleasant diesel engine-din. Road and wind noise quite high, but is to be expected given the Fullback's sheer size. 
Owing to its ladder chassis frame construction, with leaf springs at the rear, the Fullback can feel somewhat truck-like on the road, but it handles well enough with minimal body lean in the corners and lots of feedback through the steering wheel.
The ride can also get rather bumpy when driving without a load in the back, with the pick-up crashing over potholes and bouncing over speed bumps. Things improve when fully laden, but there is no escaping the Fullback's agriculture origins.
Off-road the Fullback is a mini-monster truck, with superb all-road capability. Entry-level SX versions get a semi-permanent four-wheel drive system, operated via an electric dial, with four-wheel drive and high or low ratios. LX models get a four-wheel drive system that can be used permanently. It can also be driven in rear-wheel drive and gets a central differential, supported by three electronically-controlled clutches that manage the torque delivery to each wheel to cope with heavy mud or snow.