Review: Fiat Qubo (2009)
Rating:
Cheap and compact MPV with twin sliding side doors, practical with 2500 litre capacity, suitable for wheelchair conversion.
Important to change engine oil every 12,000 miles/12 months (whichever comes first) to avoid timing chain problems, ride quality is far from brilliant, diesels are noisy.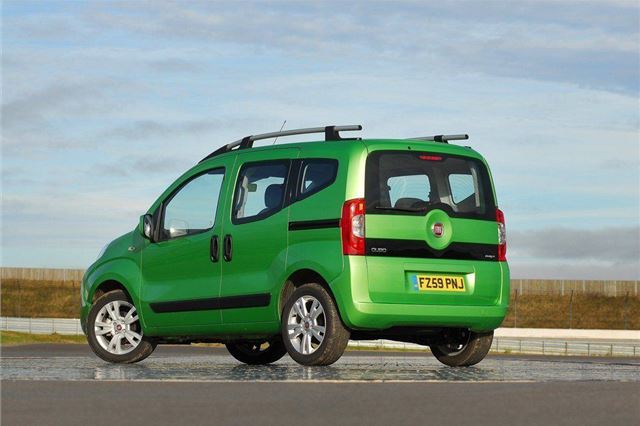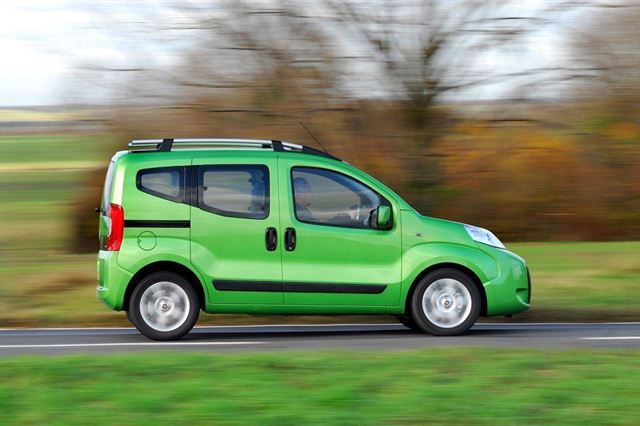 Fiat Qubo (2009): At A Glance
The Fiat Qubo is one of the cheapest routes into MPV ownership and provides decent value, thanks to its frugal diesel engines and large interior. Its boxy shape is evidence of that fact it's based on a van, so it it somewhat unrefined and somewhat lacking in creature comforts.
That said it is a practical five-seater, with a high roof line and a huge 2500 litres of storage if need be. Getting the most from the interior is easy too, with the flexible seating system letting you fold the rear bench, move it forward or remove it altogether. 
Twin sliding doors are fitted as standard and the raised seating makes it easy to get in and out of. Equipment levels are sparse though - air conditioning isn't fitted as standard - and the rear windows don't open fully either. Rear passengers might not like the ride either which can get quite bumpy as the Qubo's tall body leans into corners and pitches under braking and acceleration.
The Qubo does redeem itself in town, with its 10.5 metre turning circle providing lots of manoeuvrability for tight turns and parking. The sliding doors also come into their own, allowing the Qubo to be parked in tight spaces, without worrying about the side doors being banged against cars parked close by. 
There are two engines to choose from - a 1.4 petrol with 72PS and a 1.3 diesel, with either 80PS or 95PS. Both get a five-speed manual gearbox that provides short, positive gear changes while a good Dualogic automated manual is available as an option for the 80PS diesel.
The 1.4 petrol provides up to 40.9mpg and decent performance, although it's the 90PS four-cylinder diesel that provide the best balance, returning up to 70.6mpg and giving it a bit more oomph. Both the petrol and diesels are fine for motorway cruising, even if they're somewhat vocal above 50mph.  
Given its low price and even lower running costs, the Qubo is an affordable MPV with some likeable qualities. It will appeal to those who want a practical car with an upright driving position and easy access. The boxy nature also makes it a relatively straightforward proposition for a wheel chair conversion. 
What does a Fiat Qubo (2009) cost?
Fiat Qubo (2009): What's It Like Inside?
The Qubo's space and practicality are its strongest attributes, with room for four adults and up to 2500 litres of storage available. Maximising the car's square dimensions isn't difficult either, thanks to a flexible seating system that lets you move the rear bench forward. The rear seats can also be folded or removed altogether, which effectively returns the Qubo into the van on which it's based.
With all of the seats in place the Qubo provides a useful 330 litres of boot space and it will take four adults in comfort, with its high and upright seats providing lots of back support. Getting in and out of the car is easy too, with the twin sliding doors providing wide access. The sliding doors also make it easier to get kids in and out, when parked in a tight space, without the fear of the doors bashing an adjacent car or wall.
The dashboard of the Qubo mirrors the one found in the Fiat Fiorino and although it is clear to read, with a simple layout, it's covered in a rather unpleasant layer of cheap and scratchy plastic. However, all of the buttons and dials are easy to find and visibility is generally good, with the raised seating providing a wide view of the road. The steering wheel has reach and rack adjustment, while the lumbar adjustment and centre arm rest make the Qubo a comfortable fit. 
Standard equipment on the Qubo is sparse, which means there's no air conditioning, DAB or Bluetooth connectivity. Security equipment is also disappointing, which means you'll have to pay extra for an alarm system to be fitted.
In the back the seats are supportive and comfortable, but the rear windows don't open fully and this makes the rear hot and stuffy in warm weather, which might leave passengers feeling rather green on long trips when you factor in the Qubo's lumpy ride. 
What's the Fiat Qubo (2009) like to drive?
The Fiat Qubo is not a car you buy for its performance, but it is cheap to run and for most compact MPV buyers this is all that will matter. As a result the Qubo is offered with just two engines - a 1.4-litre petrol with 72PS or a 1.3-litre diesel with either 80PS or 95PS.
All of the engines are linked to a five-speed manual gearbox, although a Dualogic automated manual is available as an option for the 80PS diesel. None of the engines dip below 100g/km of CO2, with the diesels emitting 106/km while the petrol returns 161g/km of CO2.
The 1.3 Multijet diesel with 95PS is the best performer, with 200Nm of torque that provides enough acceleration to comfortably join busy motorways or zip away from tight junctions. It's economical too, with up to 70.6mpg. 
The 1.4-litre petrol is the least efficient, with a claimed 40.9mpg. It is also the least powerful which means it feels somewhat breathless when carrying a full load. The 1.3 Multijet with 80PS works best with the Dualogic automated manual. You don't get the massive throttle damping between first and second that you can experience on other automated manuals, so it's almost as smooth as a conventional automatic gearbox.
There's no four-wheel drive option but a Traction+ system is available on Trekking models. This has an electronic differential that prevents wheel spin by diverting power to the wheel with the most grip.
Once up to speed the Qubo is a decent enough cruiser, although the diesels are rather vocal above 50mph and at least one downshift will be required to encourage it to overtake anything with any sense of urgency, making engine drone even higher.
The Qubo is surprisingly nimble at low speeds though, with its small turning circle making it easy to park around town. The five-speed manual provides positive short shifts and the soft pedals are also responsive, which means you can trundle through traffic without rocking the car backwards and forwards.  
The Qubo uses a softer suspension set up compared to the Fiat Fiorino van and this allows it to absorb the bumps better. However, due to its compact wheelbase and high body height, it is prone to heavy body lean in the corners and pitching under heavy braking, which can throw your luggage (and passengers) around a bit if you have to make any quick turns.
What do owners think?
Our view gives your our opinion, based on driving hundreds of cars every year, but you can't beat the views of someone who lives with a car day-in, day out.
5 star

33%

4 star

67%

3 star

2 star

1 star