Fiat Scudo (2007–2016)
Last updated 25 June 2019
The Fiat Scudo range starts with a 90PS 1.6-litre MultiJet diesel engine that offers a claimed 40.9mpg in the standard short wheelbase model with standard roof. This version also delivers 182g/km CO2 emissions. Neither of these figures is as good as the 130PS 2.0-litre MultiJet diesel, which offers an official 41.4mpg and 179g/km, suggesting the 1.6-litre struggles a little with the size and weight of the Scudo.
So it proves on the road, where the 1.6-litre needs to be worked harder to give a decent account of itself whereas the 2.0-litre with 130PS feels much brawnier and in control. In town, the 1.6 MultiJet and its five-speed manual gearbox are much more at home, where the low-down shove of the engine is fine for nipping away from the lights and out of junctions. However, once you're on the ring road, the 1.6-litre engine begins to wane, especially if you make use of the Scudo's payload.
This is where the 2.0-litre diesel comes into its own for a more relaxed driving experience and also where it picks up plus points for economy and refinement. This is an area where the Fiat enjoys a slender advantage over its French relatives as the Scudo manages to block out wind, road and engine noise more effectively at the national speed limit. On long journeys, this makes all the difference between arriving at your destination fresh or frazzled.
The 2.0-litre MultiJet also benefits from a six-speed manual gearbox in place of the five-speed on the smaller engine model. It makes the 2.0-litre engine more relaxed at higher speeds and again aids its economy and emissions.
A third engine option for the Scudo is the 2.0-litre MultiJet but with 163PS form. With noticeably more low and mid-range shove than the 130PS version, it doesn't come with a drastic penalty for economy or emissions. It offers an official 40.9mpg and 181g/km, so it matches the 1.6-litre diesel's economy while bettering its emissions. That's impressive stuff for an engine that turns the Scudo into quite a rapid machine. Its six-speed manual has well judged ratios and it's a great choice for those users who spend more of their time on the motorway than the high street.
Whichever Scudo you choose, they all offer a decent driving experience with a ride that does a sound job of soaking up the lumps and bumps of Britain's roads. It's not the most cushy or comfortable in this class, but the Scudo comes with a tight turning circle and decent vision from the cab means the driver can execute manoeuvres with confidence in restricted spaces.
The Scudo is good in corners and lives up to its Italian heritage by feeling stable and agile, with little body lean. It's also good on more open roads, where crosswinds do not knock it off course.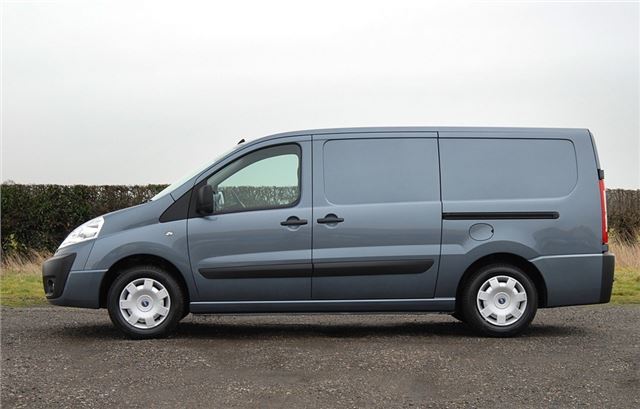 | Engine | Fuel tank | MPG | CO2 |
| --- | --- | --- | --- |
| 1.6 Multijet 90 5 | 80 L | 41 mpg | 182 g/km |
| 1.6 Multijet 90 Euro 4 | 80 L | 39 mpg | 191 g/km |
| 2.0 Multijet 120 Euro 4 | 80 L | 37–39 mpg | 194–200 g/km |
| 2.0 Multijet 130 5 | 80 L | 40–42 mpg | 179–183 g/km |
| 2.0 Multijet 140 Euro 4 | 80 L | 38 mpg | 196 g/km |
| 2.0 Multijet 163 Euro 5 | 80 L | 40 mpg | 186 g/km |
| 2.0 Multijet 165 5 | 80 L | 40–42 mpg | 179–183 g/km |
| 2.0 Multjet 130 5 | 80 L | 40–42 mpg | 179–186 g/km |
Also consider...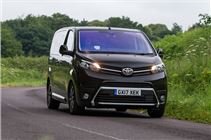 Toyota Proace Verso 2016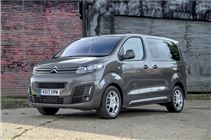 Citroen SpaceTourer 2016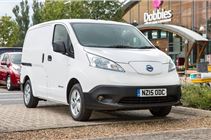 Nissan e-NV200 2014