Review: Ford Fiesta Van (2009 – 2013)
Rating:
Drives and handles well, car derived so not restricted to 50mph in a 60mph zone, economical TDCi engines.
1.25-litre petrol engine struggles at higher speeds.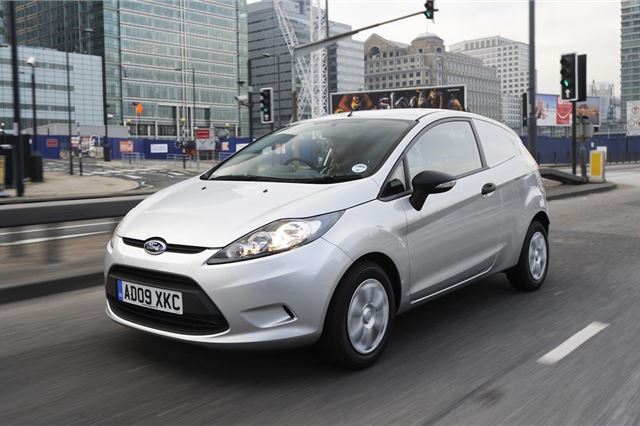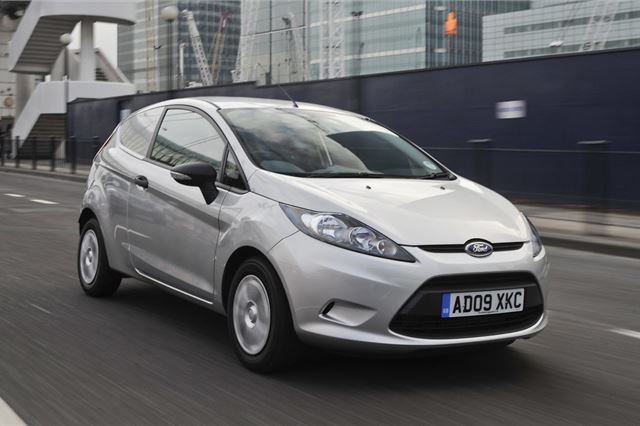 Ford Fiesta Van (2009 – 2013): At A Glance
Taking the Fiesta - a car renowned for its sharp handling and impressive refinement - and creating a van version was an obvious move for Ford. It's proved a popular choice for small businesses based in busy towns and cities and is a van well-liked by those who spend all day behind the wheel.
There are three versions - the standard Fiesta Van, the Fiesta Van Trend and the top Fiesta SportVan. The Trend is the one to go for as it's designed for image-conscious businesses like florists or for firms who may be transporting compact equipment such as meter reading tools and don't need a large capacity for tools.
Surprisingly there's a petrol engine available - a 1.25 Duratec with 82PS which is okay for town but most people will go for a TDCi diesel. There's a 1.4 TDCi with 68PS or the top of the range 1.6 TDCi with 90PS which is standard in the Fiesta SportVan.
As this is a car derived van it's not subject to LCV speed limited. The payload ranges from 490kg to 515kg and there's a load box area of 1,000 cubic litres, with a maximum useable load length of 1,296mm, as well as a maximum load box width of 1,278mm (1,000mm between wheel arches) and a height of up to 806mm. A half-height composite bulkhead and DIN-compliant tie-down hooks are standard.
As well as offering nimble handling and superb steering feel, the Fiesta van is ideal for buzzing through town traffic with minimal fuss. It also rides well over bumps and leaves you feeling relaxed at the end of a long day at the wheel. Inside, the Fiesta is also just as appealing thanks to its stylish dash that mixes form and function with ease. Comfy seats and a near perfect driving position complete the charm offensive.
What does a Ford Fiesta Van (2009 – 2013) cost?
Ford Fiesta Van (2009 – 2013): What's It Like Inside?
Like many of its rivals, the Ford Fiesta van can swallow up to 1.0 cubic metre of cargo. This puts it on a par with the Fiat Punto Van and ahead of the Vauxhall Corsa Van. The Fiesta's tailgate offers slightly better access to the load area than the Fiat's, but it's still a limiting factor when trying to carry larger items.
When you fit a load into the Fiesta, it does reward with a little more room than most between its wheel arches, coming in at exactly 1000mm. Perhaps more of a concern for some users is that the Fiesta cannot carry quite as much weight as some of its most keen rivals. While this might not be a problem when trying to fit the last kilo of cargo in, it does mean the Fiesta has less margin for error than some. Go for the SportVan and the maximum payload drops to 492kg, where a Punto Van can hold 520kg.
To keep loads in place, there are four floor-mounted load securing hooks and a full width half-height bulkhead as standard in all models. A full height mesh bulkhead can be added as an option. As for protecting the floor, there's a rubber mat, while plastic covers keep cargo off the bare metal of the side panels.
One point to bear in mind with the Fiesta van is the glass rear screen allows passers-by to see into the cargo bay, so you will need to think about a cover or privacy glass for the sake of security. However, at least the Fiesta comes with remote central locking as standard, as well as deadlocks.
Also standard as a result of the van being developed from the Fiesta passenger car are ABD anti-lock brakes, front and side airbags, and ESP traction and stability control. There is also the option of adding a driver's knee airbag for added safety.
The rest of the Fiesta's cabin is much like the passenger car, so there's an excellent driving position with height adjustable steering wheel. On the steering wheel are remote controls for the stereo and you can add Ford's Bluetooth connection for hands-free phone calls as an option.
Comfortable and supportive seats make the Fiesta capable of all-day comfort, while the SportVan comes with adjustable lumbar support to provide even more luxury. The centre console is well designed to look stylish but it also works easily when you need to find the right button without taking your eyes off the road. Finally, Ford does its usual sound job of providing plenty of storage spots all around the cabin and looking after the passenger with the same generous head, leg and shoulder space as the driver.
Fiesta Van specification:

* EasyFuel capless refuelling
* Three engine options
* Body colour roof spoiler
* Electric door mirrors
* Stereo radio CD, MP3 connection, four front speakers and steering wheel mounted controls
* Adjustable steering column
* Electric front windows

Fiesta Van Trend features in addition to Fiesta Van:

* Front fog lights
* Body-coloured, power folding, heated door mirrors
* Automatic windshield wipers and headlamps
* Auto dimming rear view mirror
* Trip computer
* Driver's seat lumbar support
* Heated front windscreen

Standard features of Fiesta SportVan in addition to Fiesta Van Trend:

* 1.6-litre TDCi (90PS) engine
* Body colour sports aero kit including high intake front grille, rear bumper and rear spoiler
* 16-inch five-spoke sports alloy wheels
* Bluetooth hands free and voice control, including multi function display
* Air conditioning
* Sports style front seats
* Leather trimmed steering wheel
* Rear sports spoiler
* Perimeter alarm
* Sports-tuned suspension with lowered ride height
* ESP/traction control
* Driver's knee and side airbags (head and thorax) and active head restraint
What's the Ford Fiesta Van (2009 – 2013) like to drive?
It's hard to talk about the Ford Fiesta without mentioning its brilliant ride, handling and driving manners. For something as utilitarian as a van, the Fiesta manages to bring the best of its passenger car sibling to the van market while adding some handy carrying capacity.
Supple suspension is the base on which the Fiesta van builds its reputation. It easily takes the outrageous slings and harrows of our road network in its stride, keeping its occupants and load blissfully unaware of how poor the surface of the road is. Whether running light or fully laden, the Fiesta seems equally unfazed.
Then there is the steering that tells the driver everything he or she could possibly need or want to know about how the car is reacting to the situation. If you want to proceed at a saunter, the Fiesta's helm is happy to relax and simply guide the car with minimal fuss. Or, if you prefer to make use of the excellent cornering grip and roll-free handling, you can press on in the Ford with a precision and confidence you simply don't find in any of its competitors.
You'll also find the Fiesta's engines are a sound lot. All come attached to a five-speed manual gearbox that has a quick, precise shift action mated to a light clutch. The entry-point is a 1.25-litre petrol motor that is good to use, though it's perhaps best in town where its shortfall in overtaking urge is not as obvious.
The three diesels start with the 1.4-litre 69PS unit that gives a good account of itself in all conditions, but misses the outright oomph of the larger 1.6-litre pair. Even so, if you want the cheapest way into Fiesta van diesel ownership, this is it.
Much better as an all-round prospect is the 1.6-litre Econetic diesel that has 94PS at its disposal for a surprisingly zesty turn of speed in town and on the motorway. This engine is also capable of returning 78.5mpg and low CO2 emissions towards the better end of this class.
The 1.6 diesel can also be ordered in the SportVan, which means no change to overall power figures, but the engine is tuned slightly differently to give snappier performance. In this form, the SportVan offers 0-62mph in 11.8 seconds compared to the standard model's 12.2 seconds. The SportVan feels perky on the road to live up to its name, but the extra cost will put off all but those who like to make an entrance.