Ford Transit Custom Plug-In Hybrid (2019–)
Last updated 8 October 2019
35-mile electric range. Same load volume as standard Transit Custom.
Prices start at £39,145 plus VAT. Not rated for towing.
Introduction
Diesel vans still make the most sense for the majority of users, but the Ford Transit Custom Plug-in Hybrid will appeal to those who mainly drive in city centres and want to do their bit for air quality (and avoid hefty penalties for entering clean-air zones).
The Transit Custom Plug-in Hybrid combines a 1.0-litre petrol engine with an electric motor and a battery located under the floor. It can cover up to 35 miles under electric power alone, while still being able to complete longer journeys if required. Officially, it'll return 91.7mpg and emit 60g/km CO2, but you'll need to charge it regularly to get anywhere near this.
With the batteries positioned underneath the floor, the PHEV is just as practical as a standard Transit Custom. That means there's a useful 6.0 cubic metres of load space in the back and a payload of 1130kg. Battery charging can be completed using a standard three-pin socket in around four and a half hours, while a 16-amp Type 2 charger will give it a full charge in just over two and a half hours.
Up front, the Transit Custom Plug-In Hybrid feels as car-like and as well-made as the standard Transit Custom. The seats are comfortable and there are plenty of useful stowage areas including huge door bins.
It's how the Plug-In Hybrid drives that makes it stand out from the diesel. When fully-charged, it'll set off in silence. This is great if you're having to do a lot of stopping and starting in urban areas - there's no rumbling (and increasingly anti-social) start-up of a diesel engine. There's plenty of torque, too, meaning that you can easily keep up with city traffic, even with a load in the back.
There are a variety of driving modes on hand to let you make the most of its hybrid setup. If you know you're going to be heading into a town centre later in your journey, for example, you can save electric power.
A 1.0-litre engine doesn't sound very big for a van, but it doesn't drive the wheels directly and is only used for charging the electric motor. As such, there's plenty of power for motorway driving, although refinement does noticeably drop when the battery is empty.
Of course, it'll be a lot thirstier than a diesel when used on the motorway. But it suits a very exact set of requirements - mainly those who regularly drive in city centres. It's biggest obstacle is its price. Starting at slightly more than £39,000 plus VAT, it's considerably pricier than the equivalent diesel. But the technology is still in its infancy and, for those wanting to make a green statement, it could be worth every penny.
Also consider...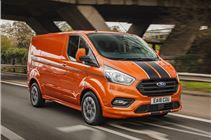 Ford Transit Custom 2013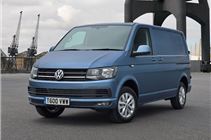 Volkswagen T6 Transporter 2015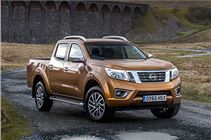 Nissan Navara 2016
Contract hire from

£157.00

+VAT pm
Lease from

£85.00

+VAT pm