Review: Ford Transit Custom Plug-In Hybrid (2019)
Rating:
35-mile electric range. Same load volume as standard Transit Custom.
Prices start at £39,145 plus VAT. Not rated for towing.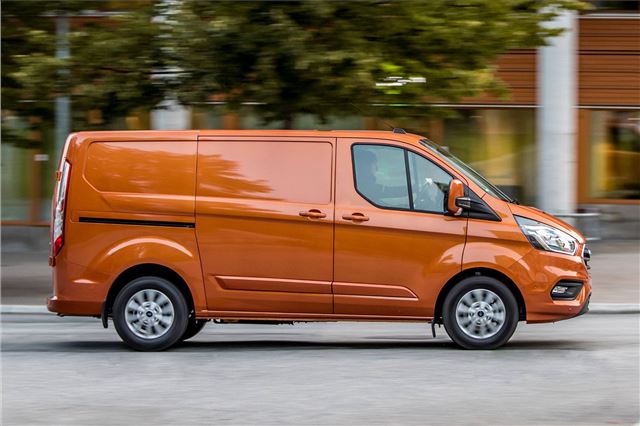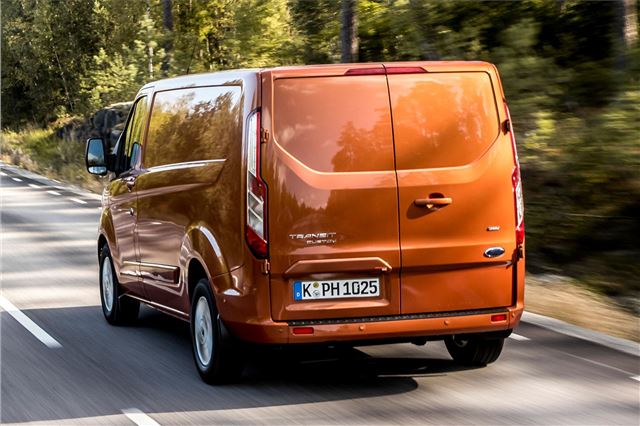 Ford Transit Custom Plug-In Hybrid (2019): At A Glance
Diesel vans still make the most sense for the majority of users, but the Ford Transit Custom Plug-in Hybrid will appeal to those who mainly drive in city centres and want to do their bit for air quality (and avoid hefty penalties for entering clean-air zones).
The Transit Custom Plug-in Hybrid combines a 1.0-litre petrol engine with an electric motor and a battery located under the floor. It can cover up to 35 miles under electric power alone, while still being able to complete longer journeys if required. Officially, it'll return 91.7mpg and emit 60g/km CO2, but you'll need to charge it regularly to get anywhere near this.
With the batteries positioned underneath the floor, the PHEV is just as practical as a standard Transit Custom. That means there's a useful 6.0 cubic metres of load space in the back and a payload of 1130kg. Battery charging can be completed using a standard three-pin socket in around four and a half hours, while a 16-amp Type 2 charger will give it a full charge in just over two and a half hours.
Up front, the Transit Custom Plug-In Hybrid feels as car-like and as well-made as the standard Transit Custom. The seats are comfortable and there are plenty of useful stowage areas including huge door bins.
It's how the Plug-In Hybrid drives that makes it stand out from the diesel. When fully-charged, it'll set off in silence. This is great if you're having to do a lot of stopping and starting in urban areas - there's no rumbling (and increasingly anti-social) start-up of a diesel engine. There's plenty of torque, too, meaning that you can easily keep up with city traffic, even with a load in the back.
There are a variety of driving modes on hand to let you make the most of its hybrid setup. If you know you're going to be heading into a town centre later in your journey, for example, you can save electric power.
A 1.0-litre engine doesn't sound very big for a van, but it doesn't drive the wheels directly and is only used for charging the electric motor. As such, there's plenty of power for motorway driving, although refinement does noticeably drop when the battery is empty.
Of course, it'll be a lot thirstier than a diesel when used on the motorway. But it suits a very exact set of requirements - mainly those who regularly drive in city centres. It's biggest obstacle is its price. Starting at slightly more than £39,000 plus VAT, it's considerably pricier than the equivalent diesel. But the technology is still in its infancy and, for those wanting to make a green statement, it could be worth every penny.
What does a Ford Transit Custom Plug-In Hybrid (2019) cost?
Buy a used Ford Transit Custom from £25,798
Ford Transit Custom Plug-In Hybrid (2019): What's It Like Inside?
The Transit Custom Plug-In Hybrid is available solely as an L1 H1 standard wheelbase model. It's just as practical as the diesel Transit Custom, with the batteries located under the floor, leaving 6.0 cubic metres of load space in the back.
Wheel arches in the rear do intrude slightly and are easily scuffed when transporting bulky items, but the space between them is big enough for carrying 8x4 foot boards flat on the floor.
There's an opening side door on the passenger's side as standard, aiding access, while a 1130kg maximum payload will be plenty for most users. 
In the front, the Transit Custom Plug-In Hybrid's cabin is hard to distinguish from the conventional model - and that's a good thing. There are three comfortable seats, and levels of technology that would be impressive in a car, never mind a van.
Three trim levels mirror the standard Custom, made up of Base, Trend and Limited specifications. All models come with cabin air conditioning and a heated windscreen, while an eight-inch colour touchscreen infotainment system is available. This is easy to use, responding to pinch and swipe gestures like a smartphone.
The FordPass Connect on-board modem is fitted as standard, allowing small business to monitor up to five vehicles using the FordPass Pro app. Highlights include a Guard Mode, allowing owners to be notified about any activity in their van (including it being unlocked with a key), while remote start means it can be warmed and de-iced ahead of an early morning shift. It can also be locked/unlocked remotely, and share the van's location.
One negative of the Transit Custom Plug-in Hybrid is it isn't rated for towing. So, if you're looking to lug a trailer, you'd be better opting for a diesel model.
What's the Ford Transit Custom Plug-In Hybrid (2019) like to drive?
The front wheels of the Transit Custom Plug-in Hybrid are directly powered by the electric motor, with the small petrol engine acting as an on-board generator when required. Ford says this currently is the best compromise between an inefficient petrol and a range limited electric van.
To get the best out of the PHEV, you'll need to be able to charge it regularly. A top-up takes 4.3 hours from a standard household three-pin socket, while a Type 2 16-amp supply will take it from 0-100 per cent in 2.7 hours.
Once charged, the first thing you'll notice about the Transit Custom Plug-in Hybrid is how refined it is at low speeds. You can set off in total silence, making it a much more relaxed and pleasant experience than in a diesel model. It's also quick to respond, with instant torque on hand - ideal for darting out of junctions or joining a roundabout.
Once moving, anyone who's driven the diesel Transit Custom will find the PHEV easy to drive. It's an automatic, meaning it's more relaxed than a manual model, and there's no worry about clutch wear.
There are a variety of EV drive modes available. In the first instance, you're best leaving it in EV Auto mode. This monitors the battery levels and driving scenario (e.g. on a motorway or in stop-start traffic) to decide whether to use the petrol engine or rely solely on the electric motor.
If the battery has enough charge you can force it to use electric power - ideal if you're driving through a city centre or past an area where zero-emission running would be an advantage (e.g. a school or hospital). EV Later mode saves any charge for later in the journey (ideal if you know you'll be entering an urban area) while EV Charge uses the petrol engine to charge the battery.
You can also select between two levels of regenerative braking by selecting either 'drive' or 'low' on the gear lever. Using the 'low' feature, you can resort to near-one-pedal driving. Lift off the accelerator and it'll slow the van down using the electric motor, pumping energy back into the battery. It's aggressive enough to require the brake lights to illuminate and, with some careful driving, you can negotiate city centres without having to actually use the brakes.
If this all sounds too complicated, you needn't worry. It's just as easy as driving a standard Transit Custom with a few extra buttons on hand should you wish to make the most of the plug-in hybrid's features. That means visibility is very good, with a high seating position and large mirrors making it easy to thread through city traffic.
The steering - now electric - is pleasingly light and responsive, while the chassis is excellent. Bumpy roads don't phase the PHEV, while its relatively low centre of gravity means it's surprisingly agile on bendy roads.
Under NEDC fuel economy tests, the PHEV will cover 35 miles under electric power alone. When the petrol motor is required to kick in, it remains fairly refined, although we did notice a slight resonance when it was charging the battery at a standstill. It's not a big deal - certainly no worse than a rumbly diesel engine - but the Transit PHEV is otherwise so refined it is noticeable.
One clever feature of the Plug-in Hybrid is its Geofencing module. This automatically switches it to EV Now mode when entering a pre-defined area such as a low-emission zone. These areas can be set via an app, meaning a fleet operator could ensure all vans are running under electric power when delivering to a school, for example, or passing through a factory.