Review: Hyundai iLoad (2009 – 2015)
Rating:
Great value for money with generous standard specification, twin sliding doors, option of lift up tailgate or two rear doors at the back, crew van version available, ESP as standard.
Glazed rear doors rather than solid metal, only one length and roof height, no Euro6 engines.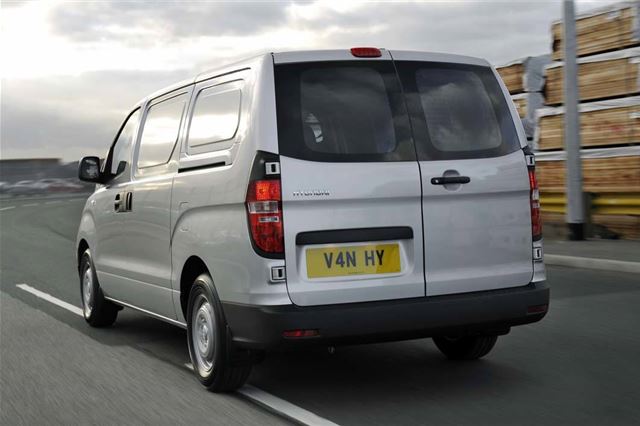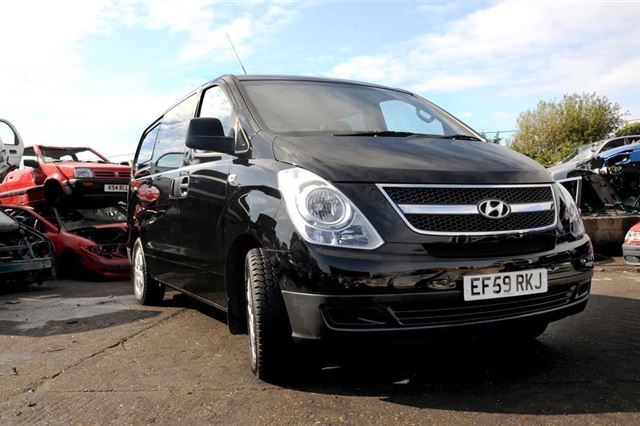 Hyundai iLoad (2009 – 2015): At A Glance
The Hyundai iLoad is the panel van version of the i800 people carrier from the Korean firm. It's a direct competitor for other medium-sized vans, though Hyundai limits its market by only offering the iLoad in one size, so there's no variation in wheelbase, body style or roof height, although a crew van version is offered.
This doesn't unduly concern Hyundai, who instead focus on value for money with the iLoad. From its launch in 2009, it has come with a five-year, 100,000-mile warranty and it's one of the very few vans on sale not to have been recalled for any fix, so far, which underlines its inherent reliability.
Hyundai also packs the iLoad with plenty of kit, both luxury and safety related. There is standard air conditioning, CD stereo with auxiliary input, electric windows and central locking. Safety is covered by driver and passenger airbags, ABS anti-lock brakes and optional ESP traction and stability control.
Keen pricing tops off the Hyundai's list of temptations, which makes it a sound choice for those who are in this market. It's just a shame Hyundai has not expanded the range further to appeal to more buyers.
What does a Hyundai iLoad (2009 – 2015) cost?
Hyundai iLoad (2009 – 2015): What's It Like Inside?
Hyundai's background in passenger cars and the iLoad's close association with the i800 people carrier is clearly evident in the approach to this van's cabin. Unlike most of its rivals, the iLoad has a fully carpeted cab and it also fully trimmed, so there are no bare metal surfaces. This helps considerably when it comes to quelling noise form the engine, wind and road, which are all pleasingly absent and make the iLoad one of the most hushed, refined vans in its sector.
The comfort offered by the iLoad is also much more reminiscent of a passenger car than most vans as it has height adjustment for both the driver's and passenger seats. Coupled to height adjustment for the steering wheel, it's easy to find the right driving position in the iLoad. It's just as easy to stay comfy in the Hyundai thanks to the generously padded driver's seat that has a high back and base cushion that supports the driver's thighs rather than stopping short as in some of the iLoad's competitors.
All of the carpeting and trim may make the iLoad a little more labour intensive to keep clean than some more utilitarian rivals, but it's worth the effort as the Hyundai looks good from the driver's seat. The dash is well designed, placing the gear lever high on the centre console, while the main dash binnacle places all of the major instruments in clear line of sight for the driver. All of the heater and stereo controls are logically displayed and large rotary dials for the ventilation controls make it easy to operate them even with gloves on.
All-round vision is good in the iLoad and it comes with glazed rear door panels, which help when reversing, though they do also compromise security in the load area. There are plenty of storage bins, cubbies and boxes spread around the Hyundai's cab, though there isn't one large enough to hold a two litre drinks bottle, which may be a minor gripe for some users.
There's extra storage for drinks if you fold down the centre passenger seat, which then also provides a small tray. This is a better use for this seat as it's quite narrow and uncomfortable for a third front occupant.
Storage in the back of the iLoad is not a problem. It offers up a 4.3 cubic metre load capacity and can hold up to 1062kg. Loads are held in place by six lashing hooks, though Hyundai does not provide any floor protection, so you need to be careful when sliding weightier items in and out of the iLoad. However, there are flat sides with panelling to half height and a steel bulkhead to protect front occupants.
Twin sliding side doors add to the iLoad's practicality and generous specification, while the symmetrical rear doors open to 90-degrees and 180-degreees to offer excellent access to the load bay. A load sill height of just 533mm also means the Hyundai has one of the lowest floors in the business for easy loading and unloading.
What's the Hyundai iLoad (2009 – 2015) like to drive?
There's an innate right-ness to the way the Hyundai iLoad drives that makes it one of the most entertaining, fun and able vans in its class from the driver's perspective. Developed alongside Hyundai's i800 people carrier passenger version, it means the iLoad has well judged suspension settings that lend it excellent ability in corners.
Where some vans roll in corners, the iLoad feels nimble and taut, helped by its steering that offers plenty of feel and an impressively tight turning circle. The compact turning circle of the iLoad is helped by its rear-wheel drive layout, which also aids the driving experience and, crucially, means the iLoad has plenty of traction when hauling heavier loads all the way up to its 1062kg maximum payload.
The direct steering also imparts good feel, so the iLoad is one of the best vans in its sector when it comes to tackling country roads. This counts for a lot as it lets the driver judge gaps with greater accuracy, which greatly lessens the chances of picking up a scratch from overhanging branches or catching a door mirror on unsuspecting trees.
It's only when the iLoad is running very light does it have a slight chink in its driving armour. The suspension that endows it with such good handling also means it can feel a little too light on its toes on the motorway. This is especially noticeable in crosswinds, where the iLoad can feel more nervous than some rivals, so just as well the Hyundai's steering offers plenty of feedback to keep the van safely on course.
Powering the iLoad is a Euro 5-compliant version of the 2.5-litre turbodiesel engine used in the van since its launch in 2009. It offers up 116PS and 343Nm of torque, which is a good amount for a van of this size. It means the Hyundai has no fears when it comes to taking on extended motorway trips or nipping past doddlers on A-roads.
As you might expect of a van that has been co-developed from the outset as an MPV people carrier, refinement is very good in the iLoad. It's helped by a fully carpeted and trimmed cabin, but the engine itself is intrinsically smooth and hushed.
A five-speed manual gearbox is the only transmission option for iLoad customers, but luckily it's also a good bet thanks to its light, precise shift action. It's matched by an equally light clutch pedal and brake and throttle pedals that offer accurate modulation at low and high speeds, making it easy to finesse the iLoad through thick traffic in town or on the motorway.
What do owners think?
Our view gives your our opinion, based on driving hundreds of cars every year, but you can't beat the views of someone who lives with a car day-in, day out.
5 star

50%

4 star

3 star

2 star

1 star

50%