Review: Iveco Daily (2014)
Rating:
Small-truck-like carrying capacity, strong diesel engines, large range of chassis cab models.
Small dealer network, poor refinement, vague handling on models with electric power steering.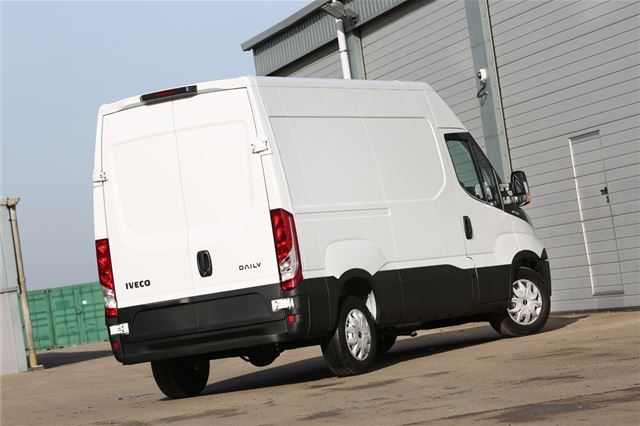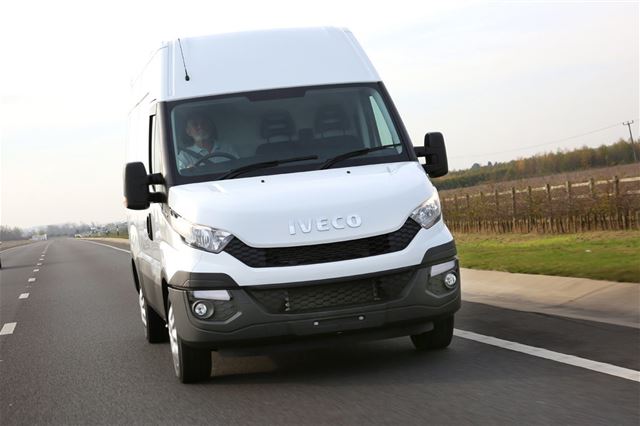 Recently Added To This Review
4 April 2019 Daily gets mid-life updates
Daily is the first 7.2-tonne vehicle to offer the Queue Assist and City Brake PRO functionalities. The Advanced Emergency Braking System and City Brake PRO prevents collisions at speeds below 31mph... Read more
6 June 2014 New Iveco Daily launched
The third generation of the Iveco Daily arrived on the European market. Around 80 per cent of components have been redesigned and the Daily has preserved its classic ladder frame chassis structure... Read more
Iveco Daily (2014): At A Glance
One of the true heavy hitters in the large van class, the Iveco Daily is the van that bridges the gap between big vans and small-trucks. It might not match its rivals for refinement or comfort, but the Daily has one of the best line-ups in the large van segment with weights spanning from 3.5 to 7.2 tonnes. 
Like Iveco's trucks, the Daily is built on a ladder-frame chassis, which means it is hugely customisable, with 8000 different factory versions available, spanning everything from standard panel vans and tippers to minibuses and flatbeds. There is also a broad range of chassis cab variants, while the Daily panel van has one of the largest load volumes in its class at 19.6 cubic meters. 
The Daily doesn't just cater for titanic loads; small businesses can opt for the entry-level 3.5-tonne model, with a more modest 7.3 cubic meters of load volume. The Daily is available in three load heights and five lengths; all models are practical and will easily take a standard Euro pallet through either the rear or side doors.
Power comes from two Fiat-sourced diesel engines - 2.3-litre and 3.0-litre - which are shared with the front-wheel drive Ducato. Outputs vary from 106PS to 205PS, with the latter offering a huge 470Nm of torque. Unlike the Ducato, all Daily models are rear-wheel drive only, with power fed through a six-speed manual or an optional eight-speed automatic gearbox. 
On the road the Daily delivers strong performance, but both the 2.3 and 3.0 diesel engines are vocal at motorway speeds. However, while industrious, the turbodiesels deliver good performance and lots of low-gear torque. The Daily is also agile at low speeds, with an impressive 10.5 metre turning circle.
From 2019, the Daily comes fitted with electric power steering that makes the van effortless to guide at low speeds, with a light and smooth operation that makes it easy to steer the van into a tight parking space or load bay. However, while optimised for urban speeds, the electric steering robs the van of meaningful handling at higher speeds. Some drivers will find the vague and lifeless steering to be more than a little unnerving at motorway speeds. 
While the diesel engines excel with excellent torque and performance, they do lag behind the competition on economy, with only single-wheel variants of the 2.3-litre engine returning a claimed 40mpg, while the rest of the range sits in the mid to low-30s. The interior of the Daily also fails to match the intelligent and car-focused designs of other vans in this class, with an abundance of drab and cheap plastics.
The Daily does deliver gargantuan carrying capability and it is here it'll win favour with small businesses, with its maximum gross vehicle weight (up to 7.2 tonnes) well ahead of the 5.5 tonnes you get with the Mercedes-Benz Sprinter and Volkswagen Crafter. However, despite its workman-like qualities, the Daily falls short on refinement and comfort, which means it is still second best to the likes of the Ford Transit and Mercedes-Benz Sprinter when it comes to the 3.5 tonne part of the market. 
What does a Iveco Daily (2014) cost?
Buy a used IVECO Daily from £23,994
Iveco Daily (2014): What's It Like Inside?
The Daily is a hugely capable van, which majors on carrying capacity. In fact, no other van comes close to matching the Daily's load lugging ability, with the Iveco offering a maximum gross vehicle weight of 7.2-tonnes and maximum load volume of 19.6 cubic metres.
The ladder-frame construction makes the Daily a suitable platform for converters, with the truck derived chassis well-suited to tipper, box, refrigeration and crew cab configurations.
The van line-up consists of five vehicle lengths (5040mm – 7500mm), three load heights (1545mm - 2100mm) and a large choice of load volumes. Gross vehicle weights start at 3.5-tonnes with 7.3 cubic meters of load volume available and rises all the way to a class leading 19.6m3. In its largest form, the Daily will provide a load area that measures 5.1 metres long and 2.1 metres high with the bulkhead in place, which is more than almost any other large van on sale.
Access to the load bay is easy, thanks to a 55mm reduction in load height compared to the old model, which means less lifting is needed to fill the huge load area. A single side sliding door is fitted as standard and all models will take a standard Euro pallet (1200mm x 800mm) through either the rear or side doors.
There are some criticisms when it comes to cabin quality, with the interior feeling cheap, drab and unsophisticated, especially compared to the car-like interiors of the Ford Transit and Mercedes-Benz Sprinter. However, the workman-like dashboard and trim will find favour with operators and drivers who like a no-nonsense and simple design.
There are plenty of storage areas, although none of the dash mounted boxes have a 12v socket. We also found the seats to obstruct some of the door pockets, which makes it difficult to reach their contents. However, the in-van controls are easy to find and use, while the optional touchscreen navigation is one of the best you'll find in a van of this size. 
The Iveco options list is comprehensive, which means upgrading the Daily is easy, with wider wheel arches, a reversing camera and lane departure warning all available. The load area can also be improved, with an extra sliding door, load area lining and reinforced rear suspension. 
What's the Iveco Daily (2014) like to drive?
Despite its truck origins, the Daily handles relatively well, with responsive steering, hushed road noise and a comfortable ride. Admittedly, pot holes and uneven surfaces will unsettle the ride, with a few bumps, but generally speaking the Daily is a comfortable van to spend time in.
The Daily gets Quad-Leaf front suspension, which means it grips better in the corners compared to the old model. Low-speed agility is better and the Daily has an excellent 10.5 metre turning circle, which makes parking and tight manoeuvres a simple task. Bodyroll is kept to a minimum too, even when unladen. 
The engine line-up features two diesel engines - 2.3 and 3.0-litres - with nine power outputs, ranging from 116PS to 210PS. The 2.3 is offered in both light and heavy duty versions, while the 3.0 is heavy duty only. As you'd expect, performance improves with the higher outputs and the range-topping 3.0-litre with 210PS is one of the most powerful engines available in a van of this size.
The rear-wheel drive configuration varies from single-wheel and twin-wheels (depending on power output) but traction is plentiful and most of the diesels pull well, with torque ranging from 320Nm to 470Nm. However, the entry-level 2.3-litre unit with 116PS feels strained with heavy loads and we'd recommend the 136PS or 156PS for general tasks. Only those utilising the larger vans will need to venture towards the 3.0-litre with 160PS, 180PS or 210PS.
The six-speed manual gearbox is fine for heavy duty tasks, although we'd recommend the excellent automatic option for those undertaking low-speed work, such as deliveries. The eight-speed Hi-Matic gearbox is exceptionally smooth and has the choice of eco or power modes modulate the allow shift speeds to suit the task in hand.  
From 2019, the Daily gets electric power steering as standard and compared to the old hydraulic system the steering is lighter and smoother at low speeds. However, while the Daily is an easy van to guide around town, the electric power steering is seriously lacking in meaningful feedback. And this makes it difficult to judge grip levels in tight bends or wintery roads.
Driver assistance is well catered for, with 2019 vans getting an electric parking brake as standard. The Daily can be fitted with LED headlights, lane keep assist and automatic emergency city braking that'll stop the van between 3-31mph if the on-board radar system detects a potential impact with another vehicle. Adaptive cruise control is also available, which maintains a safe distance between the van and the vehicle in front. 
Compared to its rivals the Daily disappoints on economy, with only the single-wheel variants of the 2.3-litre engine returning a claimed 40mpg, which is fast becoming the standard for all large vans. None of the 2.3 engines get start-stop as standard and as a result economy suffers, returning 35mpg or lower. 
From 2019, the 2.3 and 3.0 turbodiesels get engine start/stop as standard and an electronic-controlled variable geometry turbine. Iveco claims that the 2019 engines provide fuel savings of up to 10 per cent at low urban speeds. 
Drivers who need to take their van on winter roads can also specify hill descent control and Traction Plus, which prevents the rear-wheels from slipping on icy or snowy surfaces.