Review: LDV V80 (2017)
Rating:
Cheap to buy, comfortable ride quality, large load area, five year warranty as standard.
Lacks refinement, poor fuel economy, limited dealer network.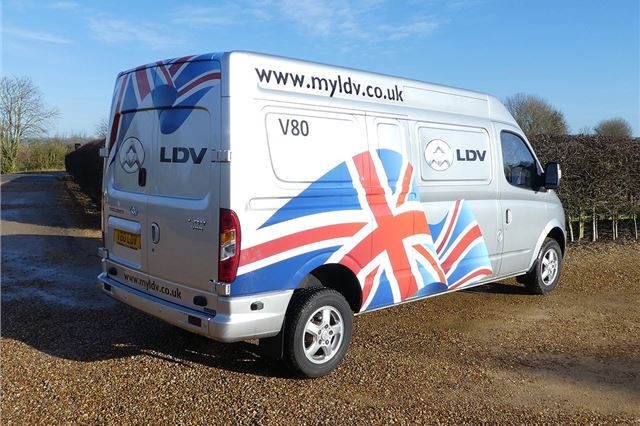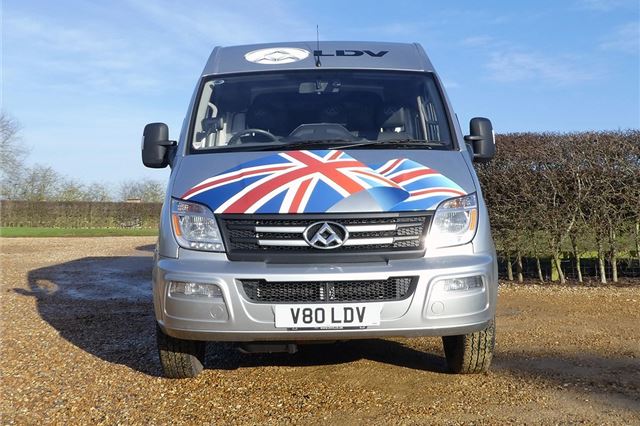 LDV V80 (2017): At A Glance
The LDV V80 is one of the cheapest large vans, offering more space and practicality than anything else in its price range. Admittedly, it's not particularly efficient or good to drive, but the V80 does the basics well enough, while its five-year-warranty will provide peace of mind for builders and delivery drivers in need of a cheap and reliable panel van.
Based on the old LDV Maxus - launched all the way back in 2004 - the V80 has the undeniable look and feel of an old van. However, with prices starting below £16,000 (before VAT) the V80 sits in the same budget as the smaller Ford Transit Connect and Volkswagen Caddy. This makes it incredible value, when you factor in its five-year/124,000 mile warranty.
As you might expect, the V80 has to make some significant compromises in order to undercut its large van rivals on price. The cabin, for example, is unashamedly cheap and cheerful. And refinement levels are straight out of the early 2000s, with lots of road, wind and engine noise rattling around the retro cabin.
In fact, the 2.5-litre engine is probably the loudest and thirstiest of any mainstream panel van, with advertised economy sitting at just 30mpg. This means the V80 has a frightening thirst for fuel when fully laden. At launch, the V80 was powered by Euro5 engines only, which makes these versions liable for urban pollution charges. A Euro6 version of the 2.5 diesel was added in 2019.  
Despite sounding like an agricultural vehicle from behind the wheel, the V80 is easy to drive. Its comfortable too, with a smooth and comfortable ride quality that remains supple when the van is unladen. Builders who run up large distances on the motorway will find LDV's large van to be a competent companion at 70mph too, with predictable handling and a good view of the road from the elevated seating position. 
At the business end of things, the V80 is available with a short or long wheelbase, with a low, medium or high roof. Gross Vehicle Weights span from 3.2 - 3.5 tonnes and the largest versions of the V80 will carry payloads weighing up to 1419kg. This puts the V80 some distances behind 3.5 tonne versions of the Fiat Ducato and Vauxhall Movano.   
Given its old-school feel, low-quality finish and limited dealer network (there are just 30 in the UK) it would be easy to dismiss the V80 for its many shortcomings. However, its low list price and comprehensive warranty package will give it plenty of appeal with van operators in need of a cheap, low thrills workhorse. 
What does a LDV V80 (2017) cost?
LDV V80 (2017): What's It Like Inside?
The LDV V80 is offered in a number of body configurations which include tipper, dropside and Luton box van. However, for most buyers, the panel van will be the V80 of choice.
Available in two wheelbases and three roof heights, cargo volumes start at 6.4 cubic metres and rise to 10.2 and 11.4 for long wheelbase models with a short or high roof. Gross Vehicle Weights peak at 3.5 tonnes and all vans get a cargo area that provides 770mm load width behind the wheel arches and 1380mm between the wheels. 
While the V80 matches some of the best large vans for load spaces, it falls a little flat on carrying capacity with payloads peaking at 1419kg. In comparison, a 3.5 tonne Fiat Ducato will shift 1655kg while the Vauxhall Movano will carry up to 1563kg.  
The high load floor makes the V80 easy to load and unload, while the non-slip floor and numerous tie-down points make it simple to secure cargo. Both rear doors can be locked open to 90 degrees and the single side sliding door has a useful opening width of 1090mm on short wheelbase model with 1290mm on long wheelbase models. 
The cabin reflects the van's Maxus origins with lots of cheap and scratchy materials that should at least be hard wearing, even if they're unpleasant to the look and touch. The doors lack any sort of hold when they are opened at three-quarters, which means they frequently slam shut within a few seconds of being opened – an annoyance if you're trying to load/unload the cab or are slow getting in and out. 
Like the old Maxus, the V80 has its instrument binnacle set in middle of the dashboard, which makes it difficult to read your speed at night due to the poor backlighting. There's not much in the way of interior comforts either and the tinny FM radio seldom holds a radio frequency for more than five minutes before dropping out to a broken chorus of static.
Despite its lack of tech, the cabin is comfortable for three adults to fit, with firm and supportive seats that generally do a good job of supporting the back over a long journey. There also some useful pockets in the doors, an overhead shelf and a pair of pull-out cup holders. 
What's the LDV V80 (2017) like to drive?
The V80 feels very much like an old-school van on the road, with lots of road and engine noise making its way into the cabin. The four-cylinder diesel engine erupts into life with lots of diesel din and rattle and the shrill is all the worse under hard acceleration. Indeed, you'll struggle to hear a word your passenger says when pressing the engine hard to join a fast flowing motorway - it's that loud.  
The 2.5 turbodiesel develops 136PS, which makes for modest progress through the six-speed manual gearbox, but power quickly runs out once you reach the upper end of the rev counter, with 330Nm produced between 1800rpm - 2600rpm. L
Even by the official figures, the V80 is expensive to run, with claimed economy peaking at 30mpg. Fill the load area to its legal limit and economy will plummet, which means a full tank - of 80 litres - is short-lived. The engine's Euro5 status will also make it liable for urban clean air zone charges.
Despite its thirsty nature, the V80 is easy to drive and comfortable. The suspension is particularly good, with a supple ride quality that remains composed and predictable on bumpy roads. However, the light and slow steering can make it difficult to judge grip levels in challenging bends and there's also quite a lot of body pitching in the corners. The V80 is not a driver's van. 
Using the V80 in town is relatively stress free, however, with the light steering and parking sensors making it easy to guide the van into a tight space. But the cabin doors do have a tendency to slam shut and you can't unlock the van when the key is in the ignition - which may annoy delivery drivers who want to hop in and out for quick parcel drops. 
Unlike the best large panel vans, there's not much in the way of active safety equipment. You do get ABS, electronic brakeforce distribution and cruise control as standard, but the latter feels distinctly aftermarket owing to the fact it's operated by a large button on the dashboard.