Review: LEVC VN5 (2020)
Rating:
Efficient plug-in petrol hybrid van, capable of travelling up to 61-miles on pure electricity, comfortable interior, five-year/150,000 mile warranty.
Expensive to buy new, high load floor, limited dealer network.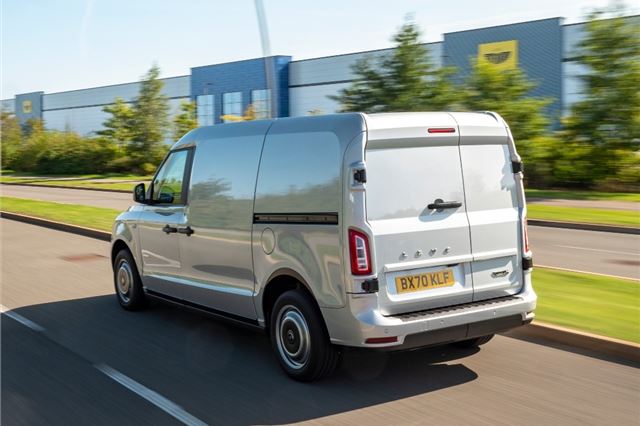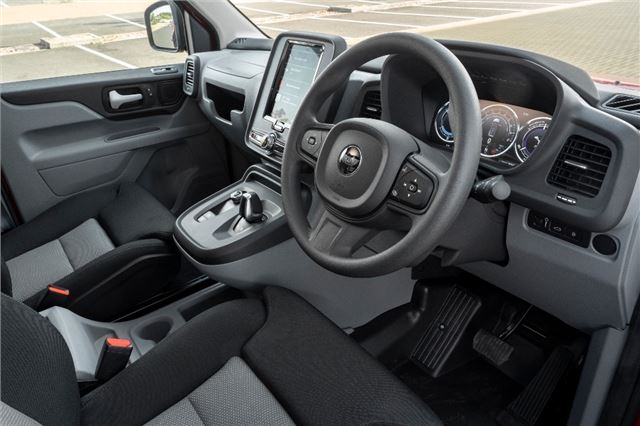 LEVC VN5 (2020): At A Glance
The LEVC VN5 is the small electric hybrid van with mass appeal. Easy to use, nimble to drive, cheap to run and backed by a long warranty, the VN5 is a highly competent and likeable small panel van.
LEVC - which stands for the London Electric Vehicle Company - is based in Coventry and is owned by the Chinese motoring giant Geely. Not content with building the successful London electric taxi, the black cab specialist is now revolutionising the commercial vehicle market with its affordable and practical small electric hybrid van.
The VN5 borrows a lot of its technology and oily parts with the Volvo XC40 plug-in hybrid - also owned by Geely - and this means you get a class-leading hybrid system that can power the van for 61-miles on pure electricity or up to 301-miles when the battery is operated in unison with the three-cylinder 1.5-litre turbocharged petrol engine.
Officially the VN5 will return 313mpg, but that figure is based on the van being used with a full charge most of the time. The battery pack is located under the loadspace floor and a full charge takes eight hours from a 3.5kW three-pin plug or three hours and forty-five minutes from a 7kW wallbox. The battery can also be fast charged from zero to full in 30 minutes when hooked up to a 50kW fast charger
LEVC says the VN5 has been engineered to last twice as long as a diesel van, which is why it's sold with a five-year/150,000 miles warranty. The battery is also guaranteed for eight-years or 150,000 miles - whichever comes first.
There isn't a lot of choice when it comes to bodystyles; the VN5 is offered in a single wheelbase, which provides a maximum payload of 830kg and 5.5 cubic meters of load space. All vans get a single side sliding door as standard and all versions will carry two Euro pallets. Gross Vehicle Weights (GVW) peak at 2900kg, but there is no tow bar option due to the fact the VN5 doesn't have an authorised tow weight.
On the road, the VN5 is easy to drive and comfortable. The interior isn't as spacious as the Ford Transit Connect or Vauxhall Combo, but the seats are supportive and all of the main controls are easy to find. The steering is nicely weighted, too, while the narrow front axle allows the van to perform a complete circle turn in just 10.1 metres. A lot of the interior switchgear is lifted from the Volvo XC40, too, which means everything has high quality and upmarket feel.
If you've always liked the idea of owning an electric van but have been put off by the idea of range anxiety then the VN5 will be the perfect compromise. Easy to use, practical and capable of travelling significant distances with zero tailpipe emissions, it's an impressive small van. The high list price might put off some new van buyers but the low fuel costs and exemption from clean air zones will make the VN5 a tempting long term ownership proposition for many operators and businesses.
What does a LEVC VN5 (2020) cost?
LEVC VN5 (2020): What's It Like Inside?
The maximum payload of the VN5 is 830kg and this puts it behind diesel-powered rivals like the Ford Transit Connect and Vauxhall Combo, which can carry up to 1000kg. The loadspace floor on the VN5 is also quite high and there isn't a high roof or long-wheelbase option, which means bodystyle choices are limited. 
However, while the VN5 isn't as customisable as its rivals or as capable in the weight department, you do get more loadspace with 5.5 cubic metres on offer - compared to the 4.4 you get with the Ford and Vauxhall. 
The loadspace measures 2447mm in length and up to 1574mm wide with 1104mm between the rear wheel arches. Unlike its rivals, there isn't an option for a load-through hatch in the bulkhead and this means you can't utilise the entire load length of the van. As a result, the load length lags behind many key rivals in the small van class - with many carrying pipes and planks of wood up to 3.4 metres. 
The maximum load height is a useful 1373mm and all versions of the VN5 get LED loadspace lighting, which means you won't be scrambling around in the dark searching for that elusive hammer when you have to work into the evening or dark winter months.
The load area will carry two Euro pallets and the side sliding door - which measures 1128mm - is wide enough to accommodate a single Euro pallet. Basic versions of the VN5 get four tie loops to secure payloads, while higher-spec models feature eight tie hooks.
What's the LEVC VN5 (2020) like to drive?
The VN5 is a smooth and comfortable van to drive. The 110kW electric motor generates the equivalent to 150PS, which is a respectable level of power for a small(ish) van such as this. Power is delivered to the rear wheels via a single-speed automatic gearbox, which means the delivery is smooth, predictable and quiet. 
The 1.5-litre turbocharged petrol engine will emit some low-level noise when it hums into life to provide some extra poke to overtake a slow-moving vehicle or accelerate away from a busy junction, but for the most part the VN5 will waft along in a relaxing and rewarding silence. 
The electric hybrid powertrain might sound complicated but it doesn't really need much input from the driver - apart from plugging it in to charge, obviously. There are three driving modes - Pure EV, Smart or Save - which let you drive the van as a pure EV or save the battery charge. Most people will keep the van in auto mode, which automatically decides when it needs to use the battery or the 1.5 petrol engine. 
The VN5 is at its best in the urban environment, with its light steering and nimble handling make it an enjoyable thing to navigate a bustling town or city. The 10.1-metre turning circle gives the VN5 outstanding agility, which means you can perform a full u-turn without having to stop and reverse. 
That said, the VN5 does have a few annoying traits that disrupt its otherwise smooth and relaxing demeanour. The driver's seat is comfortable and supportive, but the seating position is quite high and this means the low roofline has a habit of blocking your view of overhead traffic lights.
The door mirrors are also small and there is no blind-spot monitoring, which means you need to be constantly keeping an eye out for cyclists or other vehicles that may be alongside the vehicle.
The VN5 is limited to a top speed of 80mph and the performance does slow as you surpass 50mph, which means you have to judge motorway slip roads and overtaking with care. However, the 1.5-litre turbo petrol engine is smooth and quiet, which means the VN5 is good for covering long journeys. 
Standard equipment is quite generous, with entry-level Business trim vans getting automatic LED headlights, cruise control auto windscreen wipers and a classy 9.0-inch touchscreen infotainment system. Mid-spec City trim adds front and rear parking sensors, heated windscreen and a lane departure warning system. The range-topping Ultima gets touchscreen navigation, reversing camera and electric heated seats.