Review: MAN TGE (2017)
Rating:
Access to MAN trucks dealer and service network. Good to drive. User-friendly. Plenty of versions so suit individual needs.
Some of the best convenience features are optional. Interior isn't as plush as a Mercedes-Benz Sprinter.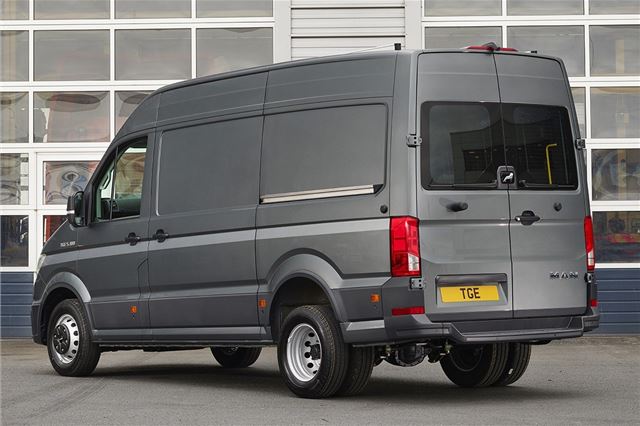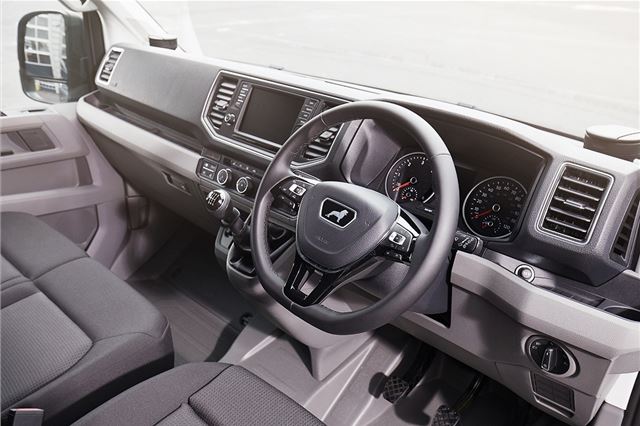 Recently Added To This Review
3 May 2019
Honest John Awards 2019: MAN TGE wins Large Van of the Year The large panel van takes the 2019 award for being the most popular vehicle in its class at Honest John Vans. Dan Powell, Editor of... Read more
25 April 2018 MAN launches Vans to Go body package
Working in partnership with two of the UK's leading body builders the MAN Vans to Go offer operators a choice of hard wearing and robust Dropside, Tipper and Luton bodies. All bodies come with... Read more
MAN TGE (2017): At A Glance
You could be forgiven for never having heard of MAN – they're new to vans. But they're not new to commercial vehicles, with a comprehensive, highly-rated range of trucks and coaches, as well as a large dealer and servicing network across the UK and Europe.
And that's why its new TGE is such an important new van. MAN made a special effort to explain that it's a commercial vehicle maker, not a car maker with a range of vans. So you'll get access to that network, which has longer opening hours and provides 24-hour roadside assistance. In 2018 the TGE range was expanded to include dropside, tipper and Luton bodies.
Obviously, that would all be for nothing if the van was terrible, but pleasingly that's not the case. It's effectively the same as the Volkswagen Crafter and is built in the same plant. It has the same strong, refined engines and the same excellent convenience tech including trailer parking assistance. In short – it's great.
The naming structure looks a little confusing but the first digit shows the vehicle's payload. The numbers after the point show power – so a TGE 3.180 has a 3.0 tonne payload capacity and has a 180PS engine. All versions get the same 2.0-litre TDI, with 102PS, 122PS, 140PS or, in Bi-Turbo form with 177PS.
As with the Crafter, there's front-wheel, rear-wheel and all-wheel drive options, with manual or eight-speed automatic transmissions. Go for a rear-wheel drive model and gross vehicle weight is up to 5.5 tonnes. Standard, long and extra-long variants are offered with standard, high or super high roof options.
You can also get combi versions, as well as chassis cabs and chassis crew cabs for conversion to a range of different vehicles including tippers and box vans. Stick to the panel van and max cargo length is up to 4855mm, with a maximum internal height of 2189mm for the super-high versions.
Pricing is on par with the Crafter, so if you think a stronger service and maintenance offering is important for your company it's very easy to recommend – especially if you have a fleet of vans. That said, if you only want a single van for your smaller business a Volkswagen Crafter is probably just as good of an option – so speak to both dealers before deciding.
What does a MAN TGE (2017) cost?
MAN TGE (2017): What's It Like Inside?
The MAN TGE has the same broad range of sizing options as Volkswagen with its Crafter. That means, if you want a panel van, you can pick between standard, long and extra-long, with standard, high and extra high roof options. For those who need maximum carrying capacity, rear-wheel drive versions have gross weights up to 5.5 tonnes.
Pick the front-wheel drive model and you'll get a more convenient, 100mm lower load height and a slightly higher maximum load volume of up to 18.3m3. So, if you're moving awkward items or carrying lots of packages for multi-drop work, it might be a little easier when loading and unloading.
Maximum length for the standard panel van is 3640mm, rising to 4300mm for the long variant and 4855mm for the extra-long. Respective load heights for normal, high and super-high roof options are 1726mm, 1961mm, 2189mm. The total range of gross vehicle weights is 3.0, 3.5, 3.8, 4.0, 5.0 and 5.5 tonnes, depending on specification.
The sliding side door is light and provides a sizeable opening for easy access, while the rear doors are easy to open and close. They can be fitted with an optional 270 degree opening mechanism, which can help when g bulky items in and out. Protection for the cabin floor and interior sidewalls can also be specified.
There are Combi variants too, if you need to carry people as well as materials, plus chassis cabs and platform cabs to be converted into a range of vehicles including tippers, box vans and campers.
Up front the cab is really easy to get to grips with and feels hardwearing. Handy features include under seat storage to keep valuables hidden, plenty of cubby holes and power outlets for charging portable electronics. The additional middle seat, if fitted, can be folded down to form a table.
If you're expecting to spend long stints at the wheel then the seats should prove comfortable, but there are optional seats that provides better back support and has various different configurable weight settings and an air cushioning system, like a HGV, to provide the best comfort. 
What's the MAN TGE (2017) like to drive?
The MAN TGE uses the same engine range as the Volkswagen Crafter, with a four-cylinder 2.0-litre TDI diesel doing the hard work across 102PS, 122PS, 140PS and 177PS outputs, the latter of which uses twin turbocharging. Peak torque ranges from 300Nm to 410Nm.
The best of the bunch is the 140PS engine since it provides a good balance of load-lugging capability, performance and price. But whatever you pick, you'll get excellent refinement both at low speeds and when cruising on the motorway, plus a decent, easy gear change.
Optionally, there's and eight-speed automatic and it's excellent, with smooth changes and good anticipation of what gear the driver will need. If you get stuck in traffic jams and spend a lot of time in town it'll come in very handy – but you can only have it with front- or all-wheel drive.
If you want the more capable rear-wheel drive model you'll have to settle for a manual transmission – and you'll have to check your licence too, since there are variants that have gross vehicle weights of above 3.5 tonnes. Depending on when you passed your car test that might mean you're not permitted to drive them.
One of the highlights of the TGE is the range of technology on offer. adaptive cruise control, autonomous emergency braking, semi-autonomous reverse parking, trailer reversing assistance and rear cross traffic alert are available, as is a system that detects low objects like bollards and gives a warning, helping minimise the chance of scrapes and damage.