Review: Mercedes-Benz eSprinter (2019)
All-electric panel van with range of 93 miles, one-tonne payload capacity, zero tailpipe emissions.
Not available until late-2019.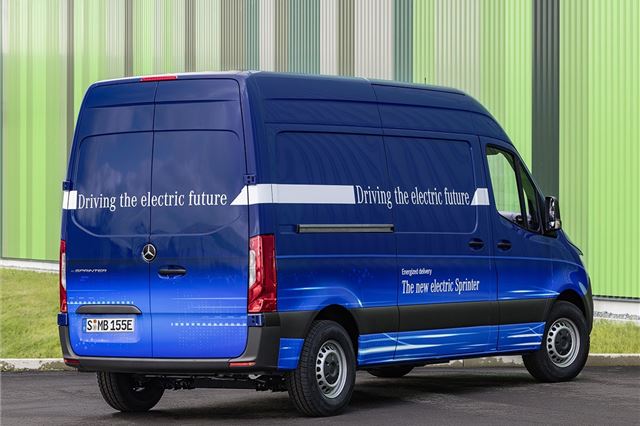 Recently Added To This Review
2 July 2018 eSprinter revealed
new eSprinter will be offered initially as a panel van with a high roof and a gross vehicle weight of 3500 kilograms. Just like a Sprinter with an internal combustion engine, the maximum cargo... Read more
Mercedes-Benz eSprinter (2019): At A Glance
The eSprinter is the largest all-electric Mercedes-Benz van. Offered in two versions, the electric Sprinter will cover up to 93 miles on a single charge and shifts payloads weighing up to 1040kg.
The eSprinter is available in one bodystyle: L2 panel van with a high roof and a gross vehicle weight (GVW) of 3.5 tonnes, which means you can drive it on a standard car licence. 
Like the entry-level four-cylinder turbodiesel in the standard van, the eSprinter gets 114PS and 300Nm of torque. The 84kW electric motor is linked to a battery pack that takes between six and eight hours to fully charge, depending on which model you choose.
Mercedes-Benz offers the eSprinter with three (41.4kWh) or four (55.2kWh) batteries; the former takes six hours to recharge and is limited to a range of 71 miles. The 55.2kWh van takes longer (eight hours) to charge but provides 93 miles per charge.
At the business end of things, the eSprinter shifts payloads weighing up to 1040kg when specified with three batteries or 900kg when fitted with four. However the electric Sprinter doesn't get close to matching the 1304kg you get with a L2 front-wheel drive Sprinter with a diesel engine. The rear doors open to the side walls even more easily; there is no longer a mechanically released catch in the 90-degree position, and the door can be conveniently opened with one hand.
All vans get keyless start, which means delivery drivers will be able to park up and jump out for short-drops with the keyfob in their pocket, while a new smartphone app will allow authorised colleagues to unlock the van with their phone. The app will also track the van and provide business owners and fleet managers with daily reports to show where the van has been and how it's been used.  
Like Mercedes-Benz passenger cars, the Sprinter gets the option of a 12.3-inch screen that will operate the latest MBUX - Mercedes-Benz User Experience- infotainment system This will allow the driver to ask "where am I?" or issue verbal navigation instructions without taking their hand off the steering wheel.
There's also a whole host of driver aids, with automatic headlights, a self-park function and a rear cross traffic system that will warn the driver of approaching vehicles when backing out of a road or narrow driveway. 
What does a Mercedes-Benz eSprinter (2019) cost?
Buy a used Mercedes-Benz Sprinter from £32,992