Mercedes-Benz Sprinter (2018–)
Last updated 17 April 2019
Huge carrying capacity, easy to drive, impressive choice of bodystyles, efficient range of 2.1-litre engines.
Most of the smart tech costs extra.
Updated 17 April 2019
Engine start/stop fitted as standard to WLTP Sprinter vans
All Sprinter vans from June will get engine start/stop as standard.
Introduction
The Mercedes-Benz Sprinter is the benchmark by which all other large vans should be judged. Easy to drive, comfortable and capable of shifting gargantuan loads, this Sprinter follows the successful trend of its predecessors while also setting new standards for usability, technology and driver safety.
Described by Mercedes-Benz as a 'toolbox on wheels', the Sprinter does everything you'd expect of a big van with payloads peaking at an impressive 3150kg. Drivers also get the option of front-wheel drive, along with the traditional rear-wheel and four-wheel drive variants.
All versions boast a workmanlike quality, with a load compartment that measures 1.7 metres wide behind the wheel arches and a maximum floor length of 4.8 metres.
As with previous-generations of the Sprinter, road handling is among the best of any large van and this allows even the most inexperienced of drivers to feel confident behind the wheel. Ride composure is excellent too, which means the van remains comfortable and predictable on twisty and bumpy roads, even when carrying a full load.
Spending a full day behind the wheel of the Sprinter is stress free. The seats are large and have lots of firm padding for back and leg support. All vans get Bluetooth connectivity, air con and a comprehensive array of safety kit, with adaptive cruise control, 360-degree parking camera and driver fatigue monitoring. The infotainment system can also be operated via voice control, which means the driver can say "hey Mercedes, call my boss..." to make handsfree calls.
Under the bonnet the Sprinter uses the same Euro6 engines as its predecessor, with the familiar four-cylinder 2.1-litre turbodiesels offered alongside the powerful 3.0-litre V6. Claimed economy peaks at 41.5mpg while outputs range from 114PS to 177PS for the 2.1 units and rise to a thumping 190PS for the V6.
The sweet spot in the range - in both front-wheel and rear-wheel guises - is the 143PS four-cylinder diesel with its 330Nm of torque providing plenty of low gear pull. Most engines use a six-speed manual gearbox, but a seven-speed and nine-speed torque converter automatics are available as an optional extra.
Owners can keep tabs on the Sprinter with Mercedes Pro connect. The system has been developed in-house by the German vanmaker and sends telematics information on the vehicle's mechanical condition and economy direct to the operator's computer or smartphone.
It's also possible to remotely send job information and route destinations to the van's navigation system. However, with so many aftermarket telematics packages on offer, it remains to be seen if operators will be willing to drop their existing contracts for Mercedes-Benz's all-new system.
In our opinion, the third-generation Sprinter is one of the most accomplished large vans you can buy, which is impressive given the quality of the competition. Most van operators will be attracted by its big carrying capacity and affordable fuel figures, while drivers will appreciate the Sprinter's rewarding drive and car-like comfort. 
Also consider...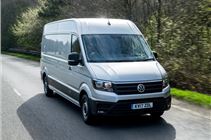 Volkswagen Crafter 2017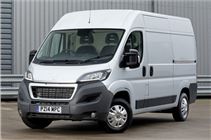 Peugeot Boxer 2006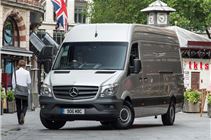 Mercedes-Benz Sprinter 2013
Contract hire from

£199.00

+VAT pm
Lease from

£256.00

+VAT pm