Review: Mercedes-Benz Sprinter (2018)
Rating:
Huge carrying capacity, easy to drive, impressive choice of bodystyles, efficient range of 2.1-litre engines.
Most of the smart tech costs extra.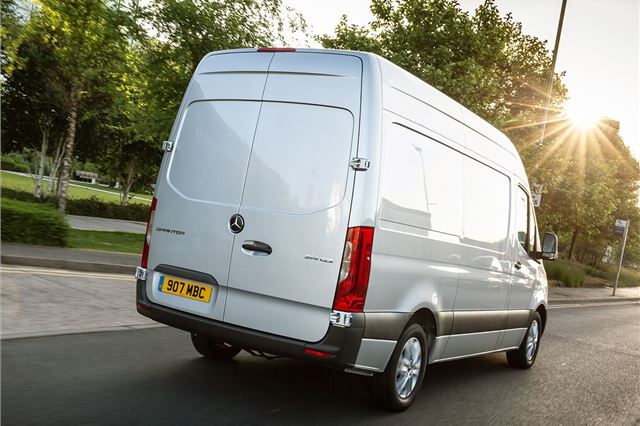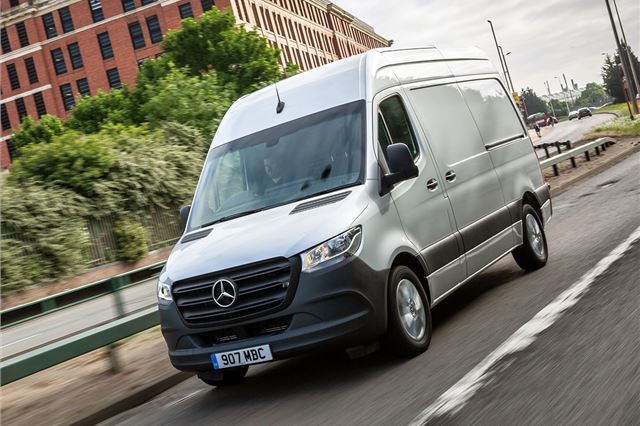 Mercedes-Benz Sprinter (2018): At A Glance
The Mercedes-Benz Sprinter is the benchmark by which all other large vans should be judged. Easy to drive, comfortable and capable of shifting gargantuan loads, this Sprinter follows the successful trend of its predecessors while also setting new standards for usability, technology and driver safety.
Described by Mercedes-Benz as a 'toolbox on wheels', the Sprinter does everything you'd expect of a big van with payloads peaking at an impressive 3150kg. Drivers also get the option of front-wheel drive, along with the traditional rear-wheel and four-wheel drive variants.
All versions boast a workmanlike quality, with a load compartment that measures 1.7 metres wide behind the wheel arches and a maximum floor length of 4.8 metres.
As with previous-generations of the Sprinter, road handling is among the best of any large van and this allows even the most inexperienced of drivers to feel confident behind the wheel. Ride composure is excellent too, which means the van remains comfortable and predictable on twisty and bumpy roads, even when carrying a full load.
Spending a full day behind the wheel of the Sprinter is stress free. The seats are large and have lots of firm padding for back and leg support. All vans get Bluetooth connectivity, air con and a comprehensive array of safety kit, with adaptive cruise control, 360-degree parking camera and driver fatigue monitoring. The infotainment system can also be operated via voice control, which means the driver can say "hey Mercedes, call my boss..." to make handsfree calls.
Under the bonnet the Sprinter uses the same Euro6 engines as its predecessor, with the familiar four-cylinder 2.1-litre turbodiesels offered alongside the powerful 3.0-litre V6. Claimed economy peaks at 41.5mpg while outputs range from 114PS to 177PS for the 2.1 units and rise to a thumping 190PS for the V6.
The sweet spot in the range - in both front-wheel and rear-wheel guises - is the 143PS four-cylinder diesel with its 330Nm of torque providing plenty of low gear pull. Most engines use a six-speed manual gearbox, but a seven-speed and nine-speed torque converter automatics are available as an optional extra.
Owners can keep tabs on the Sprinter with Mercedes Pro connect. The system has been developed in-house by the German vanmaker and sends telematics information on the vehicle's mechanical condition and economy direct to the operator's computer or smartphone.
It's also possible to remotely send job information and route destinations to the van's navigation system. However, with so many aftermarket telematics packages on offer, it remains to be seen if operators will be willing to drop their existing contracts for Mercedes-Benz's all-new system.
In our opinion, the third-generation Sprinter is one of the most accomplished large vans you can buy, which is impressive given the quality of the competition. Most van operators will be attracted by its big carrying capacity and affordable fuel figures, while drivers will appreciate the Sprinter's rewarding drive and car-like comfort. 
What does a Mercedes-Benz Sprinter (2018) cost?
Buy a used Mercedes-Benz Sprinter from £27,594
Mercedes-Benz Sprinter (2018): What's It Like Inside?
The Mercedes-Benz Sprinter has a comprehensive range of bodystyles. In fact, with 1700 different variants, covering panel vans, flatbeds, tippers, dropsides and refrigerated box vans, there should be a Sprinter to feet every job. 
For most buyers, the panel van will be the Sprinter of choice and it's here that the Mercedes-Benz offers the most versatility, with four body lengths, three load heights and GVW ranging from 3.0 to 5.5 tonnes.
In its largest form, the Sprinter headlines with some impressive stats. There's space for seven Euro pallets and a maximum payload of up to 3150kg. However, for getting the best from the Sprinter, it's worth analysing what you carry on a daily basis and then finding the right van that suits your needs, budget and licence restrictions.
For delivery drivers, the front-wheel drive Sprinter will appeal with additional load space and load sill that sits 80mm lower than the rear-wheel drive version. Hard wearing and slip resistant plastic flooring and wood panelling is also available and all versions get LED lighting so you don't have to fumble around in the dark to find that elusive tool or parcel at the end of the working day.
Builders who need a crew van can sacrifice load space for an additional set of seats, with the full height bulkhead being shifted back to accommodate three extra pews. Optional extras include movable pallet supports – to prevent pallets from shifting and damaging the load area – and an integrated stowage compartment in the entry steps. Internal roof racks are also available, along with refrigerated or heated load compartments.
Usefully, all Sprinters get a load area that measure 1787mm behind the rear wheel arches and 1200mm between them. The rear doors can be opened to the side walls even more easily and there is no longer a mechanically released catch in the 90-degree position, which means the rear doors can be opened with one hand. The side sliding door opens a load area that is large enough to accommodate a Euro pallet too. 
Depending on which model you choose, the Sprinter offers 7.8 to 17.0 cubic metres of load capacity while the load floor ranges from 2732mm to 4810mm in length. Load heights vary from 1719mm to 2243mm and robust cladding to the wheel arches means that they can be loaded with cargo without fear of causing damage or dents to the wheel housing.
The quality of the cabin is generally first rate and top spec models get a 10-inch colour touchscreen with voice activated commands allowing the driver to say "hey Mercedes, call my boss" or "I'm hungry". However, while smart, we think most buyers will opt for the base spec 7.0-inch touchscreen which can be fitted with navigation. There is also lots of useful storage, with large door bins and a generous scattering of cup holders. But the hinged lid compartments on the dashboard are quite fiddly, due to poor quality buttons that open and close the lids. This means they have a tendancy to pop open.
All vans get Bluetooth as standard and Mercedes-Benz offers a handy smartphone app that allows your work colleagues to unlock the load space without a traditional key.
What's the Mercedes-Benz Sprinter (2018) like to drive?
The Mercedes-Benz Sprinter is one of the best large vans when it comes to driving, with its refined engines and speed sensitive steering giving it a reassuringly solid feel on the motorway. Take the van into a town and, as your speed drops, the steering becomes lighter and this makes it easy to navigate congestion or guide the van into a tight parking space.
Van operators who regularly rotate drivers will be pleased with the fact that the Sprinter is easy to use. They'll also be reassured by the array of semi-autonomous driver assistance, with the Sprinter getting everything from autonomous city braking to a drowsiness detection system that'll prompt the driver to take a break if it detects mistakes being made on the road. The rear traffic alert package is a must-have option, warning the driver of approaching vehicles when reversing.
Depending on which version you choose advertised fuel economy spans from 41.5mpg - 29.1mpg, making the Sprinter one of the most-efficient large vans in its class. Most buyers will choose one of the four-cylinder 2.1-litre turbodiesels, while those who want to tow up to 3.5 tonnes will turn to the potent 3.0-litre V6 diesel.
Unless you really need the V6's 190PS for heavy duty hauling, the 2.1-litre range of engines will be more than sufficient for everyday work. Outputs range from 114PS, 143PS to 163PS for rear-wheel drive versions, while front-wheel drive versions get 114PS or 143PS. Camper van builders get access to the powerful 177PS 2.1 unit.                 
Most engines come with a smooth shifting six-speed manual gearbox, while seven and nine-speed automatics are available as optional extras. Torque levels are high across the range, but the Sprinter feels at its best with the 143PS 2.1-litre turbodiesel and manual transmission. However, the autos are impressive and will be a worthy option for operators who use inexperienced drivers.
In terms of handling, there's very little notable difference between the front-wheel and rear-wheel drive Sprinters. The handling is smooth and predictable across the board and the wide windscreen and large two-tier door mirrors provide excellent visibility.
However, for long wheelbase versions, the blind spot monitoring system will be a worthy addition, with it emitting a loud beep if it detects a potential collision in the van's blind spot.
What do owners think?
Our view gives your our opinion, based on driving hundreds of cars every year, but you can't beat the views of someone who lives with a car day-in, day out.
5 star

50%

4 star

3 star

50%

2 star

1 star