Review: Mercedes-Benz X-Class (2018 – 2020)
Rating:
Premium pick-up with car-like refinement and comfort, quiet engines, 3.5 tonne towing capacity.
Expensive to buy new, high running costs, interior quality not quite up to Mercedes-Benz car standards.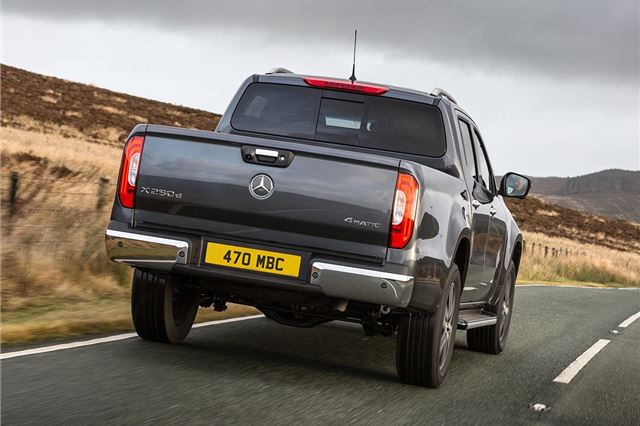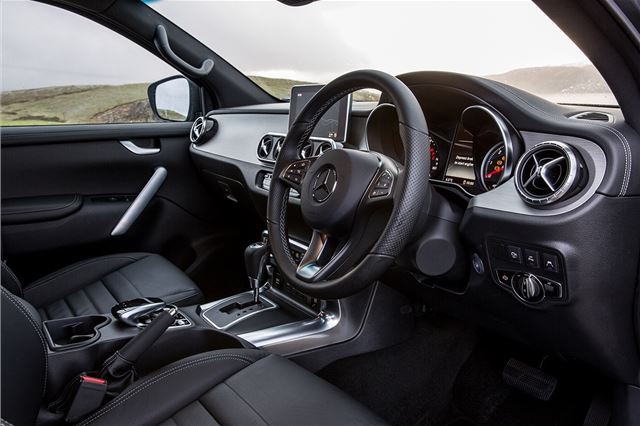 Mercedes-Benz X-Class (2018 – 2020): At A Glance
Good to drive, practical and unashamedly expensive, the Mercedes-Benz X-Class adds a touch of premium refinement and exclusivity to the rugged world of one-tonne pick-ups. 
The air of exclusivity is evident from the moment you first clamp eyes on the Mercedes-Benz X-Class; the front end is dominated by a huge three-pointed star, which sits in the middle of an equally large and imposing grille. Make no mistake, this looks every inch a Mercedes-Benz - albeit one that's based on the underpinnings of the Nissan Navara.
Indeed, peer under the metal of the X-Class and you'll find that the platform, engines and transmissions are all shared with the Navara. This means the X-Class is built for hard graft. It also gets the same sophisticated suspension set-up as the Nissan, which means it has a smooth, car-like ride quality. 
When it comes to shifting huge loads, the X-Class matches the best with a one-tonne payload and 3.5 tonne braked towing capacity. It has some neat features too, with a built-in bumper step - that allows you to load/unload without opening the tail gate - and a brake light that doubles up as a worklight to illuminate the loadbed at night.
The X-Class is great to drive on the road, with car-like handling and supple suspension that wouldn't feel amiss in a premium family SUV. The steering, for example, is smooth and precise, while engine, road and wind noise has all been reduced to a hushed rumble. What's more, if you want to head off-road, there is a whole raft of tech at your fingertips, including a four-wheel drive system that can be activated on the move via a rotary dial situated above the gearstick.
The cabin is high in quality for a pick-up, but not on par with the Mercedes-Benz car range. And nor should it be, owing to the fact that the X-Class is effectively a working vehicle. This means hard wearing plastics are common, but there are also plenty of premium touches, with leather seats, wood trims and stitched dashboard covers.
Given the shared tech, it would be easy to criticise the X-Class as an expensive, facelifted Navara; however, this would be extremely unfair because the Mercedes-Benz genuinely feels very different to the Nissan. Good to drive, refined and stylish, it's one of the best pick-ups on the market. Admittedly, the price point is huge, but if you can afford it then Mercedes-Benz X-Class won't disappointed. 
What does a Mercedes-Benz X-Class (2018 – 2020) cost?
Mercedes-Benz X-Class (2018 – 2020): What's It Like Inside?
Unlike its rivals, the Mercedes-Benz X-Class doesn't get much choice when it comes to bodystyles. The X-Class is only offered as a double cab; this is down to the fact that Mercedes-Benz is openly pitching its pick-up to SUV buyers and professionals who want a working vehicle that will double up as classy, family transport at the weekends.
There are three trim levels - Pure, Progressive and Power - and the basic version is aimed at tradespeople, with unpainted plastic bumpers, 17-inch steel wheels, plastic flooring and hardwearing cloth seats. The Progressive trim takes things up a notch, with body coloured bumpers, alloy wheels, automatic headlights, climate control and heated door mirrors.
Mercedes-Benz expects most buyers to choose the X-Class in Power trim and this is the best-equipped of all, with 18-inch alloys, LED headlights, keyless start and leather seats. However, there's no reach adjustment for the steering wheel on any of the X-Class variants, which can make it tricky to find a natural driving position. 
Like the Nissan, the big Mercedes can carry payloads weighing one-tonne. Towing capacity is also huge, with the X-Class capable of lugging 3.5 tonnes when hooked to a braked trailer. If the standard 90-degree tailgate opening is not enough, the X-Class can be ordered without the rear bumper to allow the tailgate to open to 180 degrees.
In terms of size, the loadbed is designed in such a way that a Euro-pallet can be loaded straight between the wheel arches. The loadbed is 1587mm long and 1560mm wide and the third brake light doubles up as a smart LED light that will illuminate the whole loadbed - always handy for loading/unloading at night. There is also a built-in step in the rear bumper makes it easy to lift items out of the back, without lowering the tailgate.
The interior is upmarket by pick-up standards, but buyers expecting an opulent Mercedes-Benz car experience might be a little disappointed with the abundance of hard and scratchy plastics found in the doors and lower parts of the dashboard. That said, the interior is well made and durable.
High spec models get a smart leather stitched finish to the upper part of the dashboard, along with a seven-inch infotainment screen that's operated via a touch pad. The cabin itself is large, although fitting five adults will be a squeeze owing to the narrow middle seat in the rear.
What's the Mercedes-Benz X-Class (2018 – 2020) like to drive?
Like its Nissan counterpart, the Mercedes-Benz X-Class is powered by a Renault-sourced Euro6 2.3-litre turbodiesel. Available in two outputs - 163PS or 190PS - both will tow a braked trailer weighing up to 3.5 tonnes and shift payloads up to one-tonne. A Mercedes-Benz-built V6 will be added to the range in mid-2018 and feature 258PS, which should lay the groundwork for a performance-focused AMG model in 2019.
For everyday driving, the 2.3-litre diesel is more than sufficient; the entry-level 163PS version develops 403Nm of torque from 1500rpm, which provides plenty of low-down pull across the six-speed manual gearbox. Capable of covering 0-62mph in roughly 12 seconds, the 163PS engine is fine for motorway driving and light off-roading, but can feel a little lethargic when tackling steep inclines or carrying heavy loads.
In comparison, the 190PS engine - which reaches 62mph from a standstill in 11 seconds - is much better for maximising the X-Class' gargantuan towing ability, as well as thundering up hills, with 450Nm of torque and a smooth seven-speed automatic transmission fitted as standard.
Mercedes-Benz claims to have spent considerable time improving refinement and handling. And the hard work has clearly paid off because the X-Class feels like an upmarket and comfortable family SUV on the road. Indeed, the light and responsive steering makes it surprisingly easy to guide the vehicle's 2.2 tonnes through a series of twisty bends. The suspension doesn't crash or pitch sideways on rough roads either, even when the vehicle is unladen.
Both the throttle and brake pedals are light and require a deft touch to operate. This means a light foot motion is all that's required to increase momentum for overtaking or cutting speed for cornering. The smooth steering also makes parking painless, with most models getting front and rear parking sensors as standard. In our opinion, the X-Class is one of the best pick-ups for everyday comfort and refinement.
Like the Navara, the X-Class uses a selectable four-wheel drive system; this means it runs in rear-wheel drive until you turn the rotary dial above the gearstick to active all-wheel drive. High and low ratios are also activated by the big dial and there is a switch that allows the vehicle to automatically control its speed down a steep incline. A lockable differential for the rear axle is available as a payable option.
The only area where the Mercedes-Benz falls a little flat is on fuel economy. The 163PS engine, for example, will return an official 37.1mpg. Advertised economy for the more-powerful 190PS drops to 35.7mpg, which is a long way short of the 44.8mph that Nissan advertises for the four-wheel drive Navara.