Review: Nissan e-NV200 (2014 – 2021)
Rating:
Very comfortable and quiet, amazing running cost savings compared to diesel, absolutely no compromise on space or versatility.
Range anxiety won't quite go away.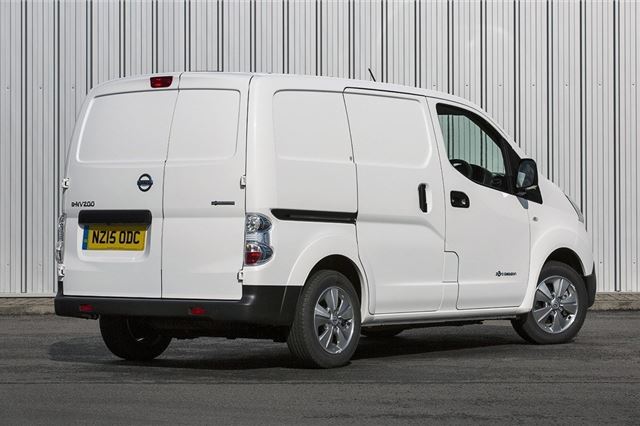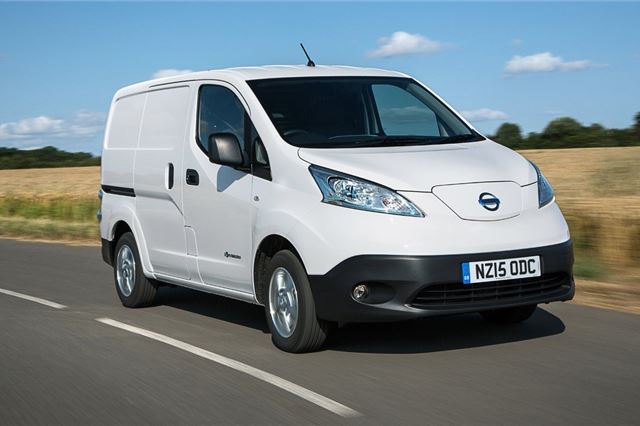 Nissan e-NV200 (2014 – 2021): At A Glance
As an ell-electric van with a theoretical three-figure mileage range and no compromise on loading capacity, Nissan is calling the e-NV200 a 'game changer'. That may well be the case, although the game started a while ago – Peugeot put the Partner Electric on sale in 2013 and Renault sells the Kangoo Z.E. 

Like the regular NV200, van and combi versions are available, making this the basis for extremely capacious family transport – and effectively the UK's first all-electric MPV. As a workhorse, the e-NV200 van provides 4.2 cubic metres of load space and a maximum payload of 705kg. 
So without any practicality compromises, the only thing left to cause a van man any anxiety is that most anxiety-inducing issue of all electric vehicles: its range. And arguably it's more prevalent here, because a van that runs out of charge during a delivery is a van that's losing its business money. 

Nissan has worked hard to counter this problem, first of all by giving the e-NV200 batteries enough for a theoretical 106-mile range, which was extended to a maximum of 124-miles in 2017 with the fitment of a larger battery. 
Charging shouldn't cause too much stress either, says Nissan. Find a 'rapid' battery charger capable of juicing the battery from 20 to 80 per cent from flat in 40 minutes. And there's the good old home socket, of course, which is where most will find their power, overnight, depending on the amp rating of the supply, charging can take between four and 12 hours.
Nissan admits that the e-NV200 won't work for everyone, but also estimates that around a third of vans on the road never do more than 80 miles in a day – a significant target market to entice into, as Nissan puts it, "never buying diesel again". 
What does a Nissan e-NV200 (2014 – 2021) cost?
Buy a used Nissan e-NV200 from £10,188
Nissan e-NV200 (2014 – 2021): What's It Like Inside?
We're already strong advocates of the NV200, thanks in no small part to its excellent use of space in a relatively compact body. And because Nissan has packaged the Leaf's drivetrain without losing any of that space, we remain impressed. The van has 4.2 cubic metres of load space and a load height of 520mm. This is a very handy, very spacious van. 
With the batteries packed in a thin slice under the flat floor, the load bay will swallow two standard Euro pallets, despite suffering from the usual wheel arch intrusion. And while a top-hinged tailgate is standard in the family-friendly Combi, the van gets an asymmetrical door arrangement that doesn't encroach into the loading aperture.
The loading bay is low to the ground and the loading length is a significant 2.8 metres when the optional load hatch is fitted. Even the maximum payload is uncompromised by the battery pack and remains very impressive, at 703kg. 

The cabin itself is no-frills in terms of design and material use, but it's cleverly designed, with no less than 13 storage places, including plenty of places to keep mugs and mobile phones, plus under-seat storage for keeping stuff hidden away.
Our only real criticism is the front-hinged oddments box between the front seats, which is designed to have things placed on top but can be flipped forward – creating the possibility of launching whatever's on top of it onto the floor. 

For the e-NV200 there are three trim levels: Acenta, Acenta Rapid, and Tekna Rapid, where 'Rapid' denotes the addition of fast charging capability. Even Acenta is generous though, including luxuries like a rear view camera, Bluetooth, electric windows and air conditioning. Interesting is the availability of Nissan's CARWINGS service, which among other things allows remote access to remaining battery charge from a smartphone or computer. 
What's the Nissan e-NV200 (2014 – 2021) like to drive?
You can't change the game without playing it first, so the Nissan e-NV200 needs to function properly as a van. It does that, but its electric nature bestows upon it an overarching sense of calm that's definitely not the hallmark of most vans. It's actually a relaxing drive.

Nissan claims 'car-like handling and responsiveness' which the forces of physics ensure isn't quite true. Nonetheless, the distinct lack of diesel clatter in the e-NV200 contributes to an almost incongruously refined driving experience.

Ultimately the idea of a compact van such as this, and rivals like the Ford Transit Courier, is to be manageable around town – and in this respect the e-NV200 is very car-like. The flat angle of the steering wheel, which inevitably leads to a 'long-arm, short leg' driving position, makes getting truly comfortable a little tricky, but the sharpness of the steering rack and tight turning circle make it an easy thing to place – especially important in busy towns.

And in town the ride quality is excellent, although the dense battery pack – and the beefed up suspension required to accommodate it – means that the e-NV200 will occasionally thump into the road with a jolt. The e-NV200's front suspension is taken from the Leaf, while the rear torsion beam is taken from the American market NV200, which is intrinsically stronger, for whatever reason.

The drivetrain is, not surprisingly, pretty much lifted straight out of the Leaf, although Nissan's van department has made the battery pack 7.5kg lighter still. The electric motor generates 109PS, though that's a far less relevant number than the 254Nm of torque, which is a better indicator of the e-NV200's stuff-carrying ability. 

The main in-town benefit of the e-NV200 is the electric vehicle's trademark torque curve – or plateau, rather, with the maximum figure available from zero rpm, making for an extremely responsive throttle in the van's main mode. In Eco mode the right pedal needs a lot more shove, which lessens the effect but improves battery life.

Most importantly, in the world of heavy load bearing, this instant torque delivery gives the e-NV200 a massive advantage over anything with a conventional engine. On the motorway, the van's tallness and enormous side mirrors conspire to generate a significant amount of wind noise, although this is perhaps exacerbated by the complete lack of engine noise. 

It's an obvious observation, perhaps, but the difference between watching the battery percentage sink while the e-NV200 is close to its 76mph top speed, and its apparent thriftiness around town, is a very stark one – the e-NV200 is certainly a more calming companion in built-up areas, for a few reasons.

On matters of battery life, the transmission can operate in two modes: D and B, where D is standard drive mode and B activates a "more aggressive" energy recapture mode, giving the effect of strong engine braking when the accelerator is lifted. 
What do owners think?
Our view gives your our opinion, based on driving hundreds of cars every year, but you can't beat the views of someone who lives with a car day-in, day out.
5 star

4 star

100%

3 star

2 star

1 star