Review: Peugeot 207 Van (2007 – 2016)
Rating:
Good quality and ideal for small businesses such as florists, load area is more than a metre wide, gets bespoke suspension set-up.
Ford Fiesta van is a better all rounder.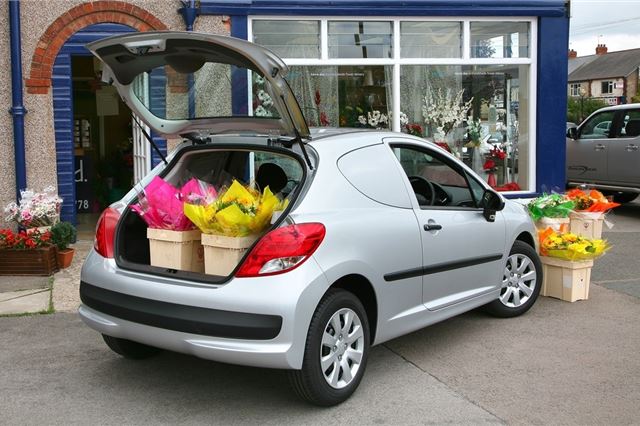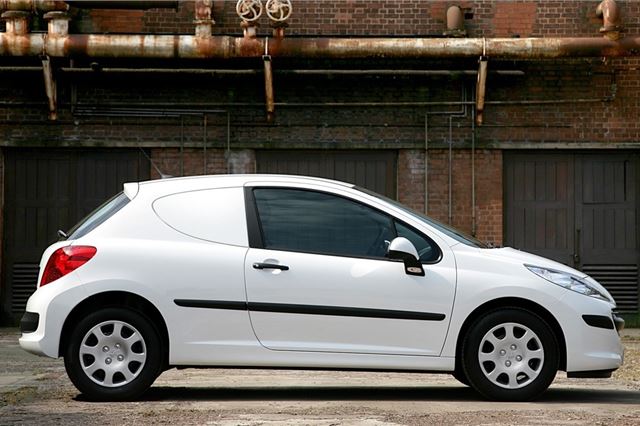 Peugeot 207 Van (2007 – 2016): At A Glance
The 207 may be a small car but the commercial vehicle version - which gets steel panels instead of side windows - is a usefully compact van with a payload of 450kg and a load volume of 1.105m3 resulting in a particularly versatile van. It's ideal for small businesses with light loads such as florists and despite a high load lip it has a carpeted load area that's 1335mm long and 1043mm wide. There are also six tie down retaining rings in the rear and a load area interior lamp.
Perhaps unsurprisingly for a van based so closely on a passenger car, the Peugeot 207 drives and behaves like one. It offers much more enjoyable and agile handling than most vans, though this comes at the expense of outright space compared to the likes of Peugeot's own Bipper.
There are two engine choices - a 1.4 HDi with 70PS or a 1.6 HDi with 92PS - both of which are designed to maximise efficiency with a claimed average of 62.8mpg and - from 2010 - CO2 emissions of 110g/km and 115g/km respectively. Both come with a five-speed manual gearbox as standard.
These engines allow for excellent running costs thanks to high economy and low emissions, particularly with the diesel motors. Light controls also make the 207 the perfect choice for urban multi-drop duties. Thanks again to its passenger car-based origins, the 207 van has a cab that is bristling with equipment compared to most commercial models. There are driver, passenger and side airbags as standard, along with electric windows and CD stereo. So it's a good bet for those who spend a lot of time behind the wheel.
The neatly styled 207 van was facelifted in 2009 with a restyled front end and gets a good range of safety equipment such as electronic brakeforce distribution, emergency brake assist plus adaptive front and side airbags and a passenger front airbag with deactivation switch. There are two trim levels - Standand and Professional and all models get central locking, a CD stereo, electric windows, height and reach adjustable steering column, sports front seats and a half height bulkhead.
What does a Peugeot 207 Van (2007 – 2016) cost?
Peugeot 207 Van (2007 – 2016): What's It Like Inside?
Next to most vans, the Peugeot 207's cabin is positively luxurious in its equipment count and specification. All come with driver, passenger and side airbags to make this one of the safest environments for a driver to work in. There's also a two-way adjustable steering column to add to the comfort and seats that offer far more support and all-day usability than the 206's that could induce back-ache after even short periods.
Peugeot also supplies electric windows and a CD stereo and air conditioning is an option to keep the cabin cool or help with demisting. Cruise control is another option for those who use their 207 van on the motorway a lot. Storage in the cabin is not as good as in more purpose-designed LCVs, so 207 van users are limited to a small glovebox, door pockets and a couple of in-dash trays and cupholders. It's not the most generous, but at least they are all within easy reach for the driver.
Another hangover of the 207 van's passenger car heritage are the small door mirrors. Where most van drivers are used to large mirrors to aid with reversing and keeping an eye on the blind spots, the 207's are the same as the standard hatch model. This means extra care is needed when changing lanes or filtering through traffic as other road users can be hidden from view in the van when they would be obvious to the driver of the hatch version.
On the upside, the 207 dash is identical to the hatch, so that means clear instruments in a binnacle that puts them squarely in front of the driver. Unlike the newer 208 dash, the binnacle is viewed through the steering wheel rather than over it and this gives the 207 driver a very natural and comfortable driving position. The heating and ventilation controls are simple rotary dials, which we think are the best, that allow the driver to adjust the temperature or fan speed on the move without having to let his vision wander from the road ahead.
In the load bay, the 207 is never going to win any capacity competition with the likes of the Bipper or other more boxy designs of van. However, it still manages to offer a decent 1.1 cubic metre of space and it can handle up to 450kg in weight, though this is not as much as some rivals can cope with.
The tailgate hinges at the top and opens high to reveal a good rectangular entrance and reasonably low load sill for this type of van. Unfortunately, there is a large drop from the load sill to the load floor, so heaving out weighty goods can be a struggle. A wipe-clean load floor is unhindered by any steps or interruptions, while six securing hooks help keep loads in place when on the move.
A load bay bulkhead that comes up half way keeps most goods from coming forward into the cabin, but we'd prefer the optional full-height bulkhead for the added safety and security it offers. Also on the security front, you will need to order the full-length load cover as an option to prevent curious eyes from peering into the load bay.
What's the Peugeot 207 Van (2007 – 2016) like to drive?
Peugeot 207 van buyers have three engines to choose from in the form of one petrol and two turbodiesel units. The petrol is a 75PS 1.4-litre motor and offers decent performance around town and is happy to be revved quite hard, though it does become a little too rowdy for our tastes when driven like this. A five-speed manual gearbox provides a light gearchange but not quite the accuracy of a Ford Fiesta's transmission.
For most van users, the pair of turbodiesel engines will be the more obvious choices. They come in 1.4-litre and 1.6-litre guises with 68PS and 90PS. Don't dismiss the 68PS unit, even if it has the lowest power of the three engines available in the 207 van. It may be down on power but it has more low and mid-rev shove than the petrol engine, so it gets off the mark smartly and carries on building speed with unexpected haste.
Like the petrol engine, the diesel motors in the 207 van are willing to be worked hard into the upper reaches of the rev bands. However, also like the petrol unit, the diesels begin to get noisy when they are taken beyond their natural ceiling of around 3000rpm. Given the power drops off from these engines at this point, there is little point assaulting your ears any more than is necessary to make rapid progress.
If it's rapid results you want, the 90PS diesel is the one to have. It might not be hot hatch fast but it makes the 207 van a zippy mode of transport and, thanks to the tenacious grip on offer, the Peugeot can make short work of cross-country travel. Using a higher gear and letting the engine's muscular mid-range pull do the work is key to this and the 207 is happy to deliver flexibility for a broad spread of in-gear acceleration.
All of the controls associated with the engine have a light feel, so the gearshift, throttle, brakes and clutch will not see you sprouting muscles you didn't know existed. As for the steering, though, this is heavier than you might think required for a small van. It's a legacy of Peugeot trying to give the 207 hatch a more sporting feel than its predecessor, the 206.
It's no bad thing when you're making your way along country roads and also gives the 207 a feeling of stability on the motorway. Around town, it does mean the 207's steering demands that little bit more effort than a Fiesta's or Corsa's.
Removing the rear seats to create the van model has not spoilt the refinement of the 207. At a cruise, the engines are reasonably quiet, there's no excessive wind or road noise and there's still enough sound-proofing to prevent any boom from the load area. Factor in the decent ride of the 207 and it makes a strong case for itself as a sound small van choice.