Review: SsangYong Korando Commercial (2012 – 2020)
Rating:
Well priced 4x4 van with strong diesel engine, good for towing, quiet on the motorway, rides well, comes with mud and snow tyres as standard, five year unlimited mileage warranty.
No bulkhead as standard, payload of only 433kg.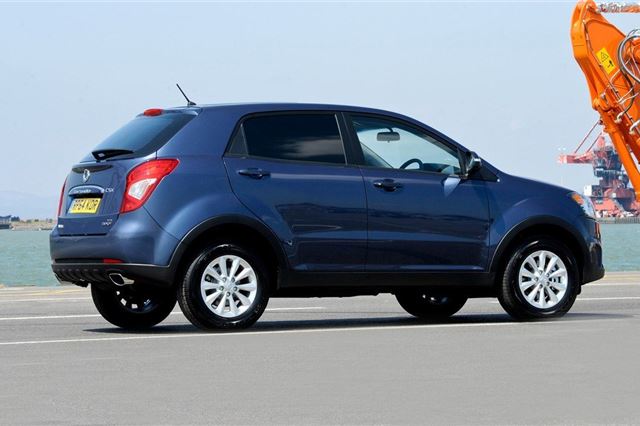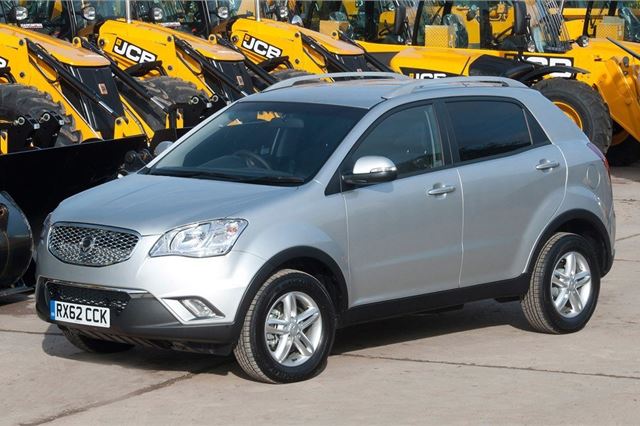 Recently Added To This Review
1 December 2014 SsangYong introduces facelifted Korando
Alongside the styling changes a two-wheel drive CS version is now available. Externally, the front receives an all-new treatment that includes a slimmed down, black mesh radiator grille, contemporary... Read more
14 November 2012 SsangYong launches Korando CSX Commercial
SsangYong added a new low priced 4x4 light commercial model to its Korando range - the Korando CSX. It's ideal as a small delivery van, go-anywhere vehicle for service engineers or simply a light commercial... Read more
SsangYong Korando Commercial (2012 – 2020): At A Glance
SsangYong may still be fairly unknown to us in the UK, but the Korean manufacturer has been around for longer than you think. It started out in the 1960s building jeeps for the US Army and in the 1990s partnered with Mercedes-Benz, allowing it to use the German firm's engine and gearbox technology.
Now SsangYong is hoping that a new range of good value SUVs will help it establish it as more than a fringe brand. The Korando in its passenger car form is a crossover to rival the Qashqai but this Korando CSX Commercial is designed as a 4x4 works van.
It may not seem an obvious choice but it offers a lot for the money. And that's not very much money either. It's priced at a smidge under £16,000 (without VAT) and comes surprisingly well equipped with things like parking sensors, a leather steering wheel, ESP and cruise control. It also gets a five-year unlimited mileage warranty, showing the confidence SsangYong has in its new models.
But what about the key facts? Well it has an impressive load capacity of 1312 litres with a carpeted load floor and a nice wide opening from the rear tailgate. But the big limitation is the low payload of just 433kg - that's even less than the tiny MINI Clubvan and means this is certainly only good as a light delivery van. On the plus side it has a two-tonne towing capacity and comes with a strong 2.0-litre diesel engine with 360Nm of torque. This was later upgraded to a 2.2-litre diesel.
The Korando Commercial is impressively refined and a very pleasant vehicle if you have to spend all day behind the wheel. The big selling point is that it's all-wheel drive with a torque on demand 4x4 system plus it gets mud and snow tyres as standard making it ideal if you're using it in rural and remote areas. If you're after a well built, neatly styled but affordable 4x4 van then the Korando is definitely worth considering.
What does a SsangYong Korando Commercial (2012 – 2020) cost?
SsangYong Korando Commercial (2012 – 2020): What's It Like Inside?
While the interior of the Korando Commercial isn't what you'd call the last word in sophistication, it does feel fairly well screwed together and durable. It's a pretty basic design - what you see is what you get - but it's functional and comfortable. It gets the basics right with easy to read dials, a steering wheel that adjusts for both reach and height so you can get a good driving position, plus comfortable albeit not very supportive seats.
The plastics used on the dash and centre console are all reasonable quality and it has a durable rather than upmarket feel. It's fairly modern overall but is let down by the old-fashioned looking indicator and wiper stalks while the key is separate from the central locking fob which is fiddly when you've got your hands full.
When it comes to useable load area, the Korando has a big space which is easy to get to thanks to a wide and high opening tailgate. The side doors open too although most of the time you won't use them. The one thing that's surprising is that the rear doors still have glass windows rather then metal inserts. It may be good for the styling and they are tinted (and obviously don't wind down) but it's not as secure as having a solid side door.
The load area itself is usefully long at more than 1.5 metres and it's only a few centimetres short of a metre wide between the rear wheel arches. However rather than a durable rubber floor, the Korando gets a carpeted load floor. It may look nice but it's not going to last too long with heavy use and similarly the plastic sides look like they'd scratch easily. But the biggest oversight seems the lack of a bulkhead as standard. It's a £345 optional extra but should really be included given how important it is for driver safety.
The other big disadvantage the Korando has is its payload. It can only carry 433kg which is far less than standard pick-ups while other car-derived 4x4 vans like the Mitsubishi ASX 4Work can carry more. Although it's more expensive the ASX has a payload of 535kg. The Korando has a larger load volume though with 1.3m3 and it can also pull more with a towing capacity of up to two tonnes with a braked trailer.
What's the SsangYong Korando Commercial (2012 – 2020) like to drive?
While the Korando hasn't won too many plaudits as a passenger car, the Korando Commercial works well compared to the majority of commercial vehicles. It's a good looking thing that's neatly styled and thanks to its relatively compacy size, it's easy to drive in town. For novice van drivers who view something like a Transit as too large, the familiarity of the Korando - it's around the same length as a Vauxhall Astra - will be less intimidating.
The steering is nice and light for manouevering the Korando into tight spots while the light clutch and positive gearchange mean it's a pleasant car to drive. The engine is good too. The 2.0-litre four-cylinder diesel is a new unit that has impressive refinement and isn't too noisy in everyday driving. Of course if you push it hard it becomes pretty loud but with 360Nm of torque available from just 2000rpm there's no need to. Instead you can let the common-rail unit pull from low revs with a surprising turn of pace.
It's certainly no slouch and is very much at home on the motorway, helped by the standard cruise control. One gripe is that there's no off clutch footrest - in fact the pedals are placed in a way which means there's nowhere to put your left foot at all apart from resting on the clutch pedal. The Korando isn't great on twisting roads either. It's not so much the handling - there's decent grip and body roll is kept reasonably well in check - but the steering is very slow and overly artificial, so it doesn't give you much confidence through corners, especially when the Korando is fully laden.
But where the Korando gains points is with its 4x4 system. It's an on demand rather than full-time system and works by monitoring the grip levels. If it detects that a wheel is losing traction it will send power to the wheels that need it most. In normal everyday driving, 100 per cent of the power is sent to the front wheels, which means better economy and less rear tyre wear. There is an AWD lock mode to manually force the spread of power between the front and rear wheels at speeds below 25mph if you're tackling more demanding conditions.
SsangYong has fitted the Korando Commercial with mud and snow tyres as standard, which when combined with the on-demand 4x4 system, make it an incredibly useful van, especially if you're based in rural areas. Having driven one in snow when most other cars were getting stuck, we can certainly say the Korando can handle tricky situations.
The Korando is also fairly economical with an official average fuel economy figure of 45.6mpg. Running costs should be low thanks to insurance group 7 and the five year unlimited mileage warranty is impressive. It's strange then that the service intervals are so short at one year or 12,500 miles. The Transit Custom has 30,000 mile service intervals.