Review: SsangYong Musso (2016 – 2018)
Rating:
Cheap to buy new, powered by a powerful and economical 2.2-litre diesel, will tow up to 3.5 tonnes.
The ride quality isn't very good, interior feels more cheap than cheerful, load bed isn't as large as competition, lots of engine and road noise.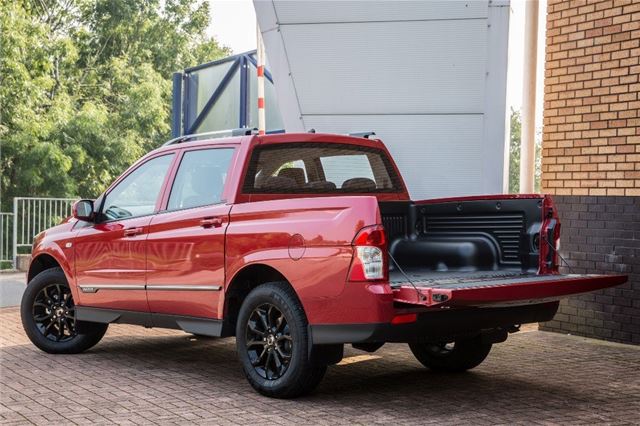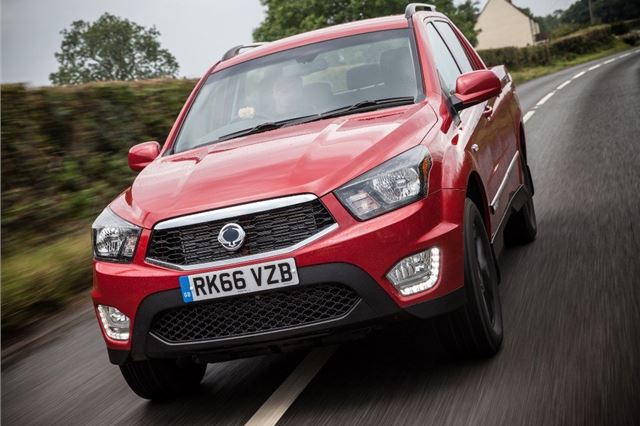 Recently Added To This Review
29 March 2017 Towing capability increased to 3.5 tonnes
The Musso gets an increase in its towing capacity, following a new approval by the UK Vehicle Certification Agency. This means the SsangYong pick-up can tow 3500kg when linked to a braked trailer. Read more
13 October 2016 SsangYong Musso goes on sale
Powered by a smooth and refined 2.2 litre Euro 6 turbo-diesel engine, the Musso pick-up delivers huge value. Designed to appeal to those who need a competitively priced work truck, the practicality... Read more
SsangYong Musso (2016 – 2018): At A Glance
The SsangYong Musso is one of the cheapest double cab pick-ups you can buy. It's also cheap to run, with good fuel economy and a comprehensive five-year unlimited mileage warranty. On the downside, it isn't as good to drive as the (more expensive) competition, nor as plush inside. But if you can look past the unfamiliar badge and low-thrills interior, the Musso is a likeable and low-cost workhorse. 
The Musso is based on the Korando Sports, but gets some important upgrades including a 178PS 2.2-litre diesel engine with the option of a six-speed automatic gearbox. The four-cylinder diesel provides lots of low-gear pull for towing and returns an official 40mpg. 
The choice of bodystyles is limited. The Musso is only available as a double cab, but all versions will carry a one-tonne payload, while also towing an additional 3.5 tonnes when hooked up to a braked trailer. Four-wheel drive, with selectable driving modes, is standard across the range, which means the Musso will easily tow a heavy caravan or horsebox on a muddy farm track or wet field.  
The Musso doesn't handle as well as other pick-ups on the road though. The steering lacks feel and the engine - which is strong on performance and economy - is extremely loud, with heavy clatter at start-up and lots of noise at motorway speeds.
The redesigned cabin is comfortable though, with lots of head and leg room for four large adults. The interior also feels hardwearing and practical, with tough plastics covering the dashboard and lots of pockets and cubby storage throughout the interior.
However, some of the switchgear looks and feels rather cheap - and someway short of the fit and finish you'd find in the L200 or Navara. The ride is also poor, with the body prone to leaning in the corners and bouncing heavily over roads that are less than perfect. 
Cheap to buy and run, the Musso is well-equipped as standard, which means you won't have to pay for any costly extras. Entry-level models get 18-inch alloy wheels and a full-size spare. A heated windscreen, front fog lights and a load space liner are also included. 
Given its unknown badge and cheap price, it would be easy to dismiss the Musso given its many shortcomings. After all, it isn't particularly good to drive and the refinement levels are rather low. However, for those who care more about their budget than their status on the road, the Musso remains an appealing and affordable choice. 
What does a SsangYong Musso (2016 – 2018) cost?
SsangYong Musso (2016 – 2018): What's It Like Inside?
Like all pick-ups, the Musso will carry a one-tonne payload, which means it qualifies for the same tax benefits as a van. However, while it will comfortably hold a standard Euro pallet in the back, the load bed is one of the smallest of any double cab pick-up in its class. In fact, the load bed measures almost 11 inches shorter than the Ford Ranger and 22 inches less than the L200.
Accessing the load area is easy enough though, with the wide and easy to use tailgate making it simple to load bulky items. The load bed floor is also covered with a thick protective layer of hardened plastic and anchor points to prevent the inner sides of the body getting damaged by shifting loads. 
The Musso is only available as a double cab and there are two trim levels to choose from - SE and EX – but entry models are surprisingly well-equipped as standard. The interior is large enough for four large adults and features durable 'leather look' seats, which are comfortable and easy to wipe clear of mud or dust. 
The shiny and cheap-looking dashboard doesn't feel particularly premium, but is sturdy enough to survive light knocks from bits of wood or anything else you wish to carry in the cab. The controls are also easy to master, with large buttons and rotatory dials for the heating, radio and four-wheel drive system.
SE models get a CD player, radio, Bluetooth and iPod connectivity, while the EX trim adds a seven-inch colour touchscreen, rearview camera and DAB audio. Navigation is available too, but only as a paid-for option. 
Finding a comfortable driving position is simple, thanks to the large driver's seat with lumbar support. The large door mirrors and heated windscreen also provide excellent all-round vision. EX models add a full leather interior, with plusher seats and deep cushioning for the lower back and upper legs. 
What's the SsangYong Musso (2016 – 2018) like to drive?
The SsangYong Musso will appeal to those who want a cheap pick-up for towing and off-roading. All versions will tow up to 3.5 tonnes, when hooked to a braked trailer, while the torque packed 2.2-litre diesel provides lots of low-gear acceleration, with a considerable 400Nm from just 1400rpm.
A switchable four-wheel drive system is standard across the range, with a rotary dial activating the high and low gear ratios. This means it is easy to switch the Musso from its standard rear-wheel drive set-up to four-wheel drive. A host of off-road electrical driver aids are also included - stability control and roll over prevention - to help you push the Musso through everything from heavy mud to snow. 
The four-cylinder diesel is extremely strong, with plenty of pull through the gears. The running costs are also low. SsangYong claims that the Musso will return up to 40mpg, which puts it on par with the Toyota Hilux for fuel economy.
A smooth-shifting, six-speed manual gearbox is fitted as standard, while a six-speed automatic is available as an option, although the latter lowers the claimed economy to 37mpg. 
The Musso's biggest weak point is its on-road handling. Unlike its rivals, it doesn't use leaf sprung rear suspension. Instead, it has a coil spring multi-link set up, which should provide a more car-like ride. However, while the ride on the motorway is smooth, the Musso has a tendency to crash over pot holes and bounce along on less-than-perfect surfaces. 
The suspension also produces lots of body roll in the corners, with the cabin pitching heavily from left to right as you navigate moderate turns. The overly light steering doesn't help the vague handling either and it can be difficult to tackle a series of twisty roads in any form of comfort.
Things improve a little in town, with the 11.2 metre turning circle making the Musso surprisingly agile when it comes to making a three point turn. However, owing to the fact that the steering is slow to operate, you need to work your arms quite hard to guide it into a parking space.