Review: SsangYong Musso (2018)
Rating:
Seven-year-warranty as standard. Versatile and car-like cabin. Huge loading potential.
Even by pick-up standards the ride quality is poor. Poor fuel economy. Engine isn't the most powerful on the market.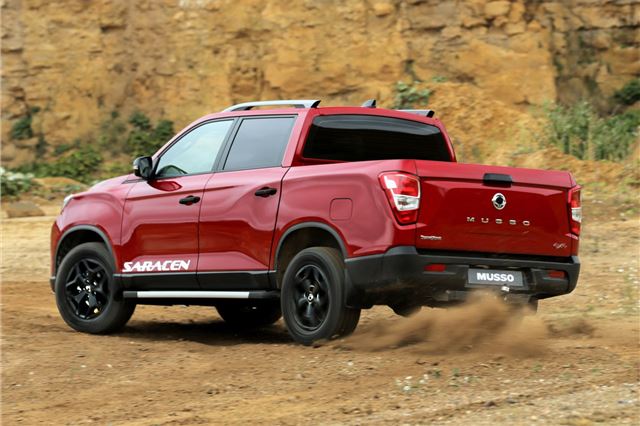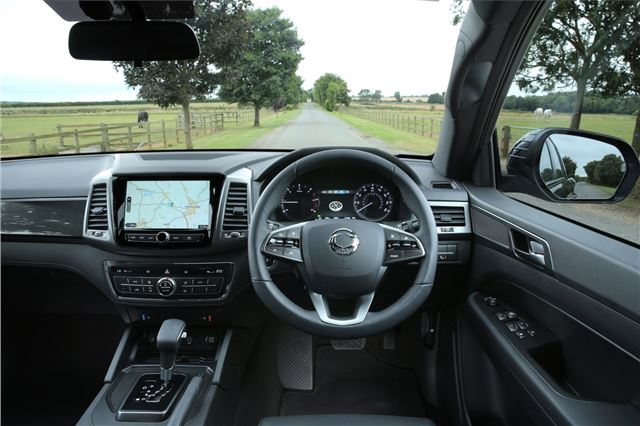 SsangYong Musso (2018): At A Glance
Competitively priced, well-equipped and backed by an unbeatable seven-year-warranty, the SsangYong Musso is a competent pick-up that's easy to recommend. Admittedly, it lacks the refinement and style of its rivals, but it is difficult to deny that the Musso is excellent value for money.
SsangYong makes no bones about the fact that the Musso is designed for businesses who want an affordable and dependable 4x4 one-tonne pick-up. The seven-year/150,000 mile warranty is a first for the pick-up market and provides peace of mind that - should anything go wrong - you will not have to put your hand in your pocket to put things right.
The Musso gets lots of kit as standard, which means even an entry-level model comes supplied with automatic headlights, alloy wheels, DAB audio and a full size spare wheel. Opt for a mid-spec model and you'll get everything you'll ever need, with roof rails, heated leather seats, touchscreen infotainment and a rear-view camera thrown into the deal. 
Based on the mechanical underpinnings of the Rexton SUV, the Musso is much more refined than the old version thanks to the use of a coil sprung live rear axle and independently sprung wheels at the front. Both engine and road noise is well suppressed, which means you can travel long distances on a motorway without having your senses rubbed raw by a constant din of diesel. Unfortunately the Musso is not quite so impressive on A and B roads, with the firm but fidgety ride feeding lots of lumps and bumps into the cabin.
The Musso has plenty of power; the turbocharged 2.2-litre diesel delivers 181PS at 4000rpm and 400Nm of torque at 1400rpm - 2800rpm. This means there's no shortage of low-gear pull for navigating off-road and/or pulling heavy loads. It's a pity the Musso is so expensive on fuel, however, with advertised fuel economy dropping below 30mpg for automatic models.

The 1300mm load deck is shorter than the 1525mm you get in the class leading Toyota Hilux, but large enough to carry a Euro pallet weighing up to a tonne. It also comes equipped with 12V/120W power outlets and rotating hooks to help strap-down loads. Gross train weights (payload and trailer combined) peak at an impressive 6.7 tonnes, which means the Musso (with the automatic transmission) will carry a full payload and 3.5 tonne trailer - although business owners may need to fit a tachograph to do this.  
It might not be as good to drive as its rivals, but the Musso has plenty of rugged charm to make it an appealing choice for business operators working to a tight budget. The huge warranty and load moving potential make it a no brainer for builders and farmers, but lifestyle buyers might find it to be a tad too agricultural for their liking. 
What does a SsangYong Musso (2018) cost?
SsangYong Musso (2018): What's It Like Inside?
The Musso might be one of the cheapest double cab pick-ups on the market, but SsangYong hasn't cut any corners when it comes to cabin quality. The large interior genuinely feels upmarket, for a pick-up, with lots of soft touch materials and a modern layout that makes it easy for the driver to get comfortable and settled behind the wheel.
Entry level models get DAB audio and Bluetooth phone connectivity as standard, while mid-spec versions of the Musso come fitted with a smart eight-inch touchscreen that features Apple CarPlay/Google Android Auto and a rear-view camera. Spend more and you'll get SsangYong's excellent 9.2-inch infotainment with TomTom-powered navigation – a system that's among the best of any pick-up on sale right now thanks to its easy to use menu system and crystal clear camera display.
The Musso doesn't get the option of a single or extended cab, which means all models will accommodate four adults in comfort (or five, at a squeeze). However, while the large cabin provides lots of head and leg room, it comes at the price of a short load bed. Indeed, measuring 1300mm in length and 1500mm in width, the load deck is significantly shorter than the Hilux, L200 and Ranger.
Despite its limited load space, a one-tonne Euro pallet will fit in the rear of the Musso. Maximum payloads range from 1085kg (auto) to 1095kg (manual). Access the load area is easy, with the drop down tailgate and all Mussos feature 12V/120W power outlets and rotating load hooks.
Only the automatic version of the Musso will tow a maximum of 3.5 tonnes, while the manual version will lug 3.2 tonnes when hooked to a braked trailer. Gross train weight is 6.4 tonnes for a manual and 6.7 tonnes for the auto which means Musso can carry its full payload whilst towing a 3.5 tonne trailer.
Tow bar max load weights range from 120kg (auto) to 112kg (manual) and businesses may need to fit a tachograph to make full use of the Musso's load move potential.  
What's the SsangYong Musso (2018) like to drive?
Like many pick-ups on the market, the SsangYong Musso is built on a ladder-frame chassis and designed for hauling heavy loads both on and off-road. The part-time four-wheel drive system can be activated while on the move, with the driver getting the option of both high and low range gearing.
There is no differential lock, but a built-in hill descent control system allows the Musso to automatically control its speed down a steep hill or bank. We tested the Musso over a five-mile course up and down steep grassy banks, along ridges, down streams. It does the job as well as any pick-up on sale right now. In its default mode, the vehicle runs in rear-wheel drive to save fuel.  
The Musso is competent enough on the road, but no match for the refined and SUV-like Nissan Navara. In comparison the steering is vague and there is noticeable levels of body roll in the corners. That said, it is safe and predictable to drive and similar to the Ford Range and Mitsubishi L200 in its handling. It's smooth and comfortable on the motorway too. 
The Musso uses double wishbone independent suspension at the front and coil springs at the back, which should provide a better ride quality over the traditional leaf springs that are found in the L200 and Ranger.
To cope with the payloads and towing weights, the suspension has been made extremely hard and this makes the ride quality poor on rough roads with lots of vibration being transferred to the cabin. Things improve when the load bay is fully laden, but the Musso's fidgety ride is ever present. 
The 2.2 turbodiesel is strong and provides a smooth punch of 400Nm torque through all of the gears. The four-cylinder engine is quiet and works exceptionally well with the optional six-speed automatic gearbox, the only blot in the report card is the disappointing fuel economy. Officially, the auto returns 29.5mpg while the six-speed manual is better at 31.8mpg, but with a full payload load the Musso will return much less.
Driver safety is well catered for, with all getting an active rollover protection system that will automatically and selectively apply the brakes on all four-wheels to prevent the vehicle rolling over in the event of an accident. Front fog lights, heated door mirrors and a full size spare wheel are also fitted as standard to all models.