Review: SsangYong Rexton W Commercial (2015)
Rating:
Excellent off road capability, reasonable quality car-like cabin, 3000kg towing capability.
Load area isn't that practical, not very efficient, coarse at motorway speeds.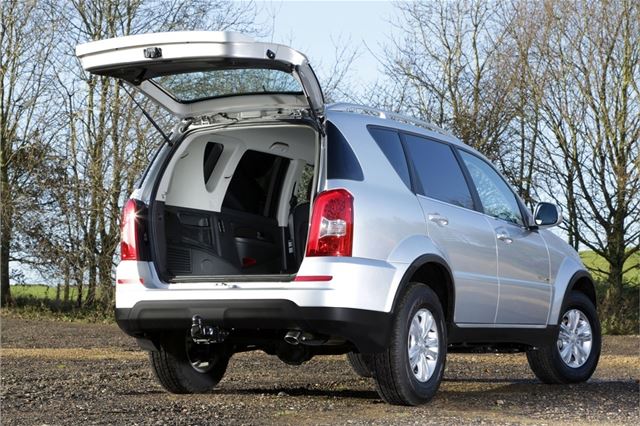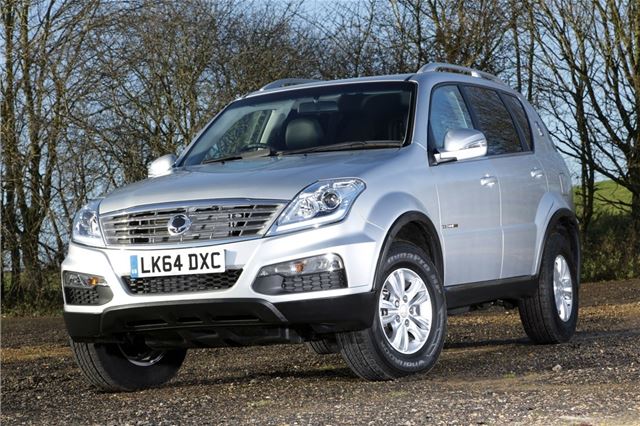 Recently Added To This Review
8 January 2015 SsangYong launches Rexton W Commercial
The new Rexton W uses a body on frame construction for maximum strength, double wishbone and coil spring suspension to the front, and a five link rigid axle with coil springs at the rear. The Rexton... Read more
SsangYong Rexton W Commercial (2015): At A Glance
It might lack the outright load capacity of a van, but the Rexton W CSX is genuinely capable in rough, off-road conditions thanks to a body-on-chassis design and selectable all-wheel drive with low range. Factor in an impressive towing capacity and it makes sense for rural work - but it does have its limitations. 
The rear seats of the passenger Rexton W are replaced by a flat load area with a 2.2 cubic metre capacity in the CSX. The load area is 1700cm long and 107cm between the wheel arches, with a payload rating of 615kg. Along with the high lifting tailgate there are two side doors with blacked out windows to give better access - but a pick up is a better option if carrying big items is a priority. 
Power comes from a 2.0-litre diesel engine with 155PS and a useful 360Nm of torque. There's a standard six-speed manual gearbox with a low range setting for off road use, or a five-speed automatic at additional cost. The Rexton W CSX can tow three tonnes, so is ideal for pulling a horsebox or full-size caravan.
The cabin is very much like that of the passenger car, with aluminium-effect and chrome finishes along with soft-touch materials. The level of standard equipment is good too, with the CSX getting cruise control, air conditioning, electric and heated door mirrors, a leather covered steering wheel and gear lever, plus iPod and Bluetooth connectivity. Safety kit includes ESP, hill descent control plus dual front and side airbags.

What's very impressive is the standard five year warranty. It covers all major mechanical components including wheel bearings, suspension joints and bushes, steering joints, shock absorbers and even the audio system. Wearable components such as clutch discs and brakes are covered for one year or 12,000 miles and the battery and paintwork for three years.
In the grand scheme of things the Rexton W CSX has limited appeal - but for a specific type of work there aren't many better options. You could choose a pick up with a covered load area or a Land Rover alternative like the Defender, but pick ups are typically less capable than the CSX, which is also very good value compared to the likes of the Land Rover.
What does a SsangYong Rexton W Commercial (2015) cost?
SsangYong Rexton W Commercial (2015): What's It Like Inside?
The Rexton W CSX is by no means an alternative for a van - or even for a traditional pick up truck for that matter. Effectively it is the same as the passenger version, but with the rear seats removed and a flat load deck installed. This is narrow compared to the bed of a pick up and it's very high up compared to a van - so access isn't great.
That said, there are two rear side doors with blacked out windows, which can be opened to access things that have slid forward, or to get to smaller items stowed underneath the load deck. Maximum volume is 2.2m3 while the load area is 1700cm long with 107cm between the wheel arches. The overall payload is 615kg. That might not be particularly good for builders supplies, but for tool kits and smaller pieces of equipment it is fine. 
There's a bit more to the Rexton's usefulness than meets the eye, however - thanks to its capability off road and its impressive three tonne towing capacity it makes an ideal car for towing work trailers or horseboxes, even over off-road terrain or in poor weather conditions. There's also a car like cabin, making life a little easier for longer trips. 
Up front there is effectively no difference between the commercial and passenger models, meaning plenty of creature comforts like cruise control, air conditioning and heated seats. Some of the switches and plastics feel a little on the cheap side but they are durable at the least.
What's the SsangYong Rexton W Commercial (2015) like to drive?
The Rexton W CSX is a proper, traditional 4x4 with a body-on-chassis design and selectable four-wheel drive, including a low range setting for rough stuff. The low-geared steering gives a finer level of control on a rutted, slippery track or on a rough, potholed building site. Steep hills, water crossings and poor weather are all fairly straightforward for the CSX.
Unfortunately the impressive off-road capability doesn't equate to on-road prowess. The slow steering is ponderous and requires more lock than you would expect around tight bends and roundabouts, while the suspension rattles over really poor quality surfaces - though in the its defence, the Rexton W does ride fairly well most of the time. 
There is a single engine choice - a 2.0-litre diesel with 155PS and 360Nm of torque. It is plenty powerful enough for towing a trailer or for getting up to speed, but it is a little on the coarse side and is quite loud at motorway speeds. The CSX is offered with a choice of six-speed manual or five-speed automatic transmissions. Both are acceptable, but the manual could have a smoother gear change and the auto could do with an extra gear ratio. 
Emissions are high at 196g/km for the manual or 206g/km for the auto, but that is the price you pay for 4x4 capability in such a large vehicle. And that's really where the Rexton earns its salt - it can tow a heavy trailer across a rough field with ease, making it a smart choice for those who keep horses, or for people who work in more remote parts of the country.