Review: Suzuki Jimny Commercial (2021)
Rating:
Quirky yet capable off-roader, lots of safety tech fitted as standard, punchy 1.5 petrol engine.
Rustic driving experience, expensive to run, 150kg maximum payload, small load area.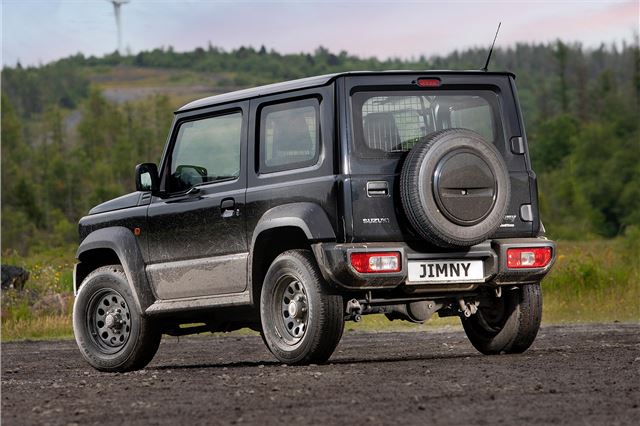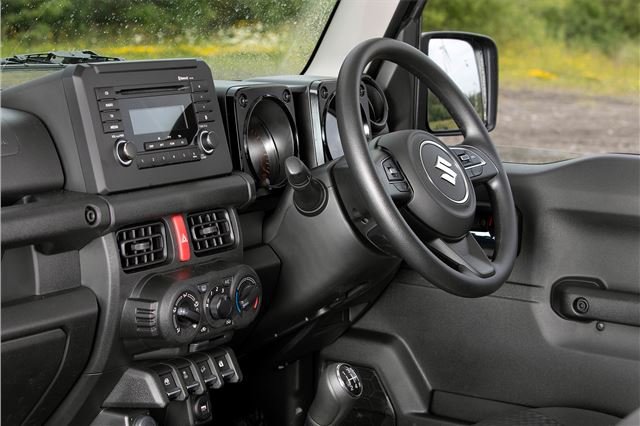 Recently Added To This Review
1 July 2021 Suzuki Introduces the Jimny Light Commercial Vehicle
Suzuki has introduced a new two-seater Light Commercial Vehicle (LCV) version of its small and lightweight off-roader, the Jimny. Since its global launch in 2018, the car model has attracted... Read more
Suzuki Jimny Commercial (2021): At A Glance
The Suzuki Jimny Commercial is a flawed but extremely likeable 4x4 van. However, while the Jimny can't compete with its rivals when it comes to payload or running costs, its quirky styling and small numbers make it an appealing option for buyers who want a compact and capable off-roader. 
Based on Suzuki's popular SUV, the Jimny Commercial has its rear seats replaced with a flat load space that will carry payloads weighing up to 150kg. Everything else in the Jimny Commercial is the same as the passenger car, with selectable four-wheel drive and a sprightly 1.5-litre petrol engine that develops 101PS. 
The Jimny's road manners are somewhat crude compared to the best small vans; there is lots of road and wind noise on the motorway. The Jimny's upright and boxy shape also make it vulnerable to side winds, which means it generally bounces around quite a lot above 50mph. 
Road handling isn't much better, with the vague steering making it rather difficult to make accurate adjustments to the vehicle's direction. There is also a lot of travel in the pedals and gear stick, which means the Jimny feels very much like a crude 4x4 from yesteryear. 
The 1.5-litre petrol engine is punchy, thanks to the Jimny's compact size and low weight, but fuel costs are high with Suzuki claiming 36.7mpg. The Jimny is well-equipped, however, with all versions getting cruise control, automatic headlights and air con. You also get a pair of 12V sockets in the cabin and a full size spare wheel bolted to the rear door. 
The Jimny is faultless as an off-roader. The high ground clearance and low kerbweight allows the Jimny to skip over rough terrain, while the option of low ratio gears will ensure you won't get stuck when the going gets really tough. 
The Jimny Commercial's load space is tiny and few businesses will be able to justify buying a van that can carry just 150kg. The Dacia Duster Commercial 4x4 will carry 503kg while a pick-up truck will haul around 1000kg. That said, the Jimny Commercial is only sold in limited numbers and its exclusivity will make it a tempting choice for business that want a quicky commercial vehicle that will turn heads wherever it goes.
What does a Suzuki Jimny Commercial (2021) cost?
Buy a used Suzuki Jimny from £22,800
Suzuki Jimny Commercial (2021): What's It Like Inside?
The Jimny Commercial is a flawed van. The loadspace measures just 939mm in length and 1295mm wide. The maximum payload is limited to just 150kg and you don't get any tie hooks for securing your load and preventing it from sliding about.
The load area is separated from the passenger area of the vehicle by a mesh bulkhead; however, there is no panelling in the rear and plastic cladding feels like it will easily become damaged. The clear rear windows also raise some awkward security questions as passersby will see everything in the rear of the vehicle.
Suzuki offers a detachable towbar as an option. The maximum braked towing capacity is 1300kg (350kg unbraked) and this gives Jimny some added practicality when it comes to hauling a trailer. Especially when you factor in its brilliant off-road ability. 
The Jimny is limited to two seats but the interior is comfortable and tough. The front of the vehicle is covered in hard wearing plastic and the rubber flooring should be easy to clean.
The layout of the dashboard doesn't have a touchscreen or any fancy tech; instead, you get a basic DAB radio and lots of buttons and switches to operate the ventilation, air con and audio. In a throwback way, the interior is extremely easy and satisfying to use.
What's the Suzuki Jimny Commercial (2021) like to drive?
The Jimny Commercial is something of a mixed bag when it comes to driving, with its 4x4 brilliance offset by poor road handling and crude refinement. 
The Jimny isn't unsafe to drive on the open road, by any stretch of the imagination, but it does require 100 per cent concentration. The suspension, for example, has a lot of travel and this means the body will bounce heavily as you travel over potholes or uneven surfaces.
The vague steering makes it difficult to make precise adjustments to the car's direction, too, while the upright and boxy shape will catch sidewinds as you pass large vehicles on the motorway. 
Road and wind noise is high, while the 1.5-litre petrol engine is also noisy due to the fact power is fed through a five-speed manual gearbox. That said, despite its lack of turbocharging, the 101PS four-cylinder petrol engine is a good match for the Jimny's size. Maximum torque (130Nm) is delivered at 4000rpm. 
Things improve at lower speeds. The Jimny is particularly good on rural roads, with its elevated driving position and short bonnet providing a superb view of the road. The Jimny's narrow body will also allow you to navigate narrow B roads with ease, without having to slow to crawl every time you meet something approaching in the opposite direction. 
The Jimny is a brilliant off-roader. The four-wheel drive system is activated by a small lever between the front seats and the driver gets the choice of 4H or 4L driving modes, with the latter providing maximum torque control and traction for tough off-road conditions. The Jimny also has a hill hold system and hill descent control, which automatically applies the brakes and maintains a fixed speed when driving down a steep hill.