Review: Toyota Land Cruiser Commercial (2018)
Rating:
Brilliant off-road, useful 3.0 tonne braked towing capacity, 2.8 D-4D engine is effortless to drive.
A pick-up is more practical and cheaper to run, awkward loading/unloading due to high boot floor, rear windows make the load area an easy target for thieves.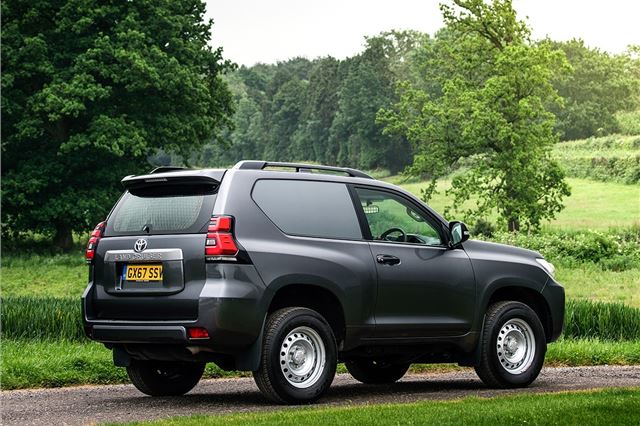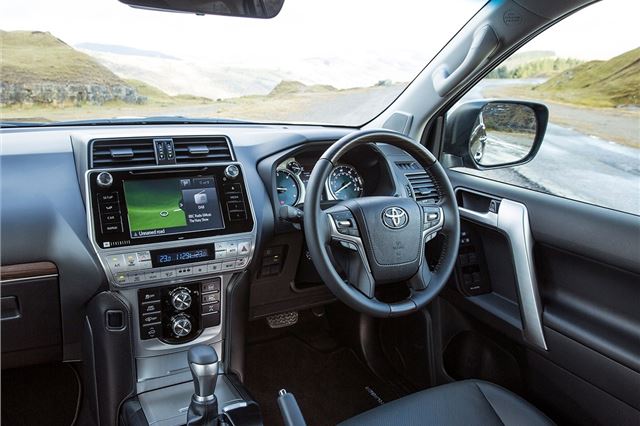 Recently Added To This Review
13 December 2019
Toyota announced addition of a new, higher-specification Land Cruiser Commercial Utility Active model for 2020. Short (three-door) and long-wheelbase (five door) versions available with same, 2.8 D-4D... Read more
3 August 2018
First customer deliveries of Land Cruiser Utility Commercial models, not previously available in the UK. Two versions: short wheelbase, three-door at £27,546 and long-wheelbase five-door at £28,509,... Read more
Toyota Land Cruiser Commercial (2018): At A Glance
The Toyota Land Cruiser Utility Commercial is a tough 4x4 that bridges the gap between SUV and van by ditching its rear seats in favour of a flat and useable load space. However, while this large and practical Toyota fulfils its mandate as a rugged and go anywhere load mover, its appeal is dented by the fact that a modern pick-up has it beaten in most areas.
Toyota does have a strong reputation for reliability and this makes the Land Cruiser Utility Commercial a strong proposition for farmers, forestry workers and builders who want a capable workhorse for tackling rural, rugged terrain and challenging weather conditions all-year round. 
When it comes to off-roading, the Land Cruiser is difficult to fault. The four-wheel drive system is hugely capable, with high and low gearing and a limited slip differential for tackling really tough terrain. Braked towing capacities peak at three tonnes, which means the Toyota has little trouble shifting a heavy trailer loaded with tools, materials and equipment. 
Things are less impressive on the road, however, with lifeless steering, poor refinement and a wobbly ride quality that give a 1990s' SUV driving experience. The Land Cruiser is noisy too, with lots of road and engine roar, which means it can be a jarring experience on the motorway.
There is only one engine in the line-up: a four-cylinder 2.8-litre D-4D diesel that's advertised with 37.6mpg. That makes the Land Cruiser extremely thirsty, compared to the 43.5mpg single cab versions of the Ford Ranger. Yet, for what the Land Cruiser lacks in economy, it makes up for in performance. The 177PS turbodiesel produces 420Nm of torque from 1400rpm, which means it has a seemingly endless supply of low-gear pull, which is perfect for lugging a fully laden Land Cruiser across a muddy field or wintery farm track. 
Short and long wheelbase versions are available, with three and five doors respectively. The largest version will carry up to 756kg, with the rear seats replaced with a flat load space that's covered in a tough non-slip flooring. However, there's no panelling - the rear windows remain in place – and this means the Land Cruiser is nowhere near as secure as a traditional van. 
The Land Cruiser Utility Commercial does have lots of large SUV charm, with its four-wheel drive system, torque-packed engine and practical load area making it a worthy replacement for an aging Land Rover. That said, the Toyota loses its shine when you consider that a modern pick-up will carry more, cost less to buy and be cheaper to fuel.
What does a Toyota Land Cruiser Commercial (2018) cost?
Toyota Land Cruiser Commercial (2018): What's It Like Inside?
The box-like shape of the two-seater Land Cruiser makes it well suited for large adults, with lots of head and legroom. The high seating position also provides a superb view of the road. 
The dashboard has an old-school 1990s feel about it, with lots of chunky plastic buttons and shiny rotary dials. Yet, despite the low-rent appearance, everything feels easy to clean and hard wearing. All models get cruise control, automatic headlights and push-button start, but navigation and DAB audio is not included.
All versions of the Land Cruiser can tow a braked trailer weighing up to three tonnes, when a tow bar is fitted, but drivers might need to fit a tachograph to take full advantage of the car's load lugging ability for business use. Long wheelbase models get a trailer sway control system that use the Land Cruiser's brakes and engine power to automatically reduce excessive movement.
The rear seats are replaced with a flat load area that measures 1170mm in the short wheelbase Land Cruiser and 1630mm in the long wheelbase version. Payloads range from 593kg - 756kg and both versions get a 1060mm load width between the rear wheel arches.
Three-door short wheelbase versions get a split tailgate that makes it easy to access the rear load area, while the five-door longer version uses a side-hinged door that requires quite a lot of space to swing open. The division between the front cabin and rear cargo area is a full height metal bulkhead with a mesh top section fitted with a hatch.
The flat load floor has a non-slip covering and the tough plastic coating on the wheel arches that should absorb light damage from shifting loads. However, there are no tie down hooks to secure loads and five-door models do not get any additional protection for the interior of the doors. The rear glass windows - which are blanked out with opaque film - also make the Land Cruiser vulnerable to prying eyes, given that you can peer inside via the clear rear tailgate window. 
What's the Toyota Land Cruiser Commercial (2018) like to drive?
Toyota makes no bones about the fact that the Land Cruiser Utility Commercial is designed for heavy duty off-road work. This means it's noisy, thirsty and lacking in general refinement, but packed with all of the tools you need to cope with the most challenging of conditions. 
Built on a truck-like body-on frame chassis, the Land Cruiser uses a permanent four-wheel drive system that's linked to a Torsen limited slip differential. The minimum ground clearance of 205mm (215mm for the short wheelbase model) provides plenty of space for the wheels to drop into deep ruts, while the wading depth of 700mm allows the Toyota to cover shallow streams and fords with ease. 
Both the front and rear bumpers and the ladder frame cross-member have been designed with a slanted shape to help them slide over obstacles, which should reduce the likelihood of damage being caused by a rogue rock or tree stump. The driver also gets high and low gearing for powering through mud, snow and steep hills. 
Unlike the Nissan Navara pick-up, there is no automatic crawling feature, which means the driver can't call on the car to electronically control its pace when travelling down a steep or slippery track. There's no rear differential lock either.
On the road the Land Cruiser struggles to live up to its SUV billing for comfort and refinement. Toyota uses a rear four-link rigid suspension system, but the ride quality is variable with the cab rolling heavily into corners and pitch forwards/backwards with an unwelcome bump when accelerating or braking. There's lots of noise from the 2.8-litre engine too, which reinforces the all-round agricultural feel. 
The 2.8-litre four-cylinder turbodiesel - badged D-4D - returns an advertised 37.6mpg, while the huge 87-litre fuel tank will make fuel stops an infrequent but costly experience. All versions use smooth changing six-speed manual gearbox.
The light steering makes the Land Cruiser generally easy to master in town, but there's no hiding its considerable bulk. At 1.8 metres wide and 4.8 metres long (4.4 metres for the SWB version) the Toyota will make even the largest of parking spaces feel small.