Toyota Land Cruiser Utility Commercial (2018–)
Last updated 12 November 2018
Brilliant off-road, useful 3.0 tonne braked towing capacity, 2.8 D-4D engine is effortless to drive.
A pick-up is more practical and cheaper to run, awkward loading/unloading due to high boot floor, rear windows make the load area an easy target for thieves.
Updated 3 August 2018
First customer deliveries of Land Cruiser Utility Commercial models, not previously available in the UK. Two versions: short wheelbase, three-door at £27,546 and long-wheelbase five-door at £28,509,...
Introduction
The Toyota Land Cruiser Utility Commercial is a tough 4x4 that bridges the gap between SUV and van by ditching its rear seats in favour of a flat and useable load space. However, while this large and practical Toyota fulfils its mandate as a rugged and go anywhere load mover, its appeal is dented by the fact that a modern pick-up has it beaten in most areas.
Toyota does have a strong reputation for reliability and this makes the Land Cruiser Utility Commercial a strong proposition for farmers, forestry workers and builders who want a capable workhorse for tackling rural, rugged terrain and challenging weather conditions all-year round. 
When it comes to off-roading, the Land Cruiser is difficult to fault. The four-wheel drive system is hugely capable, with high and low gearing and a limited slip differential for tackling really tough terrain. Braked towing capacities peak at three tonnes, which means the Toyota has little trouble shifting a heavy trailer loaded with tools, materials and equipment. 
Things are less impressive on the road, however, with lifeless steering, poor refinement and a wobbly ride quality that give a 1990s' SUV driving experience. The Land Cruiser is noisy too, with lots of road and engine roar, which means it can be a jarring experience on the motorway.
There is only one engine in the line-up: a four-cylinder 2.8-litre D-4D diesel that's advertised with 37.6mpg. That makes the Land Cruiser extremely thirsty, compared to the 43.5mpg single cab versions of the Ford Ranger. Yet, for what the Land Cruiser lacks in economy, it makes up for in performance. The 177PS turbodiesel produces 420Nm of torque from 1400rpm, which means it has a seemingly endless supply of low-gear pull, which is perfect for lugging a fully laden Land Cruiser across a muddy field or wintery farm track. 
Short and long wheelbase versions are available, with three and five doors respectively. The largest version will carry up to 756kg, with the rear seats replaced with a flat load space that's covered in a tough non-slip flooring. However, there's no panelling - the rear windows remain in place – and this means the Land Cruiser is nowhere near as secure as a traditional van. 
The Land Cruiser Utility Commercial does have lots of large SUV charm, with its four-wheel drive system, torque-packed engine and practical load area making it a worthy replacement for an aging Land Rover. That said, the Toyota loses its shine when you consider that a modern pick-up will carry more, cost less to buy and be cheaper to fuel.
Also consider...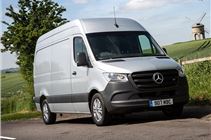 Mercedes-Benz Sprinter 2018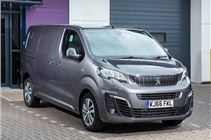 Peugeot Expert 2016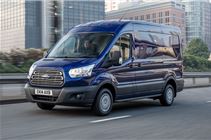 Ford Transit 2014
Contract hire from

£298.00

+VAT pm
Lease from

£310.00

+VAT pm