Toyota Land Cruiser Utility Commercial (2018–)
Last updated 12 November 2018
Toyota makes no bones about the fact that the Land Cruiser Utility Commercial is designed for heavy duty off-road work. This means it's noisy, thirsty and lacking in general refinement, but packed with all of the tools you need to cope with the most challenging of conditions. 
Built on a truck-like body-on frame chassis, the Land Cruiser uses a permanent four-wheel drive system that's linked to a Torsen limited slip differential. The minimum ground clearance of 205mm (215mm for the short wheelbase model) provides plenty of space for the wheels to drop into deep ruts, while the wading depth of 700mm allows the Toyota to cover shallow streams and fords with ease. 
Both the front and rear bumpers and the ladder frame cross-member have been designed with a slanted shape to help them slide over obstacles, which should reduce the likelihood of damage being caused by a rogue rock or tree stump. The driver also gets high and low gearing for powering through mud, snow and steep hills. 
Unlike the Nissan Navara pick-up, there is no automatic crawling feature, which means the driver can't call on the car to electronically control its pace when travelling down a steep or slippery track. There's no rear differential lock either.
On the road the Land Cruiser struggles to live up to its SUV billing for comfort and refinement. Toyota uses a rear four-link rigid suspension system, but the ride quality is variable with the cab rolling heavily into corners and pitch forwards/backwards with an unwelcome bump when accelerating or braking. There's lots of noise from the 2.8-litre engine too, which reinforces the all-round agricultural feel. 
The 2.8-litre four-cylinder turbodiesel - badged D-4D - returns an advertised 37.6mpg, while the huge 87-litre fuel tank will make fuel stops an infrequent but costly experience. All versions use smooth changing six-speed manual gearbox.
The light steering makes the Land Cruiser generally easy to master in town, but there's no hiding its considerable bulk. At 1.8 metres wide and 4.8 metres long (4.4 metres for the SWB version) the Toyota will make even the largest of parking spaces feel small.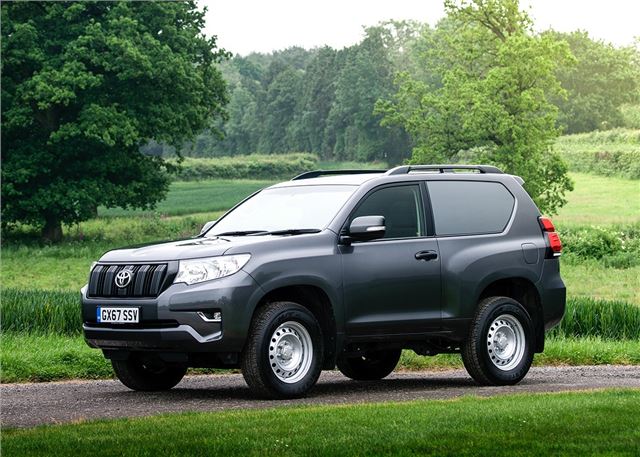 Also consider...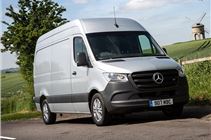 Mercedes-Benz Sprinter 2018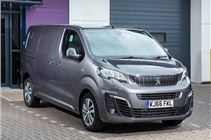 Peugeot Expert 2016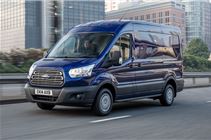 Ford Transit 2014
Contract hire from

£310.00

+VAT pm
Lease from

£340.00

+VAT pm