Review: Toyota Proace (2016)
Rating:
Easy to drive and cheap to run, will carry up to three Euro pallets and tow 2.5 tonnes, two electric models available.
No high roof option, sliding doors feel cheap, entry-level models don't get air con or alarm as standard.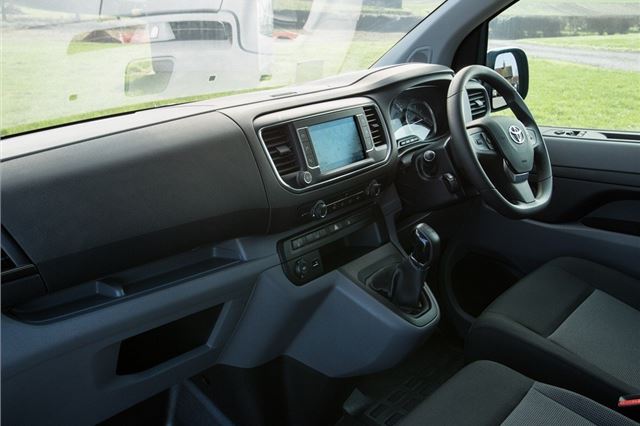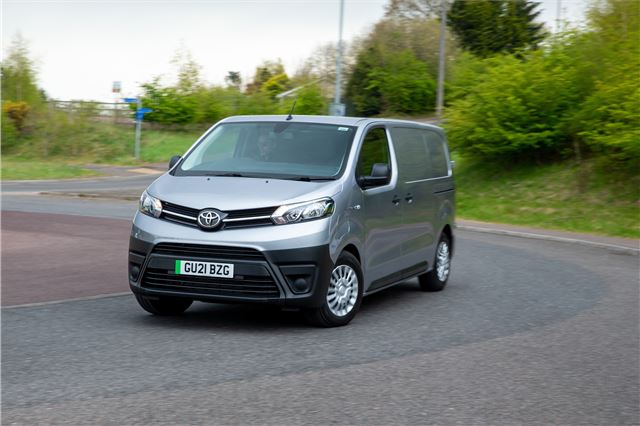 Toyota Proace (2016): At A Glance
Cheap to run, comfortable to drive and capable of carrying a maximum payload of 1400kg, the Toyota Proace is a compact van with big potential. All versions are stylish and good to drive, while Toyota's low running costs and impressive warranty provide added peace of mind for those looking to keep costs down. 
Built in France, as part of a joint agreement with Citroen and Peugeot, the Toyota Proace is almost identical to the Dispatch and Expert. However, unlike its French counterparts, the Proace was launched with a more comprehensive five-year 100,000 mile warranty. In 2021 Toyota cut its standard warranty to three-years, with the option of up to 10-years' cover if owners choose to have their van serviced at the Toyota dealer network.
Available in three body sizes and two wheelbase lengths, the Proace can be specified as a van or crew cab, with panel or glazed/semi-glazed size walls. Most versions will carry 1400kg and tow up to 2.5 tonnes, while crew and combi models will seat up to nine. 
Accessing the load bay is easy, thanks to the twin side sliding doors which - on medium and long versions - are wide enough for a Euro pallet. Long versions will carry a maximum of three Euro pallets, while a Smart Cargo system increases load length capacity to 1.16 metres. The 250 degree opening rear doors make it easy to access the back of the vehicle, without the doors blocking the road when loading and unloading.
The Proace has two diesel engines  - a 1.6 or a 2.0-litre - and an electric version to choose from. Power outputs are 95PS, 115PS or 122PS for the diesels, while the electric model has 136PS and a choice of two battery sizes.
The sweet spot in the range is the 1.6 unit with 115PS. Not only does it provide lots of torque for hauling heavy loads, but it will officially return 54.3mpg.   
The electric version is ideal if you'll mostly drive in a city centre with a low emissions zone. Toyota says an everage city centre driver will cover 27 miles per day, well within the range of the 50kWh (142 miles) and 75 kWh (205 miles) battery models. 
Behind the wheel the Proace feels more like a family car than a van, with high levels of refinement and handling. The steering is responsive and the ride is quiet and comfortable, even when unladen. The Proace is also extremely nimble, which makes it hassle free to drive in town, while its low roof (1950mm) makes it easy to fit into multi-storey car parks. 
Standard equipment is generally fine, with all models getting DAB radio, cruise control and a full size steel bulkhead. However, air conditioning and a vehicle alarm are not included. The side sliding doors also feel a bit light and flimsy. 
Compared to the Ford Transit Connect and Volkswagen Transporter, the Proace feels lacking in build quality – but hey, that five-year warranty more than makes up for it. As do its impressive carrying capacity, claimed 54.3mpg economy and the fact that you can have it as an EV. As a result it should be an appealing compact van for anyone operating on a tight budget. 
What does a Toyota Proace (2016) cost?
Buy a used Toyota Proace from £9,994
Toyota Proace (2016): What's It Like Inside?
The Toyota Proace majors on everyday practicality, with a broad range of bodystyles. Buyers can choose between three lengths - compact, medium and long - while load volumes range from 5.1 cubic metres to 6.6 cubic metres. This makes the Proace surprisingly capable for its size, while its maximum towing limit of 2.5 tonnes provides additional flexibility when it comes to moving machinery or materials.
Twin sliding doors are fitted as standard and, while they don't feel particularly sturdy, they make it easy enough to load and unload. Long and medium versions of the Proace benefit from wider side doors, which allow a Euro pallet too be loaded via the side. Even in its smallest form (compact) the Proace will carry two Euro pallets, while the larger versions will take three weighing up to a total of 1400kg.
The electric model only comes in short-wheel-base form, but has a 1 tonne maximum payload and can tow between 1 (75 kWh) and 1.2 tonnes (50 kWh model)
All versions built after October 2016 feature Toyota's Smart Cargo system as standard. This installs a handy flap at the bottom of the bulkhead and allows you to use the full length of the vehicle for carrying planks of wood and metal pipes.
Depending on which bodystyle you choose, the load lengths vary from 3.3 metres to 4.0 metres, while the low load sill height makes it easy to load heavy objects. However, with no high roof option available, the maximum load height is restricted to roughly 1.4 metres. 
The cabin of the Proace is modern, comfortable and designed to cater for those who use their van as a mobile office. All get three seats as standard and the middle seat can be folded down to double up as laptop table when parked up. All vans get Bluetooth, which means you can effectively create your own wireless network and work online, without leaving the cab.
Standard equipment levels are generally fine, with cruise control, electric door mirrors, DAB audio and a foldable driver's arm rest.
There is also lots of cubby storage. However, base levels miss out on a few things, with no air conditioning or lumbar support for the driver's seat. The cabin also gets just one 12V power socket as standard, which can make it a bit of power juggling act when you need to simultaneously charge your phone and power a portable sat nav.
What's the Toyota Proace (2016) like to drive?
The engine line-up consists of two four-cylinder diesel engines - 1.6 and 2.0 - with outputs varying from 95PS to 122PS and an electric model with the equivilent of 136PS.
The most impressive all-rounder is the 115PS 1.6-litre, with 210Nm of torque from 1750rpm. On paper, the 1.6-litre diesel will return an official 51.3mpg, while its high torque levels make it well-suited for towing and load moving.  
The 95PS version of the 1.6 diesel produces 210Nm, which makes it sprightly through the lower gears, although it does feel strained when fully laden. In comparison, the 115PS unit is more composed, quieter and cheaper to run, with the 95PS unit returning an official 51.4mpg. 
Only those who need to tow 2.5 tonnes will need the larger and more powerful 2.0-litre diesel, which produces 122PS and a considerable 340Nm of torque from 1750rpm. Claimed fuel economy is an impressive 53.5mpg, while its maximum towing limit adds extra incentive for those who need to move machinery.
The 136PS EV model, meanwhile, is ideal if you work in a city centre with a low emissions zone. Toyota reckons the average town driver covers 27 miles per day, which means both the 50 kWh (142 miles) and the 75 kWh (205 miles) models have plenty of range. Charge times take between 28 hours (domestic three-prong plug, we'd advise against), 4.75 hours (home-installed wall charger) or 0.5 hours (public rapid charger).  
Like the Citroen Dispatch and Peugeot Expert, the Toyota Proace is based on modified version of the Peugeot 308 platform. As a result it feels and drives very much like a family car, with responsive steering and low levels of road and engine noise.
The Proace feels particularly refined at motorway speeds, while its supportive and comfortable seats make it a great van for covering high mileages. The electric model, meanwhile, is almost silent at town speeds, too. A full size bulkhead is also fitted as standard, which means it doesn't take long to warm up the cabin on a cold morning. 
Owing to its compact dimensions, the Proace is agile at low speeds, with a 11.3 metre turning circle and lots of all-round visibility. This makes it painless to use in town – particlarly the electric model which has lots of power off the line – while its low roof height makes it small enough to fit into city centre multi-storey car parks. 
Like its Citroen and Peugeot relations, the Proace gets a five star NCAP safety rating. Standard safety kit is generous with hill-start assist - which prevents the van from rolling backwards - vehicle stability control and tyre pressure monitoring all included.
The Proace can be fitted with a number of driving aids, including a head-up display and adaptive cruise control. A road sign recognition system is also available and this will display local speed limits on the head-up unit.