Review: Toyota Proace Camper (2014 – 2016)
Rating:
Clever use of space, well kitted-out and lively engines, sleeps four adults in genuine comfort, compact enough to use day-to-day.
More expensive than other badged versions, a lot of road and engine noise.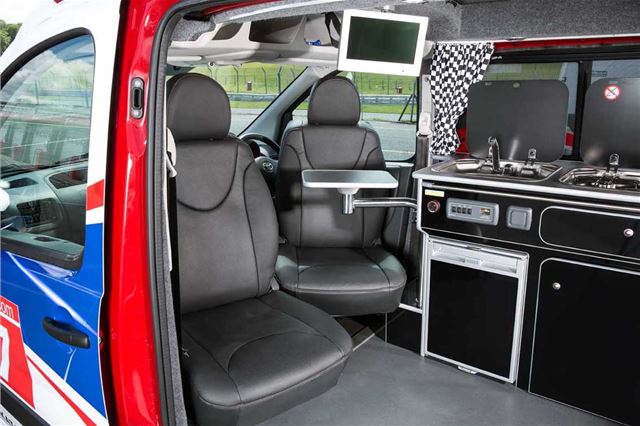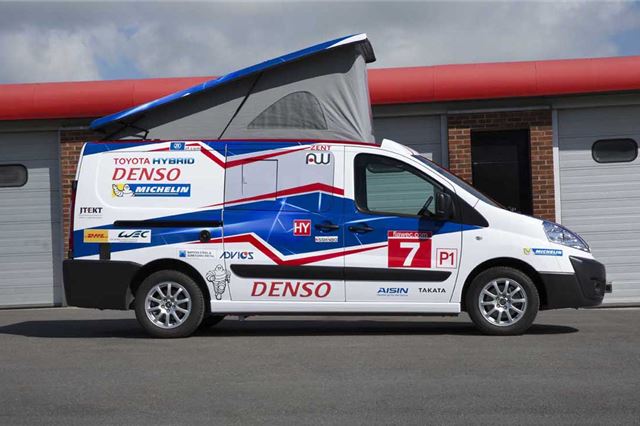 Toyota Proace Camper (2014 – 2016): At A Glance
Unlike Volkswagen, Toyota isn't a brand readily associated with the camper van market. However this might be changing thanks to the intriguing Proace camper conversion – a joint venture by Toyota and G&P Campervan, launched in September 2013.

G&P Campervan is the first official converter to turn this vehicle into four-berth accommodation, complete with gas hob, fridge-freezer, microwave oven, TV and on-board water supply.

Based on a standard Toyota Proace with the longer L2 wheelbase and standard H1 roof height, when the electronically operated pop-up canvas roof isn't elevated, most people assume it is a standard panel van.
Powered by 2.0-litre diesel with 128PS and 320NM of torque, it has decent performance with good pulling power.
Despite relatively compact dimensions, the Proace Camper has a comfortable rock-and-roll double bed for two, with the capability to sleep two more thanks to a roof bed. With cooking facilities and plenty of storage units, it blends camping versatility with everyday practicality.
The Proace Camper conversion costs around £12,000 (plus VAT), which when you consider a 2014 Toyota Proace with around 25,000 miles cost less than £10,000 to buy, provides a cheap entry into campervan motoring.
Just the one trim level is available, so all Proace Campers feature air-conditioning, Bluetooth, and electric windows. Outside, there are sliding doors on both sides of the vehicle, 16-inch alloy wheels, fog lamps, daytime running lights and heated electric door mirrors.

Toyota has also commissioned a bespoke PRO40 version of the Proace Camper as a Le Mans special. The motorsport-inspired camper received a new look for 2015, re-wrapped in a livery to celebrate Toyota Gazoo Racing's champion status in the World Endurance Championship. It certainly turns a lot of heads.
What does a Toyota Proace Camper (2014 – 2016) cost?
Toyota Proace Camper (2014 – 2016): What's It Like Inside?
Where the Proace Camper comes into its own is versatility. With a twin-burner hob, microwave oven, 39-litre fridge (including 5.3-litre freezer compartment) and sink, offering a small mobile kitchen, it's very well equipped for life on the road.

While the cab feels very van-like from the driver's seat, the fit and finish elsewhere is a lot better. Furthermore you can specify the units, floor and seats with G&P.

With LED lighting, a full set of black-out curtains and a diesel-powered heating system, the Proace Camper is an extremely pleasant place to relax, day or night, whatever the weather.

Ingenious packaging and storage solutions mean that it is comfortably large enough to sleep up to four individuals – thanks to an elevating roof structure, which also boosts space by creating generous headroom.
Come bedtime, the solid ceiling can be pulled down to make a mezzanine level that divides the living accommodation into two separate bedrooms. This upper level has plenty of space for two, while a neat rock and roll system unfolds the rear bench seat into a double bed.

The driver and front passenger seats are mounted on bases that allow them to swivel 180 degrees to face inwards. And thanks to a powerful split-charging battery system you do not always need to be connected to a mains supply for the amenities to work, plus there are plenty of 240v and 12v sockets.
Hidden away in a cupboard is a large on-board tank that can pump water into the sink for washing up or through a small outside shower attachment, though there's no hot water, so we wouldn't advise using it in the winter.
The Proace Camper also has an electric access step, a portable toilet and a dining table stowed on the tailgate for use in or outside the vehicle. G&P can tailor the Proace Camper for each customer – the high-top roof section is optional for example.

It all feels well thought-out and an excellent use of the available space, making it an incredibly versatile, user-friendly machine. Better still it's one of the cheapest new campervans on the market.
What's the Toyota Proace Camper (2014 – 2016) like to drive?
With the Volkswagen California well established as one of the best camper vans around - and newcomers like the Ford Transit Custom-based Wellhouse Terrier and Mercedes-Benz Marco Polo snapping at its heels, the Proace camper has some stiff competition.
So how does it fair? Well it is powered by a 2.0-litre diesel engine with 128PS - an engine you can find in the standard Proace panel van along with its Citroen, Peugeot and Fiat counterparts. Thanks to 320Nm of torque, the Proace is lively in every gear, offering sufficient pull in fifth gear from about 40mph while happily sitting at 70mph in sixth.
Fuel economy isn't so good though. Toyota claims an official fuel consumption figure of 44.1mpg for the 2.0-litre Euro5-compliant diesel in the Proace panel van, however the extra weight of the fixtures and fittings in the camper means you'll be lucky to see 30mpg.
On the plus side, the gear changes are precise plus there is a subtle gear-shift indictor on the dash which lights up when it's economically sensible to change up. However, unlike the Peugeot Expert and Citroen Dispatch, the Proace is not offered with the option of an automatic gearbox.

With the vast swathes of black hard plastics, there's no hiding this is not the newest van around. While it may be new to Toyota, the design is starting to feel its age, having changed very little since its launch. The instruments are well laid out however and the Bluetooth sound system has a USB port. Furthermore, the driver can operate it with a steering wheel-mounted control.

The driver's seat is firm, supportive and comfortable, although taller passengers will discover that the the seatbelt doesn't fit across the top of the shoulder as it isn't mounted high enough. Disappointingly, both seats also lack an armrest but the steering does adjust for both height and reach.

The steering offers a responsive feel and is further enhanced with Toyota's electronic stability control system VSC, fitted as standard. Saying that it's far from car-like comfort and driving. As well as various rattles and speaks, quite a lot of road and engine noise perforates into the cab, particularly at high speeds. Poor damping means bumps can cause a disturbance in the cabin.
On the upside, there is little body roll going into the corners and the disc brakes provide adequate braking capability.

There is plenty of storage space in the cab, including deep bins on the top of the dash, handy overhead shelves and a lockable glove compartment. The doors contain adequate space for small water bottles as well as a narrower section for stashing other items, but there is no proper holder for a cup of tea or coffee.

Other grievances are that the Proace Camper doesn't come with Toyota's Touch & Go navigation system, cruise control or a parking sensor, which makes reversing into tight spaces really tricky with rearward visibility obscured by a large vertical storage unit.