Review: Vauxhall Combo Life (2018)
Rating:
Comfortable and easy to drive, three Isofix points, very spacious and practical, twin sliding doors make getting in simple, available as a long wheelbase seven-seater, modern interior.
Citroen Berlingo is more stylish.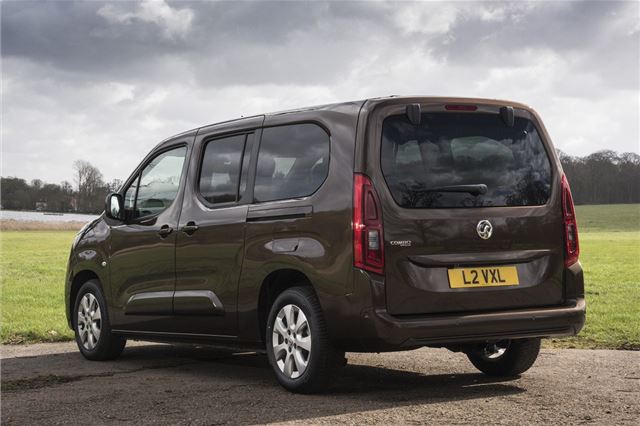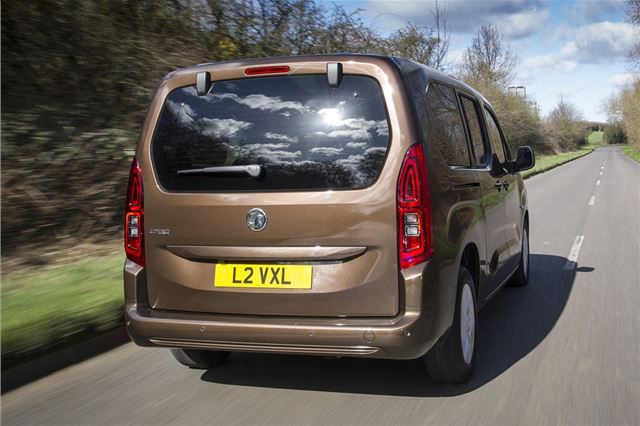 Recently Added To This Review
6 June 2018 Prices for Combo Life announced
Priced from £20,530 on-the-road, the Combo Life comes in two trims, Design and Energy, with Energy models available as either a five- or seven-seater. Customers can also choose between two wheelbases:... Read more
19 February 2018 Vauxhall unveils 2018 Combo Life
The Combo Life is available as a 4.4-metre standard length version or a longer 4.75-metre long model, with two sliding rear doors as standard. Both variants have a height of 1.8 metres and will... Read more
Vauxhall Combo Life (2018): At A Glance
Vauxhall may no longer build the Zafira but that doesn't mean it has given up on MPVs. Filling the gap is the Combo Life, available as a standard five-seat model or a long wheelbase seven-seater badged XL.
The shape may look familiar and that's because it's one of a trio alongside the Citroen Berlingo and Peugeot Rifter. Vauxhall is of course now owned by Peugeot Citroen but thanks to the considerably different front end styling, the Combo Life does at least stand out as a model on its own.
From the looks there's no hiding the fact this is based on a van, but this is a case of not judging a book by its cover. Vauxhall may have never offered an MPV version of the Combo before, but Peugeot Citroen has plenty of experience and it shows.
Not only is the interior spacious and practical as you'd expect, but it's also pleasingly wel finished. Yes there are of course lots of hard plastics, but it feels more like a vehicle that's built to withstand busy family life rather than something that's merely cheap. The neat air con controls, leather trimmed steering wheel and high quality touchscreen all add to the feeling that this is more car than van. 
That filters through to the drive. The Combo Life was designed as a car first and van second, and while you wouldn't describe it as enthralling to drive, it's far better than many will think. It rides well, even when empty, but most impressive is the way it tackles corners with plenty of grip, helped by responsive steering.
But what really sells the Combo Life is the practicality. Both models come with three Isofix points on the second row so you can fit three full size car seats. The sliding side doors make getting children (or yourself) in and out easy. XL models have extra seats in the back which can be removed if not needed, although they are heavy and cumbersome. Both versions offer a whopping amount of boot space, even with the seats up: 597 and 850 litres from glass to seat. 
The engines include the impressive 1.2-litre petrol which would be our choice if you're not doing big mileages. Alternatively there's a 1.5-litre diesel available in two versions - either 100PS or 130PS. The latter is available with an eight-speed automatic.
As a practical and no nonsense family car, the Combo Life has much to offer, especially the XL. It may not be the most stylish choice, but it's very likeable and surprisingly good to drive. It also comes very well equipped as standard although with prices starting at more than £20k this is no budget choice. 
What does a Vauxhall Combo Life (2018) cost?
Buy a used Vauxhall Combo Life from £12,890
Vauxhall Combo Life (2018): What's It Like Inside?
While the square profile of the Combo Life isn't going to win any beauty contests, it does mean plenty of useful space inside. Even taller driver's will find the driving position comfortable with lots of legroom, although the seats are a little narrow and lack under thigh support which is noticeable after a long time behind the wheel.
The sliding side doors mean getting in and out of the back is very easy - especially in narrow spaces or multi-storey car parks - with no worries about hitting the car parked in the next space. 
The back row has three individual seats and all three have Isofix points (with top tether points) so you can get three child seats across. The sliding door and high roof helps here as it means getting kids strapped in safely is much easier and you won't be hitting your head on the roof.
Go for the XL model and you get two extra seats in the back, turning this into a useful seven seater. Getting to them is made easier by the fact the middle row folds and slides forward with one handle. It means it's no problem for kids and teenagers to jump up, although we wouldn't suggest you stick grandma back there.
Those rearmost seats are surprisingly roomy and comfortable too, much more so than most other seven seaters. The caveat is that they don't fold down into the floor. So if you want the space you'll have to remove them. Unlocking them is a doddle, but their weight means lifting and storing them is another matter. They also have a tendency to catch your fingers.
Both versions of the Combo Life offer a huge boot, the fact it's based on a van comes into its own here. The five seat has close to 600 litres of boot space while the XL can swallow 850 litres of whatever you can throw at it. As you'd expect, the space is very useful with a big wide opening, low load lip and vertical sides. Take out the seats in the XL and you've got more than 3.0 metres of load length.
The interior has plenty of hard plastics but it's well finished and doesn't feel cheap. There's lots of useful storage too including a split glovebox with the top section cooled via the air con. It also has large door pockets and a smaller storage box above the windscreen. The cup holders are a little shallow but the space in front of the gear stick is handy for phones and sunglasses.
If you go for a vehicle with the panoramic roof fitted, this adds an overhead storage running down the centre of the vehicle with LED lighting. Along with this there's a 36-litre storage box mounted above the 'hat tray' in the boot. The storage box is ideal for clothes, books or small toys. 
The infotainment system works well with a bright and easy to use touchscreen. It comes with Apple CarPlay and Android Auto as standard plus there's the option of wireless charging.
What's the Vauxhall Combo Life (2018) like to drive?
It would be easy to dismiss the Combo Life as merely a 'van with windows' but that's doing it a big disservice. It handles surprisingly well with responsive steering and decent body control. Vauxhall states that it was designed as a car first and van second, which is certainly evident from behind the wheel. 
True, it's not a vehicle to be thrown into corners, but it grips strongly and feels reassuring while the ride quality is good even when it's empty. Compared to the last generation of van-based MPVs, this is a big step forward.
Around town, the good all round visibility makes the Combo easy to turn into tight spots, helped by the slightly raised driving position. There's plenty of adjustment in both the steering column (height and reach) as well as the seat so even taller drivers will have few problems getting comfortable. The XL version is 4.75 metres long but light steering at low speeds and a tight turning circle mean parking isn't a stress. Standard models don't come with parking sensors though (you have to go for an Energy for that) and if you want a reversing camera that's an optional extra as part of the Parking Pack.
If you're a long distance driver, the diesel in the Combo Life makes the most sense. The 1.5-litre diesel comes in two version. The first is the 100PS which has a decent 250Nm of torque and promises economy of more than 65mpg. Go for the 130PS model and torque is upped to 300Nm while the manual gearbox has six speeds as oppose to five. What sets the more powerful diesel apart is that it's available with an eight-speed automatic.
If you don't want diesel, the good news it that the petrol engine is not the poor relation here. In fact the excellent 1.2-litre petrol (borrowed from Peugeot Citroen where it's labelled PureTech) is one of the best three-cylinder engines around.
The 110PS unit may only have a moderate 205Nm of torque but it pulls strongly and gives the Combo Life a surprising turn of pace. It's quiet unless you really work it hard and proves economical too, with a claimed figure of more than 50mpg. It's our pick of the range here. A more powerful 130PS version is also available from mid-2019.
If you're using the Combo Life to tow, it has a maximum trailer load of up to 1500kg (for the 1.5 D 130PS) and there's the option of a fixed or removable towing hook. This also includes Trailer Stability Control - an additional ESP function which stabilises trailers or will slow the vehicle if needed.