Review: Vauxhall Vivaro Life (2019)
Rating:
Excellent practicality, will carry up to nine adults, comprehensive driver assistance aids, excellent eight-speed auto.
Expensive to buy new, numb steering, not a lot of bootspace on nine-seater versions.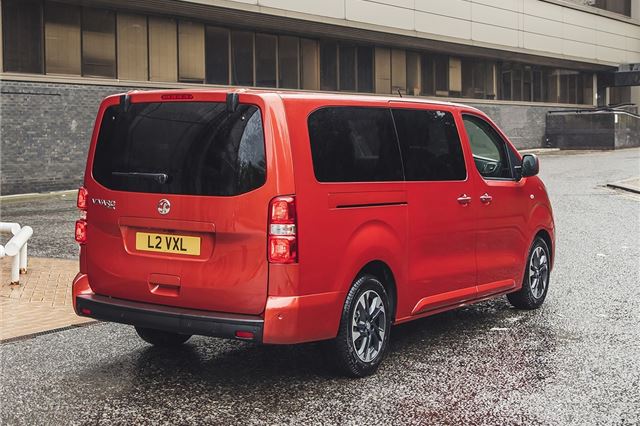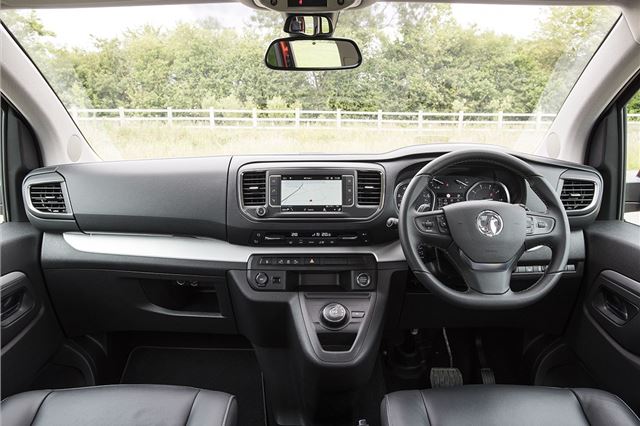 Recently Added To This Review
9 January 2019 Vauxhall launches Vivaro Life
A comfortable multi-purpose vehicle (MPV) that is offered in two lengths, tailor-made to customer requirements: the 4.95m "Medium" and the 5.30m "Large" – each of which... Read more
Vauxhall Vivaro Life (2019): At A Glance
Make no mistake, the Vivaro Life is a very important vehicle for Vauxhall. Not since the Midi-based Albany has the company produced such a passenger-focused version of its medium size van. And thanks to the brand's acquisition by PSA in 2017, the bar has been raised significantly. 
Gone, then, is the old Vivaro, the last van to be developed as part of a successful 18-year collaboration with Renault, and to replace it comes a van that shares its running gear, engines and most of its bodywork with the Peugeot Expert and Citroen Dispatch, both of which were launched in 2016.
Unlike the French-branded vans, though, the Vivaro is manufactured in the UK at the former GM plant in Luton, which was thrown a substantial lifeline when PSA decided that the plant would become one of its leading van production facilities in Europe.
The Vivaro Life is the MPV passenger carrying version of the panel van, and it's predominantly designed for the professional driver market. This means it is pitched squarely to chauffeurs, airport transfers and taxi operators who want a vehicle with the comfort and driveability of a car, a touch of luxury and exceptional practicality.
The Vivaro Life, which is little different from the Peugeot Traveller or Citroen Space Tourer, ticks that box perfectly, especially in high-spec 'Elite' trim. There's also a less salubrious 'Edition' specification, which is more aimed at the taxi and wheelchair conversions market.
The Elite, though, is the more appealing of the two, although some will find the price tag of more than £40,000 a little hard to swallow. But then, as vans go, the Vivaro Life is one of the least van-like there is, not least because it's based on the same mechanical platform that underpins the likes of the Citroen C4 Picasso, Peugeot 3008 and Vauxhall's own Grandland X Crossover.
What does a Vauxhall Vivaro Life (2019) cost?
Buy a used Vauxhall Vivaro from £23,398
Vauxhall Vivaro Life (2019): What's It Like Inside?
The Vivaro Life is as practical as an MPV can get. There are two wheelbases (medium and long) to choose from and the largest are offered with nine seats. Even the most basic models get five seats and a massive load bay, though a third row of (with an extra three seats) is a no-cost option and we'd wonder why you wouldn't want them, as they're removable for when they're not required.
As a five-seater, it's possible to get a couple of bikes in the boot without having to fold anything out of the way, especially if you opt for the long bodied variant, which adds an extra 350mm behind the rear axle. Nine-seat variants improve the Vivaro's usability for taxi firms, but cut boot space dramatically to just 1.2 cubic metres.
Standard equipment is high across the range with entry-level models getting Bluetooth, steering column mounted audio and phone controls, cruise control, electric door mirrors and a pair of side sliding doors.
Range-topping Elite models get the option of premium seats, which replace the middle bench with two captain's chairs that can be rotated to face the rearmost row in conference style, with a fold-up table in the middle - ideal for VIP transfers or for picnics with the family.
A further boon comes in the form of power-operated sliding doors, which can be operated from the key fob, while the tailgate comes with a separate opening window for ease of access.
Elite models also get temperature-controlled privacy glass in the rear, as well as heated passenger seats and individual climate control switches. Leg, shoulder and headroom is excellent for all, even when travelling with a full complement of passengers.
Things are good upfront, too, with an extremely comfortable driver's seat and intuitive, unfussy controls, along with an excellent (if slightly lofty) driving position. The Vivaro Life's van origins mean it also gets loads of cabin stowage - deep cup holders, a centre cubby large enough for a flask of tea and useful storage slots for paperwork and maps all add to its incredible practicality.
What's the Vauxhall Vivaro Life (2019) like to drive?
Compared to other van-based MPVs, the Vivaro is pleasant if not inspiring to drive. The ride comfort is a bit bouncy on broken road surfaces and the steering a little numb, with no real feedback, but it's pleasant enough to trundle along in. And the unsettled ride quality quickly settles down when carrying five passengers and luggage. 
On faster roads, it holds its own - motorway cruising is a cinch, and despite its van origins the Vivaro is remarkably refined, certainly in the 2.0-litre 180PS form with the smooth eight-speed automatic gearbox. 
There's also a 150PS version of the 2.0-litre engine, which lacks the punch of the 180PS, but delivers sufficient low-gear pull and motorway speed refinement. Vauxhal also offers 100PS and 120PS versions of the 2.0-litre diesel. 
At launch, the 1.6-litre units found in some of the Citroen SpaceTourer and Peugeot Traveller won't be offered. What's definitely on the horizon, though, is an electric model in 2020. 
In 180PS form, an eight-speed automatic is standard. Performance is decent, though, with a top speed well in excess of the legal limit at 108mph and 0-60mph in 10.8 seconds, though with 400Nm of torque and the trick eight-speed auto, it's the in-gear performance that really stands out. It also has an impressive two-tonne towing capacity.
Manoeuvrability is good, too, with an excellent reverse parking camera, huge mirrors and an impressively tight turning circle. A head-up display and touch-screen infotainment system further add to its ease of use.