Review: Volkswagen Caddy California (2021)
Rating:
Relatively affordable micro camper than you can use every day. Comfortable bed.
Has its limitations compared to bigger alternatives like the Volkswagen California and Grand California. Kitchen is basic. Desirable options soon add to the list price.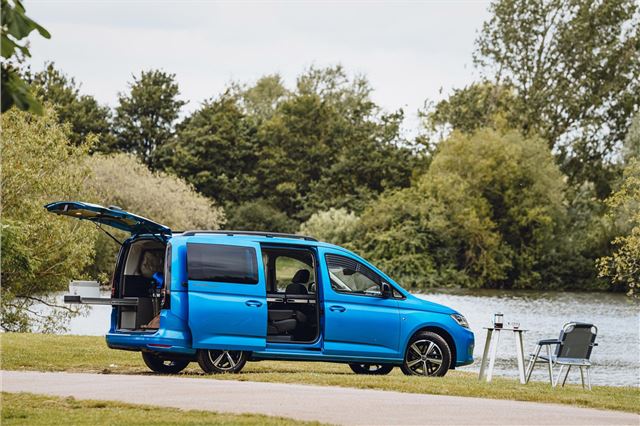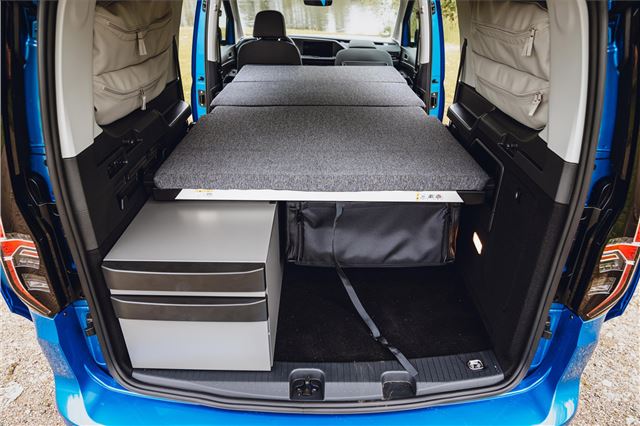 Recently Added To This Review
1 July 2021 Volkswagen Caddy California priced from £29,975
The Caddy California completes Volkswagen Commercial Vehicles' camper line-up and stands alongside the T6.1-based California and Crafter-based Grand California, meaning the brand which invented... Read more
Volkswagen Caddy California (2021): At A Glance
Camper van conversions of the Volkswagen Caddy have developed quite a following in recent years, popular with lifestyle buyers who want a car-like vehicle they can drive every day yet with the ability to provide back-to-basics accommodation at the weekend. That's why you can now buy a Volkswagen Caddy California – an official factory-developed camper that sits below the regular Volkswagen California and Grand California in the manufacturer's range.
The Volkswagen Caddy California is available in short or long (Maxi) wheelbase forms, with the latter providing some welcome additional room in the boot area. It's available with petrol or diesel power, with prices starting from a little over £30,000. That makes it a very tempting proposition alongside aftermarket conversions.
So what do you get for your money? Well, on the face of it, not a huge amount. There's a double bed that folds up, as well as some extra storage and a kitchen unit that pulls out at the rear of the Caddy. Don't expect to cook a three-course meal on this; it is simply a single-burner hob connected to a gas bottle. You also get some handy magnetic window blinds to provide some extra privacy.
Just like the regular Volkswagen Caddy, the California's interior is comfortable and well-finished. The infotainment is a little irritating to use, but no more so than in a Volkswagen Golf. You can also upgrade the system to a 10-inch unit with Apple CarPlay and Android Auto, if you wish.
There are five seats, allowing you to use the Caddy California as a family car during the week. The fold-up bed and related camper van paraphenalia eats into boot space a bit, but there's still a fair bit of room for a shopping trip (especially if you opt for the long-wheelbase Caddy California Maxi).
You can choose from 1.5-litre petrol or 2.0-litre diesel engines as well as manual or automatic gearboxes. We've driven the more powerful 2.0-litre diesel with the seven-speed DSG gearbox and reckon it's a winning combo – the grunty engine makes life easier, as does the smooth-shifting automatic transmission.
On the face of it, the Volkswagen Caddy California looks like good value for money, especially alongside bigger Volkswagen camper vans. There's not much else to compare it, too, though (you'll be looking at aftermarket conversions if you want to shop around), and it's easy to go to town on the options list and add a significant chunk of cash to the purchase price.
At less than £1000, the optional California Plus pack strikes us as good value – you get a 230V inverter and three-pin plug socket; a front centre armrest with space for drinks, dark tinted rear glass, a pair of USB points and LED rear combination lights. You also get power latching on all the doors, meaning you don't have to slam them when you sneak out to the loo in the middle of the night.
What does a Volkswagen Caddy California (2021) cost?
Buy a used Volkswagen Caddy from £23,100
Volkswagen Caddy California (2021): What's It Like Inside?
Day-to-day, the Volkswagen Caddy California feels much like the regular Volkswagen Caddy passenger car inside. You get five seats, a huge amount of interior space and an array of car-like controls and switchgear. Volkswagen's 8.25-inch infotainment display is standard, although you can upgrade it to a 10-inch navigation system (with Apple CarPlay and Android Auto) for a fee.
It's not without its quirks (much like most modern Volkswagen cars, then), but it certainly doesn't feel too 'van-like' to use on a daily basis. You might get a few more soft-touch finishes on an SUV but, out of all the small van-based cars, the Caddy's probably the nicest inside.
Visibility is excellent, and you'll rarely notice the two side storage bags covering the rearmost windows. Our test vehicle came with the optional panoramic sunroof which is an expensive but desirable feature, even if it does deprive you of some overhead storage. It's worth it for the ability to watch the stars at night, although leaving it undercovered does mean you might get woken up early by the sun in summer.
Setting the bed up is easy. You drop the rear seats (these can be removed entirely if you don't need them) and unfold the mattress. You'll need to move the front seats forward to create a bit of space, while it's supported by legs that fold out.
It measures 1980mm x 1070mm, enough space for two people, while we found the mattress to be very comfortable for a night's sleep. Getting onto the bed is easy enough thanks to the sliding side doors but, once it's folded out, it does leave little room elsewhere in the Caddy.
The kitchen slides out of the back, with the tailgate door providing a bit of shelter during changeable weather. Volkswagen will sell you an awning which attaches to the back of the Caddy, or you can buy an aftermarket one for not-a-lot-of-money. It's a worthwhile addition, we reckon. There's a folding table and two camping chairs stored neatly underneath the bed, too.
What's the Volkswagen Caddy California (2021) like to drive?
The beauty of the Volkswagen Caddy California is it's not much bigger than, say, a Volkswagen Tiguan. Want to squeeze it into a multistorey car park? No problem. Planning to drive it every day without feeling like a Transit drive? It ticks that box, too.
With light steering and good visibility, it's probably one of the easiest campervans to drive. It's worth speccing front and rear parking sensors, though, while the rear-view camera makes life a lot less stressful if you regularly encounter tight car parks.
Volkswagen is yet to offer the Caddy with electric or hybrid power, unfortunately, so you'll have to decide between the brand's popular 1.5-litre petrol engine or a grunty 2.0-litre diesel. The former comes with 114PS and a choice of a six-speed manual or seven-speed DSG automatic gearbox, while the diesel is available with 102PS and the manual transmission, or with a more powerful 122PS and the DSG 'box.
We've only driven the 122PS 2.0-litre diesel with the seven-speed DSG and it's probably going to be the most desirable option, with plenty of grunt for shifting the Caddy (especially the bigger California Maxi). The petrol will be a wiser choice if you do a lot of driving around town or plan to use the Caddy California for a lot of short journeys, but we reckon it might feel a bit strained on the open road.
The diesel will be more efficient, too, with the 102PS version returning up to 56.5mpg in short-wheelbase form (55.4mpg in the Caddy California Maxi) or 53.3mpg with 122PS (51.4mpg in the Maxi). The petrol is a bit thirstier, returning up to 42.8mpg in official WLTP fuel economy tests – although this could drop significantly in the real world.