Review: Volkswagen Caddy Cargo (2021)
Rating:
Stylish and trendy small van. Easy to drive. More spacious than ever before.
Poor payload compared to rivals.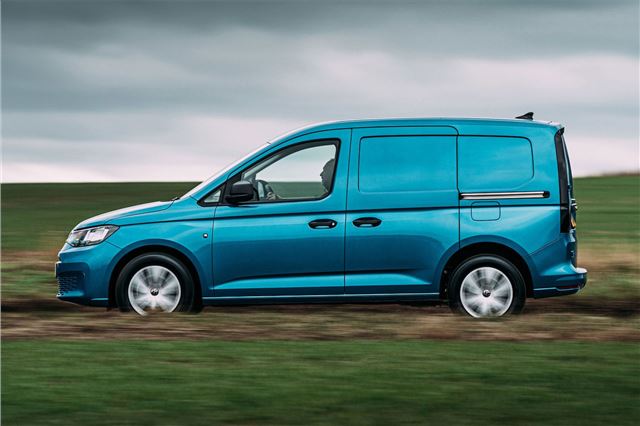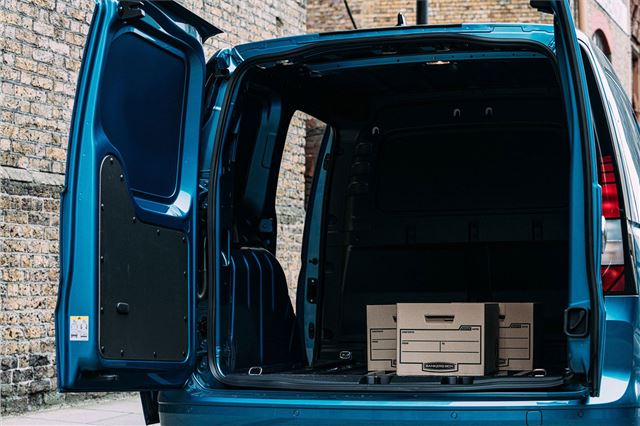 Volkswagen Caddy Cargo (2021): At A Glance
The Volkswagen Caddy has been a mainstay of the small van market for several generations and the latest model builds on its reputation for versatility. It's now badged the Caddy Cargo (while the passenger-carrying model is simply called the Caddy), and it's been moved onto VW Group's MQB car platform (much like the Volkswagen Golf, Audi TT and Skoda Karoq to name a few).
You might think that the move towards a car platform will have been detramental to the Caddy's useability, but its grown in size and is now more capable of hauling loads than ever before. There are two main versions (the standard wheelbase Caddy Cargo and the long-wheelbase Caddy Cargo Maxi), as well as three trim levels (Commerce, Commerce Plus and Commerce Pro). 
With 3.1 cubic metres of load space, the standard Caddy Cargo can carry a decent load, but this is trumped by the Caddy Cargo Maxi with its 3.7 cubic metre capacity.
The Caddy Cargo's real talents lie in its car-like agility and plush interior. It's probably the easiest small van on the market to drive, helped by a whole host of driver-assistance technology pinched from elsewhere in the Volkswagen range. The turning circle is surprisingly tight, while good visibility also helps around town.
There are petrol and diesel engines available (no hybrid or electric power, though). We'd recommend the 2.0 TDI for most drivers, particularly the top-of-the-range 122PS model with the rapid-shifting DSG automatic gearbox. The 1.5 TSI petrol is better suited to drivers who cover a lot of miles in town.
All this adds up to a very impressive small van that more than stacks up against rivals including the Ford Transit Xonnect, Vauxhall Combo Cargo, Citroen Berlingo and Peugeot Partner. You'll pay a little more for a Caddy Cargo alongside most of these, but it's likely to hold its value well and won't cost a fortune to run.
What does a Volkswagen Caddy Cargo (2021) cost?
Buy a used Volkswagen Caddy from £26,995
Volkswagen Caddy Cargo (2021): What's It Like Inside?
The standard Volkswagen Caddy Cargo provides 3.1 cubic metres of load space, while the bigger Caddy Cargo Maxi increases this to 3.7 cubic metres. That's a decent size on paper, although both are trumped by the likes of the Peugeot Partner, Citroen Berlingo and Vauxhall Combo Cargo. It falls a little short on payload, too – you can't carry more than 700kg in the Caddy, while alternatives are rated to lug up to 1000kg.
If you're not looking to transport as much as feasibly possible, the Caddy Cargo impresses with its useability. You can choose from one or two sliding doors and a choice of rear wing doors or a car-like hatch. The floor is lower to the ground than in the old model, meaning you can transport tall items, while there's enough space back there for shifting a standard Euro pallet (or two in the Caddy Cargo Maxi).
It's a very comfortable van for drivers and passengers, with adjustable lumbar support as standard on all but entry-level models. The cabin feels much like a Volkswagen Golf's, with a stylish dashboard and modern, simplistic layout. There are a range of infotainment screens available – the biggest is a 10-inch display which includes navigation, but it's not a cheap option. We'd recommend the 8.25-inch system, which is available with Apple CarPlay and Android Auto for a fee.
In terms of quality, the Caddy Cargo feels surprisingly plush for a van. While that adds to its car-like vibe, only time will tell how well it takes years of abuse. Older Caddy models have performed well in this regard, though.
What's the Volkswagen Caddy Cargo (2021) like to drive?
The advantages of basing a small van on the same platform as an Audi TT will become clear from the second you drive it. Sure, the Caddy Cargo's bulky body means it doesn't exactly handle like a Golf GTI, but it's certainly more agile than rival vans like the Citroen Berlingo.
The electrically-assisted steering means you can wind lock on and off easily, while the tight turning circle will give you the confidence to dart around town and seize any gaps that are there to be taken.
The diesel engine line-up is made up of a 2.0-litre TDI with three different power outputs: 75PS, 102PS and 122PS. We've driven the most powerful model and it's easily peppy enough for motorway use, while the DSG transmission fitted to our test vehicle was equally impressive. You'll notice a slight hesitation when pulling away from a standstill but, once the move, it'll change gears with surprising speediness.
There's also a petrol model available in the form of a 1.5 TSI. We've sampled this in the Caddy MPV and found it to be surprisingly adept at hauling along the van-based people carrier. While you'll get through a bit more fuel with the petrol model, it's still capable of up to 44.1mpg – a small price to pay if you work in a town centre or cover a lot of short journeys. It's considerably more refined than the diesel version, too.