Volkswagen Caddy Life (2015–2021)
Model History
August 2015
New Caddy Life goes on sale
Prices for the short wheelbase Caddy Life 2.0-litre TDI 102 PS Euro 6 engine, start from £15,600 while the Caddy Maxi Life with the same engine starts from £17,985.
Equipment includes a colour infotainment system with DAB, Bluetooth, heated windscreen, post-collision braking, daytime running lights and BlueMotion Technology modifications, for added efficiency and lower emissions, as standard. As well as additional systems such as Brake assist, City Emergency Braking and cruise control.
These new models all come with the 2.0-litre TDI Euro 6 engines and are available with a 102PS or 150PS power output. They also have BlueMotion Technology modifications as standard, which include low-rolling-resistance tyres as well as regenerative braking and stop/start systems. The most economical 102 PS engine has a combined fuel consumption of up to 65.7mpg and a CO2 of 114g/km.
Volkswagen's Caddy Life offers flexible seating for up to seven passengers, including the driver. The two rear rows of seats can be folded, double folded or removed to leave a loading space of up to 3,030 litres. The Caddy Maxi Life, with its extra 420mm length, offers an additional 340 litres, bringing the total loading area up to 3370 litres.
December 2015
Petrol Caddy Life launched
Prices start from £15,110 for the 1.2 TSI 84PS 5-speed manual Caddy Life. The new Euro 6 petrol engine range will consist of a 1.2 84PS 5-speed manual, a 1.0 102PS 5-speed manual and a 1.4 125PS with either the 6-speed manual or 7-speed DSG gearbox.
August 2016
Volkswagen Caddy Life now available with a VW approved WAV conversion.
Volkswagen Commercial Vehicles, in partnership with Sirus Automotive has launched the very first wheelchair conversion of its petrol-powered Caddy.
The unique offer has been developed using the latest generation Caddy model, providing customers who are looking for a more realistic 'car driving' experience the option to select a petrol model for the first time. Sirus offers three Caddy variants: the Caddy Transfer, Caddy Drive and Caddy Up-Front, all offering a superior experience for wheelchair users, whether they are a passenger or driver.
Nick Axtell, Specialist Sales Manager at Volkswagen Commercial Vehicles, said: "The introduction of petrol power brings more choice for wheelchair users, giving them greater opportunity to increase their mobility whilst enjoying an enhanced driving experience."
The converted Volkswagen Caddy Up-Front, available from £26,195, can accommodate most power and manual chairs allowing the passenger to travel next to the driver in complete comfort. As standard, the conversion incorporates an ergonomically redesigned centre console, a shallow ramp (9 degrees), unique griping surface technology and a fully automated remote tailgate and ramp system with lowering suspension for easy access. A range of options such as alloy wheels, tyre packages, body styling enhancements and custom audio packages allowing customers to create the ultimate in wheelchair accessible transport.
Tthe Volkswagen Caddy Drive offers the highest specification 'drive from wheelchair' conversion. Available from £34,995, the Caddy Drive can accommodate most large powered chairs, features an ultra lowered floor to ensure exceptional headroom for taller wheelchair users and a re-located gear selector combined with electronic handbrake for ease-of-access and increased floor space.
All of the Volkswagen Caddy petrol and diesel powered Sirus conversions can be leased via the Motability scheme or purchased directly from Sirus Automotive Ltd and come with a three-year warranty supported by Sirus mobile engineers. Vehicles are available for immediate delivery.
For more information on Sirus, visit http://sirusautomotive.co.uk/,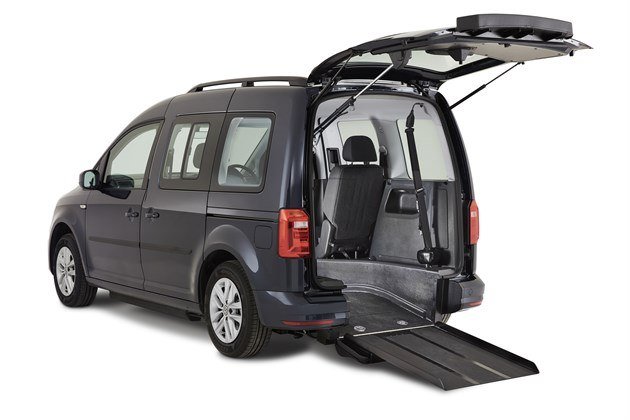 June 2017
Specification improvements and a price reduction announced for Volkswagen Caddy vans. The change delivers higher standard equipment levels, boosted safety features across all models and lower prices for petrol-powered models.
For the 2018 model, Volkswagen Commercial Vehicles has increased safety levels with the fitment of autonomous emergency braking (AEB - Front Assist with City Emergency Braking) and driver alert as standard across the entire range. All Volkswagen vans now come with standard AEB.
All three trim grades, Startline, Trendline and Highline, feature more standard equipment than before. All gain a leather multifunction steering wheel and multifunction display (in addition to AEB and Driver Alert), while 2018 Trendline models now feature climatic air conditioning as standard. Highline models gain Volkswagen's Discover Media satellite navigation system as standard.
As part of the 2018 Caddy package, Volkswagen also realigned its price structure. The Startline 1.2 TSI 84 PS model now costs £17,527 (total RRP inc OTR and VAT): £1,017 less than the previous price.
The Caddy is offered with three highly efficient TSI petrol units. The line-up for the 2018 model consists of: a 1.2-litre 84 PS four-cylinder unit, a 1.0-litre 102 PS three-cylinder unit and a range-topping 1.4-litre 125 PS four-cylinder engine offered with the option of a seven-speed DSG transmission. All three optimise lightweight construction and a turbocharger.
All Caddy vans ordered from 1 June will be equipped with the new specification package.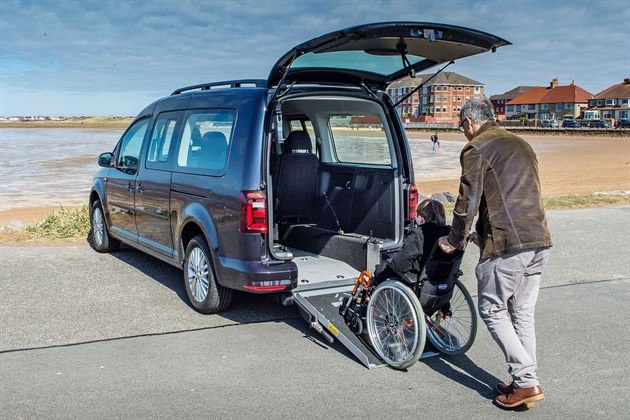 March 2019
'Engineered For You' VW Caddy Life WAV launched at CV Show 2019, which runs from April 30 to May 2 at the NEC Birmingham.
The conversion is carried out by Volkswagen Commercial Vehicles' Recognised Partner Lewis Reed and combines high performance and practicality.
Volkswagen Commercial Vehicles sells more than 2,000 WAVs per year through converters with the new model set to be offered through the 'Engineered For You' scheme.
The van is compact, spacious and easy to drive with the premium Lewis Reed conversion available in short or long wheelbase. The maximum capacity is five seats plus a wheelchair with the adaptations ensuring headroom and space for both rear passengers and wheelchair users is not compromised.
For ease of access, the Caddy Life WAV features an integrated TorSpring® lightweight ramp and fully automated rear entry system. Lewis Reed offers a choice of floor fittings to ensure maximum comfort plus a full options range. As a Recognised Partner, the Caddy WAV comes with a conversion warranty that matches the base vehicle.
VW Caddy Lifes are available with petrol as well as diesel engines and with DSG transmissions or manuals.
July 2019
VW Caddy Life and Maxi Life price list now shows the only petrol engine to be a 102HP 1.0TSI; 2.0TDI is restricted to 102HP but remains available with the old DQ250 6-speed wet clutch DSG.
What does a Volkswagen Caddy Life (2015 – 2021) cost?