Review: Volkswagen Grand California (2019)
Rating:
Loads of space. In-built bathroom. Relaxing to drive once you're used to the size.
Expensive. Modern rather than homely. Parking can be tricky.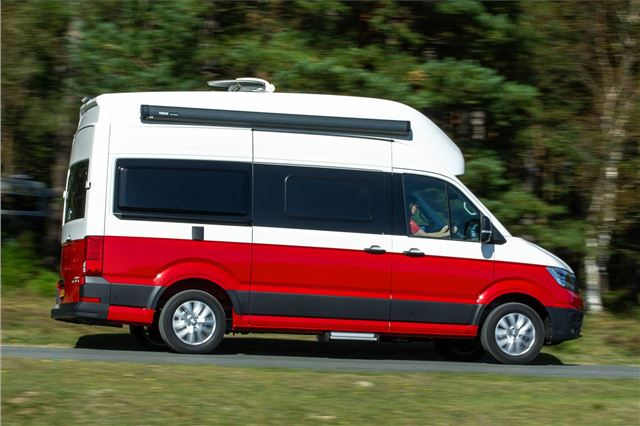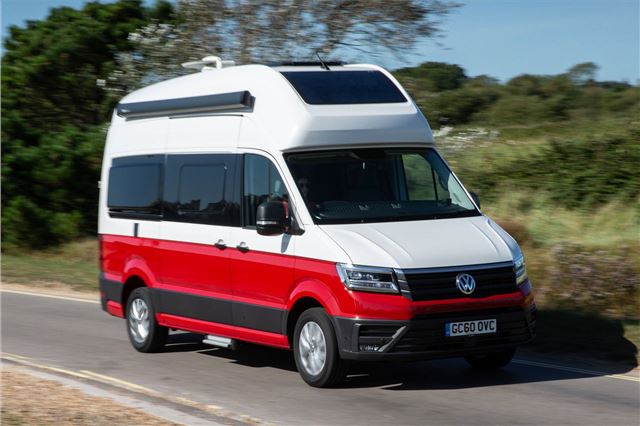 Recently Added To This Review
8 August 2018 Volkswagen Grand California launched
Based on the Crafter the Grand California comes complete with bathroom. In addition to the large sleeping area in the rear, the Grand California will be available with a high bunk bed for children. ... Read more
Volkswagen Grand California (2019): At A Glance
The Volkswagen California is probably the most desirable camper van on the market, but it has its limitations. Despite clever packaging, it's not big enough to house a toilet or shower, leaving you reliant on campsite facilities. Enter the Grand California.
Available in two sizes - the 600 and 680 - the Grand California takes Volkswagen into motorhome terrority. However, unlike its rivals, based on aftermarket conversions of big vans, the Grand California is based on the Crafter and built entirely in-house by Volkswagen.
The smallest and cheapest version of the Grand California is the 600. It is six metres long and comes with a double bed running sideways across the cabin and an optional overcab roof bed, ideal for children. Despite being larger and more expensive, the 6.8-metre 680 has a lower roof and is therefore only available as a two-berth model. Its double bed runs lengthways along the cabin.
Both models come with a wetroom. There's a cassette toilet, foldaway sink and a shower, along with useful shelves for storing toiletries. If you're used to luxury hotels, you might find the wet room a little spartan, but it's functional and saves the late night traipse across the campsite for the loo.
The sheer size of the Grand California means it can be intimidating to drive at first but once you've got used to having to take a wider line at T-junctions it's actually quite easy. Forward visibility is very good, thanks to the high seating position, while its huge door mirrors make it an easy camper to place in the road. There are sensors and cameras everywhere, too, meaning it's surprisingly easy to squeeze into a tight space.
The 2.0-litre diesel engine has plenty of performance for joining motorways, while the standard eight-speed automatic gearbox is excellent. It will happily sit at around 70mph on the motorway, while the ride quality helps make it a surprisingly relaxed long-distance cruiser.
The Grand California starts at around £69,000 to buy new, increasing to £80,000 for a 680 4Motion. That's an awful lot of money for a posh camper van, but it might not be the lavish expense you think it is. For a start, aftermarket conversions based on the Crafter aren't much cheaper, and Volkswagen motorhomes hold their value incredibly well. 
What does a Volkswagen Grand California (2019) cost?
Buy a used Volkswagen California from £32,750
Volkswagen Grand California (2019): What's It Like Inside?
Volkswagen says it took inspiration from a luxury yacht for its upmarket Grand California motorhome - hence the bright white colour scheme and wood-effect vinyl flooring. If we must find fault, it's that it's slightly anodyne in its approach. Anyone used to caravans with flowery decor and carpets might find it a little impersonal, but it feels modern and well-built.
On both models, the drop-down sleeping area is located at the back of the van, with occupants in the 600 expected to sleep sideways across the cabin. The 680 allows a longer bed, meaning you can sleep lengthways, along with a marginally longer kitchen area with a useful extra section of work surface.
While neither van feels claustrophobic (even for taller users), the smaller 600 has a higher roof. This means there's space above the front seats for an optional bunk bed accessed via a drop-down ladder, ideal for use by children. Without this, the space can be used as storage.
Storage is one thing the Grand California does very well, in fact. There are plenty of handy cupboards and a useful 180-litres of room under the rear bed.
Seating is made up of two seats in the front of the van, along with a double bench seat in the living area behind. Usefully, this features Isofix anchor points for fitting child seats, while the front seats can swivel around to provide comfortable seating when pitched up.
While the lack of an oven will prevent you from cooking a full Sunday lunch, there's a useful twin-hob gas cooker and a small sink. These can both be covered with fold-down glass tops, providing more work surface space when required. There's a fairly generous 70-litre fridge which can be easily accessed from inside and out, as well as a small freezer section. Like its motorhome rivals, the Grand California has electric hook-up with a plug at the side of the van.
Of course, the Grand California is a vehicle intended for outdoor life. Exterior lights are fitted as standard, as well as an external shower - ideal for washing dogs or giving your feet a hose down after a trip to the beach. An optional roll-out awning on the driver's side provides a bit of shelter if required, while a table and chairs can also be equipped and stored in pockets on the rear doors.
Both models feature the same wet room, incorporating a shower, cassette toilet and a drop-down sink. It's not exactly the Ritz, but the shower is easy to operate and there are some useful storage areas for toiletries. There's a 110-litre tank, providing enough water for a couple of showers and a 90-litre waste water tank. However, be warned, the flap to refill the water tank is on the same side as the sliding door and in its opening line. That means, if you open the door with the flap open, it is very easy to shear the flap off.
There's storage for two 11kg gas bottles in the back of the motorhome, providing power for the twin-hob and heating, while water can be heated via gas or electricity. All the key functions can be controlled via a clever touchscreen operating panel, which also lets you check things like the battery status. 
All versions of the Grand California are supplied with a leisure battery, which sits under the bonnet. Confusingly, however, the 12V battery for the engine is found under the floor in the back. It's an odd arrangement but the leisure battery has enough power for the LED lights over a camping weekend.
If you need more power for 'off the grid' camping then you can fit optional solar panels to the roof of the van, which charges up the leisure battery automatically when the sun is out.
What's the Volkswagen Grand California (2019) like to drive?
There's no denying that the Grand California might feel a little intimidating to drive at first. The smallest version is six metres long and, at around three metres high, you'll find yourself wincing when passing under low bridges.
But it's based on the Volkswagen Crafter, which means it's actually pretty good to drive once you've got used to its size. The Grand California shares the Crafter's compact turning circle, light steering and punchy engine performance.
There's just one engine available: a 2.0-litre TDI with 177PS and an eight-speed automatic gearbox. The Grand Cali is front-wheel drive as standard, but 4Motion four-wheel drive is also available as an option on the bigger 680 model.
The four-cylinder engine is as powerful as you could ask for in a campervan of this size. It accelerates with plenty of urgency, thanks in part to an excellent eight-speed automatic gearbox which is quick to respond to a heavy right foot. It's a heavy vehicle though - and will be even heavier once filled with camping gear - yet it happily accelerates to 70mph.
It's also surprisingly agile. You won't be the one holding up traffic on rural roads, while the suspension soaks up bumpy surfaces extremely well. The steering is light, while big mirrors along with numerous sensors and cameras help when threading it through heavy traffic or crowded campsites. 
Despite its brick-like shape, there's surprisingly little wind noise at high speeds, although you will feel the odd cross-wind on a blustery day. Cross Wind Assist is one of the many standard-fit driver assistance features, on-hand to provide tiny inputs into the steering when it detects the van being hit by a gusty breeze.
If you're trying to decide whether the 600 or 680 is for you, it might be worth noting that the latter weighs 3880kg, while the entry-level model is 3500kg. If you passed your driving test after 1 January 1997, you may need to take an extra test to obtain a C1 licence, which will allow you to drive a vehicle weighing more than 3500kg.