Volkswagen T5 Transporter (2003–2015)
Last updated 17 March 2019
Good & Bad
The Volkswagen Transporter's compact size makes it ideal for town use and on tighter rural roads. A cushily soft set-up to the suspension also makes it ideal for these more coarsely surfaced roads. The slick DSG dual-clutch gearbox further adds to the Volkswagen's appeal for the driver and it comes with ESP as standard on all models.
A range of efficient engines that meet Euro 5 emissions regulations makes the Volkswagen Transporter a good bet for those who have to travel into London's Low Emissions Zone regularly as there is no penalty for entering in this van
Strong residual values thanks to good quality build and high class image make the Volkswagen Transporter a sound bet for those considering whole life costs. It also has low running costs, especially in BlueMotion variants.
Plenty of variety for configuring the Volkswagen to your needs makes the Transporter a popular choice for those seeking a van at the smaller end of the market.
Was awarded a 4 Star NCAP rating in 2013 tests with 79% adult protection, 74% child protection, 32% pedestrian protection, 57% safety assist.
Steering column is known to knock.
Window leaks are common.
The 84PS 2.0-litre turbodiesel is best suited to town driving where its low-rev shove is good, but on the motorway this engine feels out of its depth. It needs to be worked hard to hold station with other traffic, which has a negative effect on fuel economy.
5 to be a fault with RHD steering that defies any dealer attempt to put it right.
On 2013 2.0 TDI 140 SE, A/c compressor failure, DMF failure, Two crankshaft oil seal leaks - so far it's only done 4000 miles. 
Following worldwide recall of 2.6 million vehicles due to crystalline deposits in the synthetic oil in 7-speed DSGs affecting the Mechatronics units causing the fuses to blow, Volkswagen is recalling 30,000 UK market vans and LCVs fitted with 7-speed DSGs to change the oil in them from synthetic to mineral.
Repeated clogging of Diesel Particulate Filter on 2012 T5 Caravelle California camper reported.
Engine of 39 month old 2011/60 reg Transporter T5 2.0 TDI 180PS DSG 4motion suffered catastrophic big end failure. Apparently there is a known oil pressure issue with this engine, normally evidenced by a 'loud knocking noise'.
Report of problems with ABS of 2007 T5. ABS lamp on also affecting speedo and fuel gauge. £135 diagnosis by dealer concluded ABMS module broker and wanteds £2000 to replace. Sent it to ECU testing who pronounced it okay. Spent £166 with a specialist for further wiring based tests. Nothing found. Sent to ECU testing which declared processor broken and unrepairable and refunded all charges. Now faced with £684 bill for a new processor + recoding, total £1115.
Report of driveshaft failure on 2010 Volkswagen T5 Transporter at 48,400 miles.
Specific service requirements of a T5 to remain within warranty include waterpump changed at same time as timing belt, 'gate couplings', alternator pulley andTiptronic transmission fluid to be changed at 80k miles.
29-11-2012: Seems to be a fault with RHD steering that defies any dealer attempt to put it right.
26-8-2014: Repeated clogging of Diesel Particulate Filter on 2012 T5 Caravelle California camper reported.
13-12-2015: Report of driveshaft failure on 2010 VW T5 Transporter at 48,400 miles.
(Lost date): Report of smoking and excessive oil consumption from 2011 Volkswagen Transporter with 2.0 BITDI engine at 62,000 miles due to "excessive wear of the cylinder walls". First thought to be an injector problem with injectors dribbling too much diesel down the bores; later found to be an EGR cooler fault (25-11-2016). VW quoted £6,060 to complete the work. VW Customer Care offered £1,000 off the final price but after paying £560 for the dealer to diagnose the problem so really only £440 off.
14-10-2016: Report of turbo of VW Transporter failing at 37,000 miles and costing £2,800 to replace.
18-10-2016: Report of DPF and turbo failure on a 73k mile VW Caravelle 2.0TDI BITD. Engine then started burning 5-6 litres of oil a week and diagnosis read: "Your heavy oil loss is due to the valve guides and valves in the cylinder head worn along with the piston rings.Also a valve in the oil filer housing is seized which could have been giving a lot of back pressure and contributing to oil loss.For us do to the complete rebuild and fitting with all parts required is £4136.34 + VAT with a 1 year warranty." 
25-11-2016: Catastrophic problem reported with 180PS 2.0TDI BITD engine of T5 Caravelle DSG that explains 26-8-2014, (Lost date) and 18-10-2016. Problem relates to "TPI 2039830/5." Appears that the EGR cooler corrodes internally, producing aluminium oxides, and these then pass via the inlet valves into the combustion chamber. They then sit in the piston rings causing cylinder bore wear. VW is aware of the fault and has now issued a new EGR cooler: 03L 115 512 D. Owner has been in contact with other owners who have had the same problem. Some have received 100% back; others only 70%. There is a Facebook site: VW T5.1 excessive oil use for CFCA engines. In 2015 the owner highlighted the problem to VW at 70k miles. His T5 has now been off the road for over 8 weeks. Aggrieved at a potential bill of £10k because of an inherent defect in the vehicle.
23-9-2017: Explanation for the high rate of failure of failure of 2.0 180BiTDI engines in T6 Transpoerters and Amarocks. "Oil light came on at end of lease. No leaks, so the engine must be burning the oil. Owner had an oil sample tested by Millers Oils and this showed the oil to have critical amounts of Al and Fe. The Al came from the corroding EGR cooler, the Fe is the cylinder bores being worn by the Al particles that have got into the engine. In short a new engine and ancillaries is required at a cost of £8,000. There is a Facebook page with over 1,000 Members devoted to the failings of the 180 BiTDI engine - it is only this engine that suffers. One chap in Norway runs a fleet of 30 ambulances and every one has needed a new engine. The EGR cooler is poorly designed - hot air condenses on unprotected aluminium, causing it to corrode. VW has brought out a revised cooler but it is too early to say if it is successful. And once an engine starts to burn oil through worn cylinder bores, the damage has been done." 
10-4-2018: Report of owner buying a used 2011/61 VW T5 Transporter 180PS BiTDI with engine code CFCA. Over 2,000 miles had to add 3 litres of oil. See 23-9-2017 for the explanation. 
3-6-2018: Report of 2015 VW T5 using oil at 20k miles and "may need a new engine".
17-3-2019: Report of problem with 2004 Volkswagen Caravelle 2.5 TDi PD 174 Manual. After initial stalling if the outside temperature is below 9 degrees C, the vehicle jumps and stalls when driving for the first 5 minutes or so. VW has experienced the fault but their diagnosis equipment won't recognise it. The latest suggestion is to change the ECU (£1600 or so) but VW says they cannot be sure this will solve the problem. Other than the low outside temperature fault, the vehicle runs brilliantly, including if start up outside temperature above 9 degrees C when the fault never occurs. Owner is in touch with VW T5 forums across the World but no one seems able to solve the fault.
Also consider...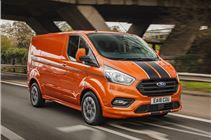 Ford Transit Custom 2013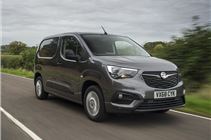 Vauxhall Combo 2018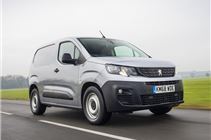 Peugeot Partner 2018
List Price from
£20,310 +VAT
Buy new from

£16,696

+VAT
Contract hire from

£180.82

+VAT pm
Lease from

£237.00

+VAT pm