Review: Volkswagen Vanworx T6 Slipper Camper Van (2019)
Rating:
High quality alternative to the Volkswagen California, luxurious fit and finish, huge range of customisation options, available as a new bespoke van or conversion of existing T5/T6 Transporter.
Only a handful of Vanxworx sites in England, new bespoke vans can get expensive.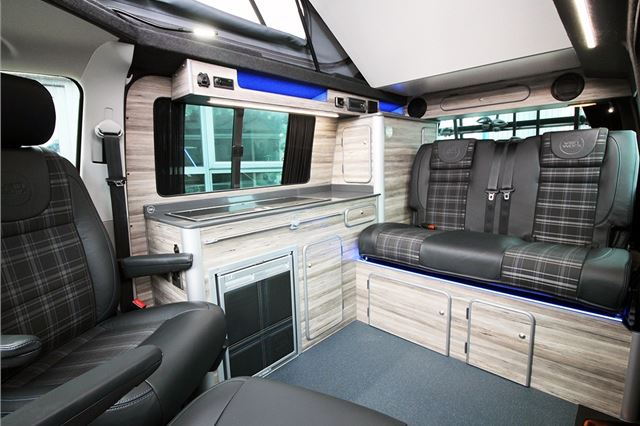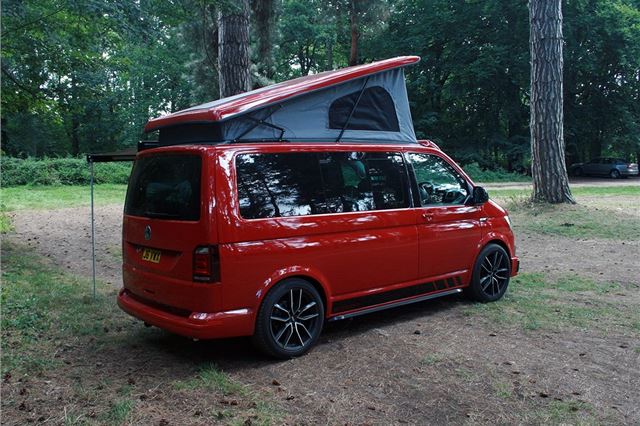 Volkswagen Vanworx T6 Slipper Camper Van (2019): At A Glance
Luxurious, smartly styled and offered at a reasonable conversion price, the Vanworx Slipper is a showcase of British camper van brilliance and a genuine alternative to the Volkswagen California Ocean and Mercedes-Benz Marco Polo.
The Vanworx Slipper is a four berth camper van that features two double beds, a pop-up roof, electric hook-up and a fully fitted kitchen. Available as a bespoke new van (priced from £49,000) or as a conversion of an existing T5 or T6 Transporter (from £18,000), each one is converted by hand at Vanworx's base in Portland, Dorset.
As a camper, the Slipper is a comfortable and pleasant place to eat, sleep and relax. The seats in the front can be swivelled 180 degrees and the push-up roof gives the interior a nice airy feel that makes it apt for chilling out with your friends or preparing a meal. Up top, there is a large bed for two adults, while the second row of seats on the 'ground floor' can be lowered to provide a second double bed.
Vanworx offers a huge range of personalisation options, which means you can jazz up the Slipper with colour-coded leather seats, multi-coloured LED mood lighting, granite-styled worktops and wireless charging stations for smartphones. The van can also be fitted with a coloured roof and solar panels.
As a passenger van, the Slipper feels a step above its conversion rivals, with its colour-coded seats providing excellent support and comfort for long distance travel. Unless you ask Vanworx to convert your existing van, the Slipper is based on the T6 Transporter TDI with 150PS, 199PS or 204PS. Our test van was the 150PS version; it is well-suited to life as a camper with 280Nm of torque providing sufficient low-gear pull for a fully laden van. The handling is also similar to that of a large family car, with light but responsive steering making the van easy to use in town or on the motorway.
Vanworx might sit at the upper end of the conversion and camper van market, but it is easy to see why it charges a premium. The Slipper van is - as the name implies - comfortable and relaxing. The interior quality is also excellent and provides a stylish and bespoke alternative to what's on offer from the Marco Polo and California.
It's also worth noting that Vanworx is a fully Volkswagen accredited camper conversion specialist, which means they are one of the UK few van firms to have VCA Conformity of Production status and Whole Vehicle Type Approval.
What does a Volkswagen Vanworx T6 Slipper Camper Van (2019) cost?
Volkswagen Vanworx T6 Slipper Camper Van (2019): What's It Like Inside?
All versions of the Vanworx Slipper come with a compact but fully fitted kitchen, which includes a gas stove, sink, running water and a fridge. The gas bottle is accessed via a cupboard at the rear of the van and located under the rear passenger bench, while the water is pumped via a large plastic bottle that's located in a cupboard under the sink. A Wallis diesel hob/heater is available for those who prefer to have their van gas free. 
The fridge includes a small freezer compartment which is large enough to hold two days' worth of food and drinks for a family of four, while the cupboards and cabinets are sufficient in size for a frying pan, pair of saucepans and dry goods. There is also a cutlery drawer. All of the furniture is locked/unlocked with the push of a button.
The living area is lit by six LED lights, while an optional mood lighting system allows the occupants to change colour and brightness of the interior with a remote control to suit their camping vibe. The van has a 240V hook-up – and 10 metre lead included. Plugging the van into the electricity supply is easy, with the socket located under the offside bumper at the rear of the van. As with the California, the fuses are found in a small cupboard at the rear of the van.
As with many campers, the Slipper has a 12V leisure battery, which can be swapped with a powerful Lifos lithium battery upgrade. Solar panels can also be added to the roof, which automatically top-up the battery charge.
The fit and finish of the interior is excellent, with no panel gaps or exposed screw heads to be found anywhere. Most of the surfaces, cabinets and drawers are made from high-pressure laminate furniture board. All open and close with a smooth operation. The push buttons also have a satisfying click and make it easy to visually identify which cupboards are secured, owing to the fact the metal button pops up when unsecured.
The Vanworx conversion uses Thermafleece wool to insulate the walls, while a shirt fibre carpet lines the panels and metalwork. The interior lining material is effective when it comes to keeping heat in the van, but isn't particularly pleasant to the touch.  
The manual pop-up roof is easy to use and doesn't require a lot of effort to be raised or lowered. Once in place the roof automatically secures itself until the two handles are given a tug to lower it again. Transforming the second row of seats into a double bed  however, requires a little more effort with the metal bar (to lower the backrests) requiring a strong pull to flatten the backrests for the bed.
What's the Volkswagen Vanworx T6 Slipper Camper Van (2019) like to drive?
The Slipper is offered as a bespoke new van or as a conversion package for an existing Volkswagen T5 or T6 Transporter. All Vanworx bespoke campers are automatically classed as a motor caravan with the DVLA from first registration.
New vans ordered direct from Vanworx are based on the T6 Transporter Highline kombi, powered by the 150PS, 199PS or 204PS version of the TDI diesel engine with a six-speed manual or automatic DSG transmission. Our test vehicle was the 150PS version of the four-cylinder turbodiesel.
Given that the Transporter is designed, in part, for the California conversion it comes as no surprise to find that the Vanworx 150PS Slipper is easy to drive and comfortable on both the motorway and twisty A and B roads. The 2.0-litre turbodiesel has lots of low-gear pull for coping with a fully laden camper van, with four adults and luggage. 
The four-cylinder engine has a tendency to get noisy when pressed hard, but few camper van drivers will be looking to redline the rev counter. Vanworx replace the standard Volkswagen seats with their own, available in cloth or leather; but as with the standard T6 van taller drivers may find a lack of legroom in the front because the seats don't go back far enough.
The T6's infotainment and navigation system is lifted from Volkswagen's passenger cars department. It's easy to use, with a bright and responsive touchscreen that provides easy access to radio stations and maps. It also gets live traffic updates, which means it'll do its best to reroute when your journey faces the prospect of a lengthy delay. 
General road comfort is fine with the T6, but Vanworx offer a number of personalisation options which include lowered sports suspension, larger wheels and a front spoiler. While these give the van a significant aesthetic boost, they do have a tendency to firm up the ride quality. On the motorway this is not such an issue, but some versions of the Slipper will feel quite bumpy on poor road surfaces and camp site access roads.