Top 10 highlights from the CV Show 2017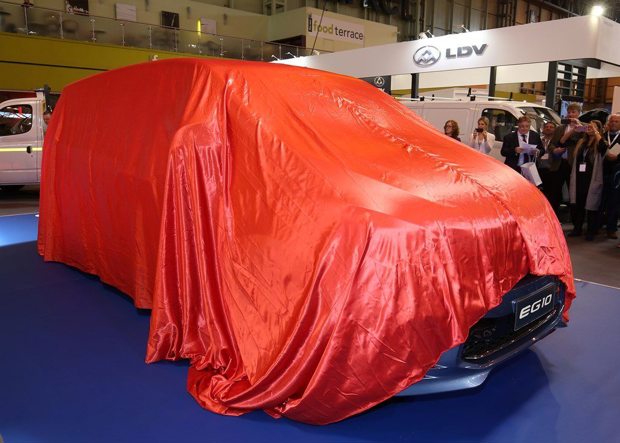 The CV Show 2017 is underway and thousands of van and pick-up drivers are making their way to Birmingham to visit Britain's largest commercial vehicle event. Held at the NEC, next to Birmingham airport from 25 - 27 April, the show is free for the public to enter and open from 08:30 to 17:30. 
In addition to the dozens of new vans on display, the Commercial Vehicle Show 2017 show also hosts hundreds of displays from independent racking firms, security specialists and trailer providers, with show deals and discounts on a range of products. 
Click through the gallery below to see our show highlights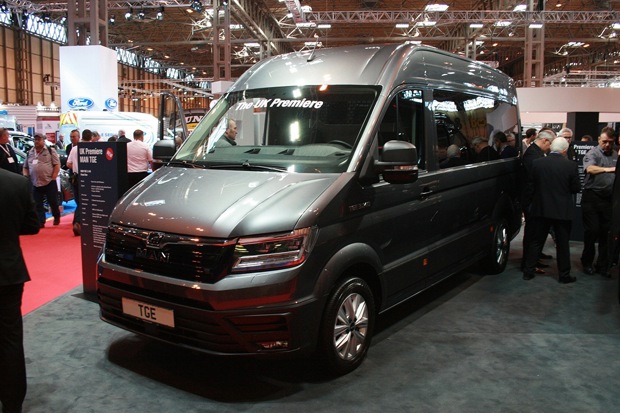 MAN launches TGE van 
The TGE van made its UK debut at the CV Show 2017, marking MAN's first steps into the world of light commercial vehicles. Based on the latest Volkswagen Crafter, which was also launched at the show, the MAN TGE will be available in three lengths and three load heights, while gross vehicle weights will span from 3.0 – 5.5 tonnes.
Powered by a four-cylinder 2.0-litre turbodiesel – which is also sourced from Volkswagen - the TGE will return an advertised 38mpg and be available with front-wheel or rear-wheel drive. The van will also be backed by MAN's huge truck network, with extended opening hours that will allow you to have your van serviced outside the usual 9-5 office hours.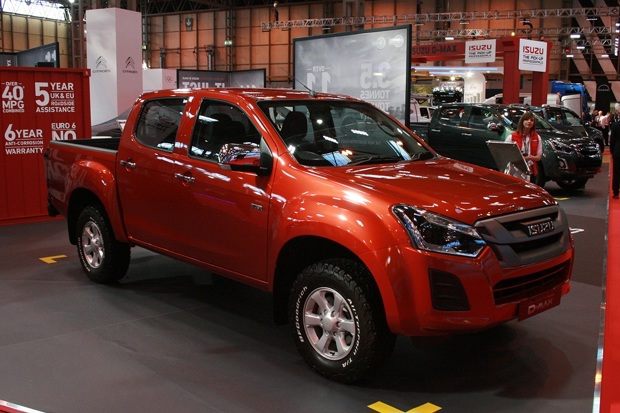 Isuzu unveils 2017 D-Max
The latest D-Max made its debut at the NEC, with styling tweaks, lower running costs and a new engine. The old 2.5-litre turbodiesel has been replaced with a more efficient 1.9-litre unit that promises 40mpg, but maximum power remains unchanged at 164PS. 
At the business end of things, the D-Max retains its four-wheel drive and one-tonne payload. There are also a wide range of bodystyles available, including single and double cab. As before, the D-Max will tow 3.5 tonnes when hooked up to a braked trailer.
Read the full Isuzu D-Max review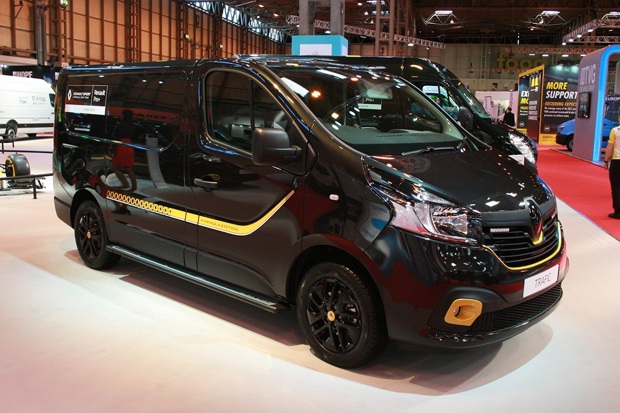 Renault previews Formula Edition vans 
Renault unveiled a new range of sporty vans at the CV Show, with the Kangoo, Trafic and Master all showcased in a series of Formula editions. No prices have been made available for the limited edition vans, but the eye-catching models should go on sale in mid-2017 with 17-inch black alloy wheels, yellow racing stripes and improved levels of standard kit.
The vans will pay homage to Renault's F1 team and will get  touchscreen navigation and leather interiors. However, don't expect any F1-style performance or blistering 0-62mph figures, as the engines will be identical to those found in the standard Kangoo, Trafic and Master vans.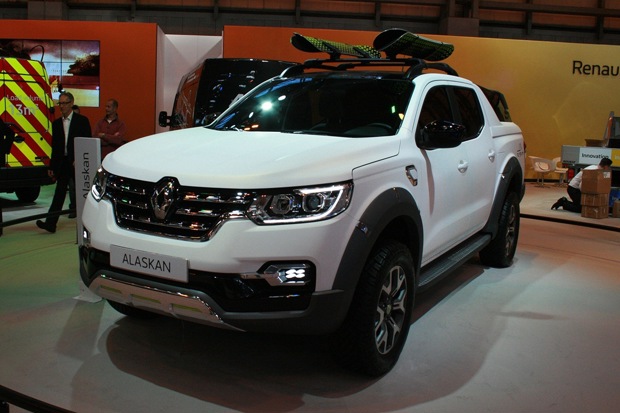 Alaskan pick-up takes centre stage at Renault
Renault also gave pick-up buyers a rare glimpse of its new Alaskan model. The four-wheel drive one-tonne pick-up will be based on the latest Nissan Navara and will be capable of towing 3.5 tonnes.
Renault hasn't confirmed the launch date or prices of the Alaskan – we think it will reach showrooms in late 2017 – but expect it to be powered by a twin-turbocharged 2.3-litre dCi engine, with 160PS or 190PS. Claimed economy will most likely mirror the Navara too, with up to 44.9mpg.  
Read more about the Renault Alaskan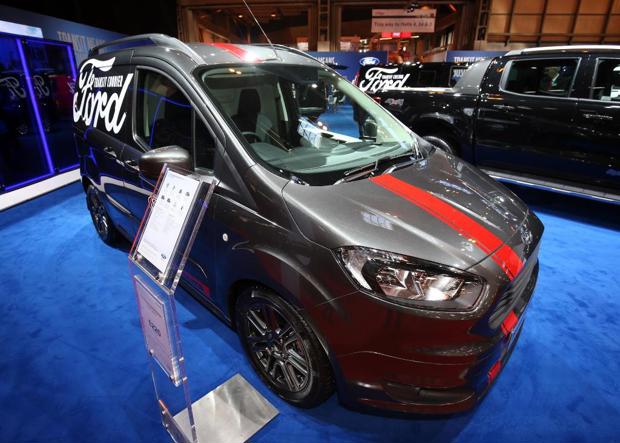 Ford launches new Courier Sport Van
Ford's notable presence at the CV Show 2017 saw it launch a number of updated vehicles, including the Courier Sport Van. With racing stipes and performance bodykit, the compact van caused considerable interest with van buyers at the show. 
The Transit Courier Sport Van will not get any performance gains over the standard van, but the exterior does get an eye-catching makeover, with 16-inch alloy wheels, body coloured bumpers and silver skid plates. The van will go on sale in May from £14,126 (before VAT) and be offered with either the 100PS 1.0-litre EcoBoost petrol engine or the 95PS 1.5-litre TDCi diesel. 
Read more about the Ford Courier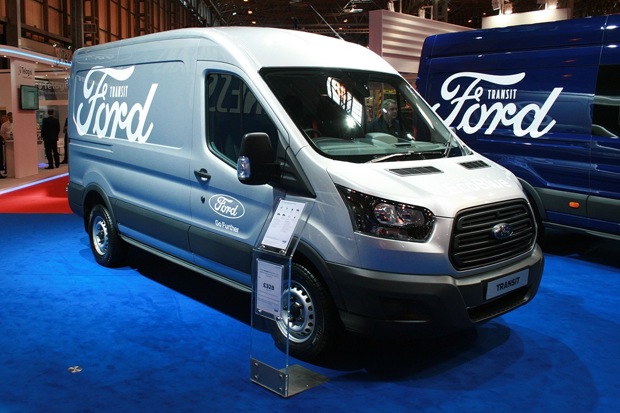 Transit and Transit Custom get six-speed automatic gearboxes
Ford has also updated the Transit range, with both the standard and Custom variants getting the option of a new six-speed automatic gearbox.
Available from £25,340 and £27,065 (excluding VAT), for the Transit Custom and Transit respectively, the new transmission can be specified in combination with the 130PS and 170PS versions of Ford's new 2.0-litre EcoBlue diesel engine. Order books open on 2 May. 
Read more about the Ford Transit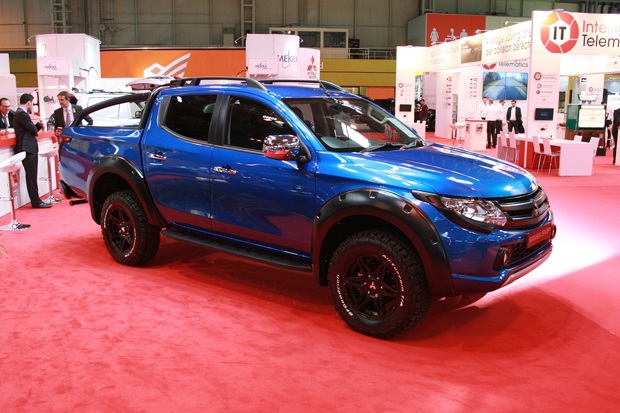 Mitsubishi L200 Barbarian SVP launched 
Mitsubishi kick-started its Special Vehicle Projects programme with the launch of the L200 Barbarian SVP. The new model will be limited to just 250 examples and will start from £28,479 (before VAT) when it goes on sale in May.
The one-tonne pick-up gets a number of enhancements over the standard L200, with 17-inch black alloys, extended wheel arches and matte black roof rails. Inside the Barbarian's standard leather seats are finished with suede-like inserts, with SVP logos in the headrests, and each model is individually numbered to reflect its limited run-out.
Read more about the Mitsubishi L200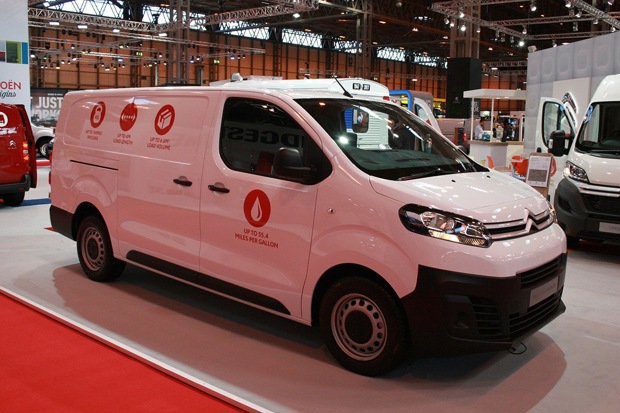 Citroen Dispatch goes XL
Citroen showcased the Dispatch XL at the CV Show 2017. The new XL model will be the largest Dispatch in the range, providing a load floor length of 2862mm, which can be extended to 4024mm with the optional bulkhead hatch. This means the XL will accommodate up to three Europallets and boast load volumes of 6.6m3.
Payloads will range between 1247kg and 1447kg and all will be capable of towing 2.5 tonnes when hooked to a braked trailer. The rear doors can also be opened to 250 degrees, improving access in tight spaces.
Read more about the Citroen Dispatch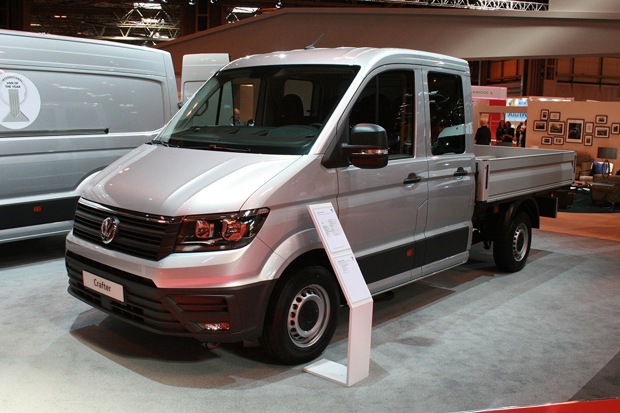 New Crafter drops in to CV Show 2017
Volkswagen gave the new Crafter its official UK launch, showcasing panel vans and dropsides. Front-wheel drive versions will offer a cargo capacity of 18.4m3, spanning 3.0 - 4.0 tonnes, while rear-wheel drive models will increase peak weights to 3.5 - 5.5 tonnes.
Unlike its predecessor, the Crafter is no longer built by Mercedes-Benz, alongside the Sprinter. Instead, for the first time in 20 years, the Crafter is built by Volkswagen. This means it benefits from its comprehensive range of tech, with the 2.0 TDI engine and gearbox sourced from the T6 Transporter.
Read more about the new Volkswagen Crafter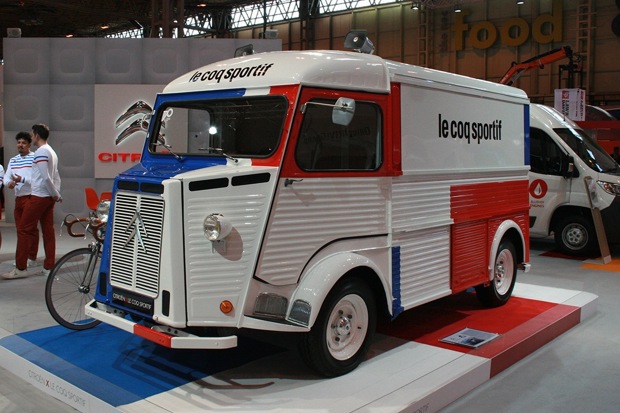 Classic Type H takes the plaudits
Citroen also wowed the crowds with this superb Type H van. The classic commercial marks its 70th anniversary in 2017 and Citroen marked the occasion by giving one a nut and bolt restoration and finishing it in a tricolour paint scheme. 
More than 470,000 H Vans were built, between 1947 - 1981, and this freshly restored example feature a mobile bicycle workshop in the back, with period work tools, wooden benches and bike racks. Powered by a 1.9-litre engine, with 52PS, it will be used as part of Citroen's promotional fleet for cycling events in France and the UK.