Review: Volkswagen Crafter (2017)
Rating:
Pleasant and very easy to drive, comfortable and refined with a top-class cab design, impressive array of safety tech available.
Not as efficient on paper as its big van rivals, cabin may seem a bit dated to some, much of the tech is optional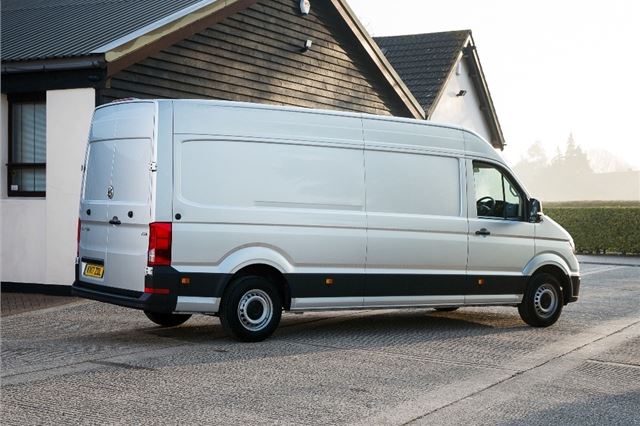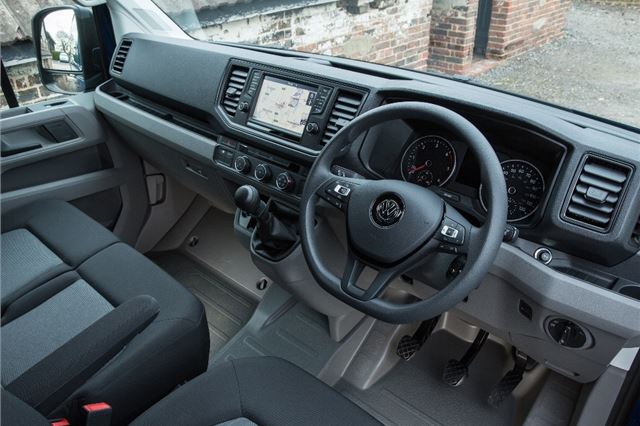 Volkswagen Crafter (2017): At A Glance
The Crafter is Volkswagen's largest and most versatile van. It's available with a wide choice of bodystyles - including panel van, tipper and dropside - while the largest versions will easily carry six Euro pallets and offer gross vehicle weights of 5.5 tonnes.
Admittedly, the VW Crafter isn't as established a name in the big van market as the Ford Transit or Mercedes-Benz Sprinter, but the Volkswagen has more than enough in its locker to hold its own against the class leaders.
The range spans 69 different versions, with a wide (if slightly confusing) choice of body lengths and heights. Front-wheel drive versions offer a cargo capacity of 18.4 cubic metres, spanning 3.0 - 4.0 tonnes, while rear-wheel drive versions cover gross vehicle weights of 3.5 - 5.5 tonnes. 
Unlike its predecessor, the Crafter is no longer built by Mercedes-Benz alongside the Sprinter. Instead, for the first time in 20 years, the Crafter is built by Volkswagen. This means it benefits from its comprehensive range of tech, with the 2.0 TDI engine and gearbox sourced from the T6 Transporter. You'll also find the Crafter rebadged as the MAN TGE. 
The Crafter's four-cylinder diesel engine is available in four versions, 102PS, 122PS, 140PS and 177PS, with the latter using a twin turbocharger. All pull strongly through the low gears, while engine and road noise levels are well suppressed at motorway speeds. However, with claimed economy in the region of 38mpg, the Volkswagen doesn't match its rivals for economy, with many large vans in this class surpassing the 40mpg barrier.
The Crafter does handle better than many other large vans, with smooth and light steering that makes it easy to navigate narrow streets or heavy traffic. The stress of inner-city driving can further be reduced with an automatic parking system - for hands free parallel parking. You can also fit a useful cross traffic system, which will warn you of approaching vehicles when you're reversing off a driveway or out of a space.
The Crafter's biggest selling points, however, lie in its big load carrying potential and its impressive handling. Indeed, for its size, it is surprisingly easy to use and its driving characteristics are more akin to a much smaller van. Some might be put off by its higher running costs, but the comfortable and high tech Crafter remains a worthy rival to the best large panel vans.
What does a Volkswagen Crafter (2017) cost?
Buy a used Volkswagen Crafter from £32,398
Volkswagen Crafter (2017): What's It Like Inside?
With 69 different versions, there is pretty much a Volkswagen Crafter to suit every job. The mainstay of the range is based on panel vans, which are available in three load lengths and heights. The Crafter can also be specified with single or double cabs, along with tipper or dropside bodystyles.
Rear-wheel drive versions offer the most when it comes to gross vehicle weight, spanning 3.5 to 5.5 tonnes, depending on which bodystyle you choose. Front-wheel drive versions will offer 3.0 to 4.0 tonnes, but provide more cargo space - 18.4 cubic metres - due to the fact that the load floor sits 100mm lower to the ground. As always, you'll need to check your driving licence to see the exact weight of the vehicle you're permitted to drive.
Getting into the load area is easy thanks to the large side sliding door that provides an opening of 1311mm. The rear doors are light to use and large, with an opening of 1552mm. An optional 270 degree opening mechanism for the doors can also be fitted, along with wooden sidewall and floor protection, which should prevent large loads from catching the doors or damaging the sides of the van.
Most VW Crafters will carry six Euro pallets and the cab can be remotely locked, which means you can load and unload without worrying about valuables being taken from the cab when the van is out of sight. Payloads range from 735kg to 2573kg, depending on spec. 
The interior of the Crafter isn't quite as upmarket as the Mercedes-Benz Sprinter, with more hard plastics, but overall it seems very solidly put together with excellent fit-and-finish. We've no doubt it'll put up with years of hard use from operators. 
Storage is good, too. doors have deep and wide pockets, which are large enough for a decent sized bag or laptop case. Overhead shelves are also fitted, along with cup holders and 12V power supplies for charging phones and laptops. Most versions get three seats as standard, with a foldable middle seat that doubles up as a laptop table. 
The dashboard layout is similar to the Transporter, with a minimalist design that feels well made, albeit appearing a touch dated in 2023. A touchscreen infotainment system is available with navigation, DAB radio and Bluetooth. Although it's clearly a version of the system used in older Volkswagens, that actually makes it much easier to use on the move than the brand's newer systems. 
Spending long durations behind the wheel is comfortable, with lots of padding in the driver's seats for the back and upper legs. An optional ErgoComfort seat, with shock absorber cushioning and 14 different settings for your back is also available. The only downside to the driving experience is a tendency to bounce, which can leave the driver feeling a little green when navigating twisty roads. 
What's the Volkswagen Crafter (2017) like to drive?
The Volkswagen Crafter is one of the better large vans to drive, owing to the fact that much of its running gear has been carried over from the T6 Transporter.
This means, behind the wheel at least, it feels like a much smaller van, with light steering, a compact turning circle and punchy engine performance. Even though this Crafter is now several years old it doesn't feel dated to drive, and is far superior to the ancient Fiat Ducato-based models. 
The raised cab provides a commanding view of the road and getting in and out is easy, thanks to the grab handles that are positioned on the front pillars. Once in, it doesn't take long to find a comfortable driving position and the driver's seat has height and lumbar adjustment. Amazingly you can even specify a massaging driver's seat on certain versions.
All VW Crafters get two-tier door mirrors as standard too, which makes it easy to spot passing traffic or cyclists by minimising blind spots at the sides. 
Our main tests involved the front-wheel drive versions of the Crafter, which is powered by a 2.0-litre TDI with 102PS, 122PS, 140PS or 177PS respectively, but all pull strongly through the gears, with a respective 300Nm, 340Nm and 410Nm flowing from 1400rpm. Our pick of the bunch is the 140PS unit, however, as it feels less strained when carrying a full load and (like all of the engines) will tow 3.5 tonnes when hooked up to a braked trailer.
Claimed economy for front-wheel drive versions is in the region of 38mpg, which is some way behind the best large vans that surpass 40mpg. However, while it might not be as efficient as its rivals, the Crafter is better to drive, with predictable handling and lots of front-end grip. Engine noise and road roar are also well suppressed, which makes the Volkswagen a pleasant place to while away the motorway miles. 
A six-speed manual gearbox is fitted as standard and, although notchy, provides a decent outlet for the four-cylinder engine's power. An eight-speed torque converter automatic is available as an option and it works extremely well with intelligent up and downshifts, making it one of the best automatic vans on the market. That said, the automatic is limited to front-wheel drive and four-wheel drive versions only, which means rear-wheel drive vans are limited to manual 'boxes. 
The Crafter can be fitted with an array of technology, which includes autonomous parking, cross traffic alert and adaptive cruise control. The cross traffic warning device is the most impressive, helping prevent accidents when reversing out of a road or driveway, by monitoring approaching vehicles and automatically applying the brakes if the system thinks the driver will pull out in front of oncoming traffic. The adaptive cruise control is also useful on the motorway by automatically adjusting the van's speed to maintain a safe distance from the vehicles ahead. The only downside is not all of this tech is standard fitment.