Driven: Mercedes-Benz V-Class Marco Polo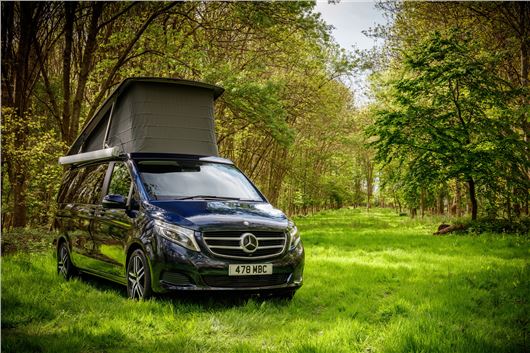 Published 26 May 2017
Thanks to its iconic lineage, today's Volkswagen California is far better recognised than its relatively miniscule sales merit; everybody seems to love a camper van. The Mercedes-Benz V-Class Marco Polo - as direct a competitor to the California as you could imagine - has no such advantage. 
To most people the Marco Polo name means virtually nothing here in the UK, but tell them you've bought a "Mercedes Camper" and they'll know instantly what this van is. On sale in Europe since 1999, this is the first time a Marco Polo has officially gone on sale in the UK. 
Despite not having any legendary progenitors to bolster its image, the Marco Polo does have one famous name in its favour (aside from the explorer on its tailgate): Westfalia. If you know your campers, you'll know that Westfalia made its name converting Volkswagen vans, but that changed when Mercedes-Benz bought the company in '99. 
What you get here then, basically, is a Mercedes-Benz California clone. There's really no other way of putting it – the dimensions and interior layout are virtually identical to the latest California's, and previous ones, for that matter. There are only so many ways you can fit this much into a cube this size.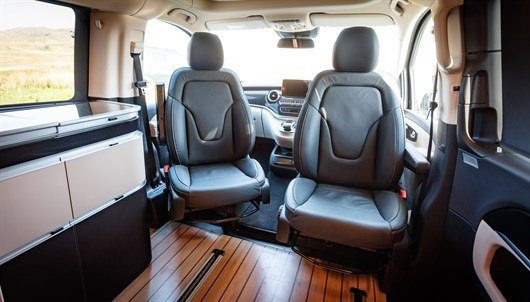 But it's all done exceptionally well here, from front to back. The framework may be the same as a California's, but the quality and ambience of the Marco Polo is truly car-like, especially from the driver's point of view – a place where the California feels like a slightly polished van. 
The pleasantries continue back in the kitchen-diner-bedroom-lounge area (calling it the 'Mercedes-Benz London flat' would be perfectly apt), where every Marco Polo comes with yacht-style wooden flooring, a full suite of kitchen cabinets (cleverly designed for maximum storage and neatness), a twin gas hob, a sink and a fridge. The rear bench adjusts electrically into a flat (and very comfortable) double bed, and two more can sleep in the raised roof, also electrically operated. 
All four occupants are extremely well catered for, relatively, because the beds are large and soft, the auxiliary heating works well, and there are privacy blinds all round. It also gets a camping table and chairs as standard, and although pricey, you can pay for a side awning (£700) and a water heater (£1350). You can also option a safety package that includes lane-keeping, automatic braking and adaptive cruise control, and, as per the passenger cars, Mercedes-Benz will hold you over a barrel for navigation: £1800. 
That's all on top of a basic £53,000 list price. That makes it a little more expensive than an equivalent California (an 'Ocean', that is – Volkswagen does a Beach version without the kitchen stuff, from £38,000), but actually, when you consider the spec differences they're roughly the same. The Marco Polo comes with an automatic gearbox as standard, for example.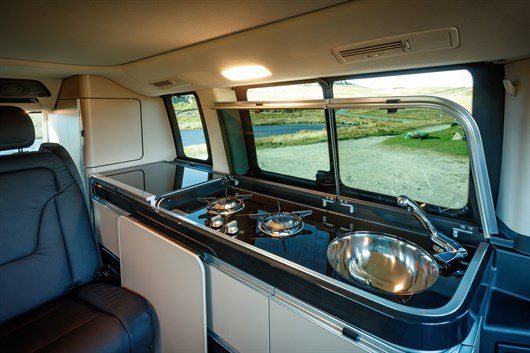 And while it's true that this is not a cheap way to make layby stopovers available to you, it's also about the same price as a fast executive saloon. In that context – you truly are buying a 'lifestyle' with one of these – it's not so bad. 
And whereas the California, for all its merit and its overarching coolness, doesn't quite feel like 50 grand's worth of van, the Marco Polo really does. It's lovely. The fit and finish of the interior is exquisite, and the car-like refinement makes a real difference. 
The only thing that really lets the side down is the engine. There's only one available, which is the tried-and-tested 190PS 2.1-litre diesel – "tried and tested" being a euphemism for "old". It's noisy, and while it has just about enough power (or torque, rather) for the Marco Polo, you never quite escape the feeling that it's operating right at the edge of its capability. In a saloon, 440Nm of torque is plenty, but here it's essentially dragging a small flat along.
But with that you do get a relatively respectable official fuel rating of 44.8mpg (169g/km CO2), which means that while your road tax liability is quite high (it qualifies for the premium rate), you'll be hitting economy in the mid-thirties, probably. This is our new favourite camper.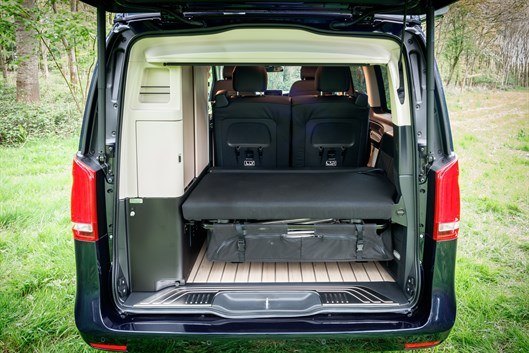 Essential stats 
Prices start from: £52,980, claimed economy: 44.8mpg, CO2 emissions: 169g/km, engine: 2143cc four-cylinder in-line turbodiesel, power output: 190PS, luggage capacity with rear seats in place: 670 litres, length: 5140mm, width: 1928mm, height: 1980mm
Comments
Author

Mark Nichol
Latest