Volkswagen vans get automatic braking as standard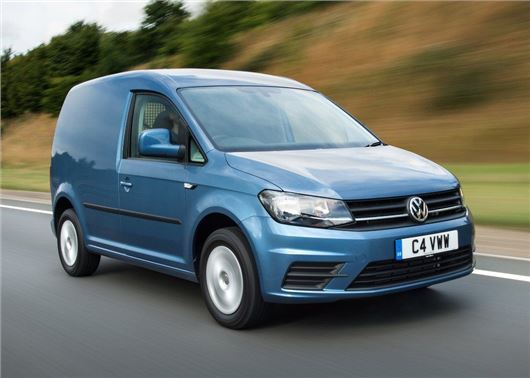 Published 31 May 2017
Volkswagen has confirmed that all of its new vans ordered after the 1 June will get autonomous emergency braking worth up to £270 as standard. The announcement applies to all commercial vehicles in the Volkswagen range – Caddy, Transporter and Crafter.
Described by safety specialists Thatcham as the 'most significant development in vehicle safety since the seat belt', autonomous emergency braking (AEB) systems are designed to warn the driver of potential accidents and automatically apply the brakes at low speeds to prevent collisions. 
Volkswagen claims that three quarters of collisions occur in city environments (under 25mph) and a 2015 study by Euro NCAP showed that autonomous braking resulted in a 38 per cent reduction in real-world rear-end crashes. Thatcham believes that AEB could prevent 100 fatalities and 120,000 casualties on Britain's roads over the next 10 years if it was fitted to all new cars and vans.
Volkswagen's AEB systems works by using radar that's built into the front of the van. The Front Assist part reacts in two stages: in the first the assistance system warns the driver with audible and visual signals of any vehicle in front driving slowly or suddenly braking and of the associated risk of collision. In parallel it gets the vehicle ready for emergency braking – by applying the brake pads and alerting the brake assistant.
If the driver fails to react to the warning, a one-off short jolt of the brake indicates in the second stage the looming danger of a collision. If the driver then hits the brakes, full braking power is immediately available. If the driver does not brake strongly enough, Front Assist increases the braking pressure to the required level, so that the vehicle comes to a stop before reaching the obstacle. 
The City Emergency Braking function will automatically stop the van if the driver fails to see or react to an obstacle under 18mph. 
Peter Shaw, chief executive at Thatcham Research, said: 'It is shocking that AEB, a proven lifesaving technology, has not been widely available to van owners or drivers until now. We call upon all vehicle manufacturers to follow Volkswagen's lead, and fit AEB as standard across all their light commercial vehicles as soon as possible.'
Comments
Author

Dan Powell
Latest