Volkswagen showcases future van tech with I.D Buzz Cargo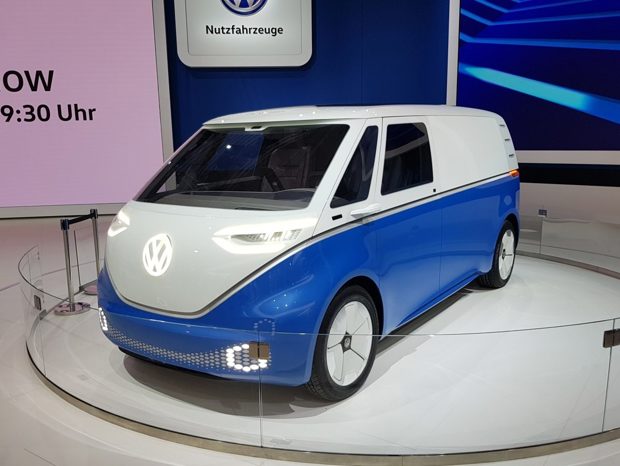 Volkswagen has given van drivers a glimpse of the future, with the European launch of the I.D Buzz Cargo. The all-electric van will cover up to 340 miles on a single charge and feature a digital cargo compartment and self-driving tech. The concept will pave the way for a production-ready I.D van in 2022.
The I.D Buzz Cargo was unveiled at the IAA Commercial Vehicle Show in Hannover, Germany, and previews the technology and design direction that the Transporter T7 might take; although Volkswagen has said the I.D commercial vehicle range will be sold alongside the Transporter and Caddy panel vans.
Offered with a choice of different battery sizes, the all-electric I.D Buzz Cargo will travel from 200 to 340 miles on a single charge. The van also gets a fully automated driving mode, with the steering wheel retracting into the dashboard to provide the driver with space to work or relax. The roof has a solar panel, which will top up the battery by 10 miles per day.
The cabin has a large removable touchscreen tablet that operates all of the van's functions, while the rear view mirror has become a thing of the past, with cameras projecting images onto additional small screens in the cab. Both the front and side doors open electrically at the push of a button.
The payload of the concept vehicle is 800kg; while the body is five metres long and nearly two metres wide. The all-wheel drive van has a turning circle of less than 10 metres, thanks to a rear axle steering system. The 150kW electric motor (200PS) is linked to lithium-ion batteries. Volkswagen hasn't released all of the technical details, but has said the smallest (48kW) battery can be fast charged to 80 per cent in 15 minutes, while the largest (111kW) takes 30 minutes.
The load area gets automated tech, with the electric load trays automatically alerting the van's hub if it runs low on stock. This would make the I.D Buzz Cargo useful for delivery firms, with managers able to monitor their fleet and have new stock ready for loading each time the van returns to base. Meanwhile the Pick-by-Light function illuminates the position on the shelf of any tool or parcel being searched for so that it can be found faster.
The I.D range will not be limited to commercial vehicles, with Volkswagen planning to launch a camper van and MPV people carrier. The first vans should reach showrooms by 2022.