New 2023 Ford Transit Custom: Price, specs and details of electric version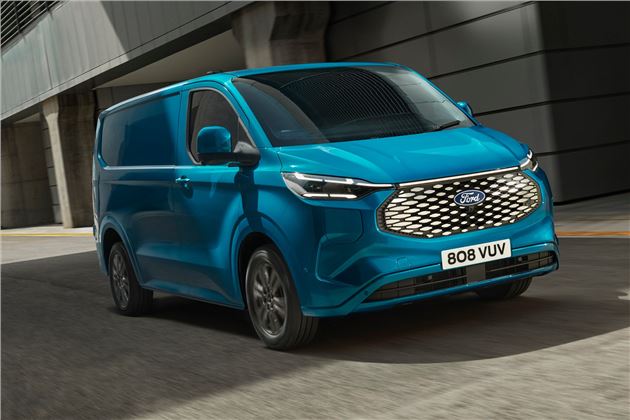 Ford unveils all new Transit Custom
One-tonne panel van will go on sale in 2023
First images of Ford's new van show off all-electric 

E-Transit Custom
Ford has released the first details and images of its new generation Transit Custom one-tonne van, first revealed in all-electric E-Transit Custom form. The new Ford van will rival the Citroen Dispatch, Vauxhall Vivaro and Volkswagen Transporter.  
It's the first time Ford has offered a battery-powered Transit Custom, but when it goes on sale in 2023 it is expected to be joined by both diesel and plug-in petrol hybrid versions. 
2023 Ford Transit Custom: price and release date
Official pricing for the Ford Transit Custom or E-Transit Custom has yet to be officially detailed. Expect the diesel and plug-in hybrid versions to command a slight premium over today's Transit Custom, which starts at just over £26,000 excluding VAT. 
The electric version will command a premium, and given the bigger E-Transit starts at £42,695 ex. VAT expect to see the E-Transit Custom start at around £38,000 before the £5,000 government grant. 
That would put it in direct competition with the similarly priced electric Stellantis one-tonne vans, which include the Vauxhall Vivaro-e, Citroen e-Dispatch and Peugeot e-Traveller.
Production of the Ford E-Transit Custom commences in the second half of 2023. It'll be built at the brand's main Transit hub for Europe in Kocaeli, Turkey, and is set to share production space with the next Volkswagen Transporter. The Transporter will be related in some ways as part of Ford and VW's new commercial vehicle partnership.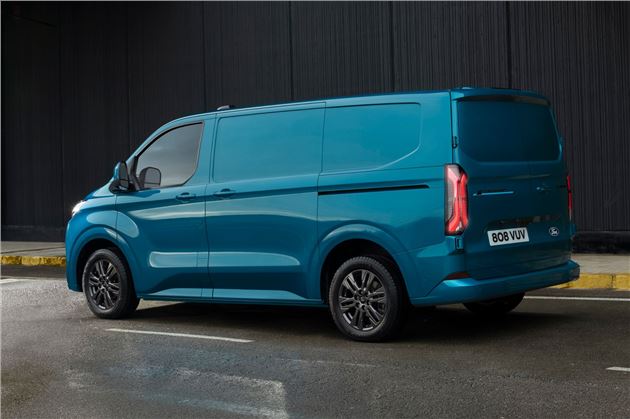 2023 Ford Transit Custom: styling and interior
The first images of Ford's new van reveal a more modern design for the E-Transit Custom, and bar some minor details it is expected the diesel-powered Transit Custom will feature a broadly similar look. A new wider grille is flanked by slim full-LED headlights, with bolder creases down the side and new shortened LED rear lights at the back. 
The E-Transit Custom is the first of four new all-electric Ford vans due to arrive by 2024, with electric Transit Courier, Tourneo Custom and Tourneo Courier versions incoming. Production of the E-Transit Custom will begin in the second half of 2023.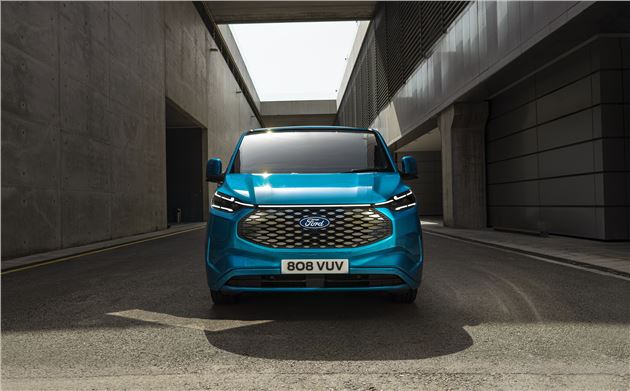 2023 Ford Transit Custom: engine and performance
Ford has yet to release details of the electric setup underneath, but it has confirmed a targeted maximum range of up to 236 miles. The E-Transit Custom will also offer DC rapid charging, as well as "full towing capability".
The E-Transit Custom joins the larger two-tonne E-Transit, another fully electric van that is already available to order. As the Transit Custom is the best-selling van in Europe and Ford's biggest-selling overall vehicle in the UK, it's said to be a "key component" in the brand's ambition to sell only zero emission models in Europe by 2035. 
New technology includes "sophisticated connectivity to enable always-on relationships", plus the ability to increase uptime and reduce operating costs. 
The E-Transit Custom will also act as a mobile generator thanks to Ford's ProPower Onboard tech, making it able to power tools, lights and other devices on the job via its battery. 
Details of the Ford E-Transit Custom's payload have yet to be released. Expect the new model to be offered in both standard and long-wheelbase forms, with double cab variants also likely to be offered. 
When will the new Ford Transit Custom be launched?
The new Ford Transit Custom will arrive in the UK in 2023. The new one-tonne panel van will be offered with diesel, electric or plug-in petrol power. 
Will there be a new Ford Transit Custom camper van in 2023?
A new Transit Custom van is on the way in 2023 and a new camper van verision called the Nugged is expected from Ford and Westfalia in late-2023 or early 2024. 
What is the range of the Ford E-Transit Custom?
According to Ford, the electric E-Transit Custom will have a maximum range of up to 236 miles.
Before you step into a showroom, read our in depth guide to all the new cars coming in the next 12 months and beyond – some are well worth the wait.
Read more
Ask HJ
Will the UK get a new SsangYong Musso model in 2022?
I am reliably informed that the 2021 SsangYong Musso pick-up will get an upgrade this year. Is this correct or will the UK miss out on the new model?
The SsangYong Musso is getting a mild update in mid-2022 with more power, a new front-end design and some updates to the dashboard layout. The updated Musso should reach showrooms in June or July.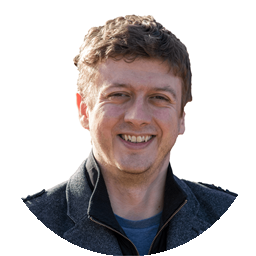 More Questions
Ask HJ
Can you recommend a used small van with good mpg?
We need a small van for driving to customers' homes to complete surveys/quotes across the west country, and occasionally moving goods between territories (so a car derived van won't work). We are looking for three to five years old, alright on a dual carriageway and, most importantly, great on fuel. What can you recommend?
Ford Transit Connect would be my recommendation. It is comfortable, well equipped as standard and easy to drive. According to Real MPG, all of its diesel engines return 40+mpg: https://vans.honestjohn.co.uk/realmpg/ford/transit-connect-2014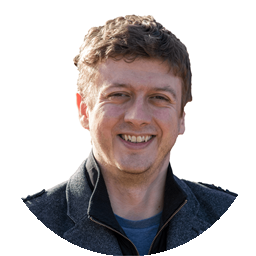 More Questions