2023 Mercedes-Benz EQT: Prices, specs and release date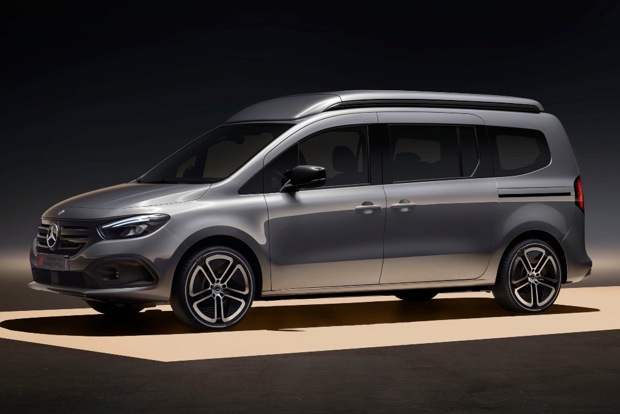 New Mercedes-Benz EQT is an electric premium van-based small MPV
Pure electric MPV will offer a 175-mile range plus seating for five
Prices will start from around £42,000 with UK release date expected in the first half of 2023
The new Mercedes-Benz EQT is a fully-electric premium van-derived small MPV that takes on rivals such as the Vauxhall Combo Life Electric, Citroen e-Berlingo and Peugeot e-Rifter. A Renault Kango E-Tech Electric version is also expected; the Mercedes-Benz EQT is closely related to the Renault EV MPV.
Arriving in 2023, the Mercedes-Benz EQT is the EV version of the Mercedes-Benz T-Class diesel van-based small MPV. The Mercedes-Benz EQT seats five people in launch guise but a long-wheelbase seven-seat version is expected later – as is an exclusive 2024 Mercedes-Benz EQT Marco Polo premium camper van. 
2023 Mercedes-Benz EQT prices and release date
Prices for the new Mercedes-Benz EQT have not yet been confirmed. However, the company revealed prices in Europe will start from around €49,000. In the UK, this equates to prices from around £42,000. A Vauxhall Combo Life Electric costs from around £34,000.
The new Mercedes-Benz EQT will be officially released soon, with configurators opening across Europe and here in the UK. Right-hand drive deliveries are expected to commence in the first half of 2023. The long-wheelbase new Mercedes-Benz EQT will arrive later in the year, with first deliveries expected in 2024 – along with the new Mercedes-Benz EQT Marco Polo camper van.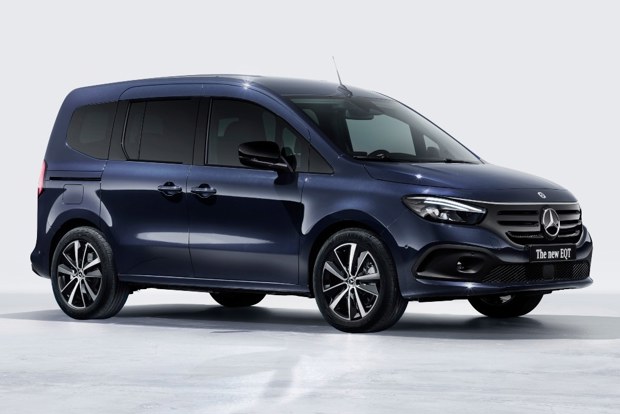 2023 Mercedes-Benz EQT styling, interior and technology
The new Mercedes-Benz EQT styling is closely related to the fresh-looking new T-Class. This disguises its upright, van-line profile with smooth surfaces and pronounced, SUV-like round wheelarches. It has a much more premium appearance than many van-derived small MPVs.
The Mercedes-Benz EQT differs to the T-Class mainly at the front. It features the specific Mercedes-EQ black panel radiator grille, that ties it in with other pure electric Mercedes-Benz models. This has an upscale appearance and specially designed cooling louvres that help make it more aerodynamic.
Those buying or leasing the new Mercedes-Benz EQT can choose from either 16-inch or 17-inch alloy wheels. There's also a selection of 10 paint colours, including six metallics. Full LED headlights are optional, but all models feature a distinctive LED daytime running light signature. 
The Mercedes-Benz is just under 4.5 metres long and 1,859mm wide. This makes it a practical and easy-to-drive car in town. The long-wheelbase version will be longer overall, but the same width – and boast a similar height of 1,819mm overall.
Inside, the new Mercedes-Benz EQT has a grown-up interior that delivers a commanding feel behind the wheel. The dashboard is tall and broad, with cool circular air vents and large analogue instruments either side of a full-colour 5.5-inch driver information display.
The Mercedes-Benz EQT has a 7.0-inch MBUX touchscreen infotainment display in the centre of the dash. This has standard Apple CarPlay and Android Auto, with the 'Hey Mercedes' voice assistant available as an optional extra. While elements of the interior, such as the climate control, are familiar from the Renault Kangoo, bespoke Mercedes-Benz buttons and switchgear give a more sophisticated feel. 
The new Mercedes-Benz EQT has a smart high-gloss dashboard panel which references the gloss black exterior grille. Seat upholstery is black Norwich fabric with grey honeycomb, while the centre armrest is made from Artico man-made leather – the same trim you get in an upscale Mercedes-Benz E-Class executive saloon. The company also trims the door arm rests and centre panels in Neotex, which has the appearance of soft-to-the-touch nubuck leather.
Dual sliding rear doors aid rear access into the new Mercedes-Benz EQT. The door openings are more than a metre tall, and over 600mm wide – and because they don't have to open out wide to allow access, they're a boon in tight parking spaces. They reveal a broad three-seat bench seat, with plentiful space for a trio of adults. Headroom is particularly generous; the Mercedes-Benz EQT even has space for overhead aircraft-style stowage bins.
The Mercedes-Benz EQT has a 551-litre boot with the rear seats in place. Fold the rear bench flat, and this expands to 1,979 litres – literally, van-like space. The company has worked hard to create a load sill just 561mm high, which makes it much easier to lug heavy loads in and out. Aiding this is mounting the car's electric battery beneath the floorpan.
Those who need a seven-seat version of the new Mercedes-Benz EQT should wait for the long-wheelbase version, which will be revealed later in 2023 ahead of being released in 2024.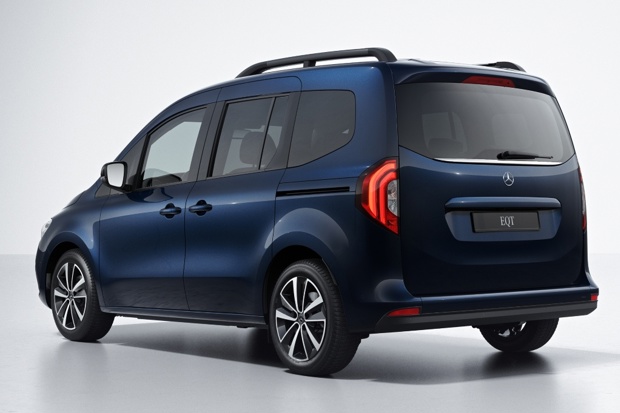 2023 Mercedes-Benz EQT batteries, performance and fuel economy
The new Mercedes-Benz EQT will be released with a single 45kWh electric battery option. It gives an overall electric driving range of up to 175 miles.
A useful feature is the standard fitment of 80kW DC rapid charging tech – it means that, at a public high-speed charger, the new Mercedes-Benz EQT will charge from 10 to 80 per cent in 38 minutes.
The CCS charge point of the new Mercedes-Benz EQT is located in the front grille – it's hidden behind the Mercedes star. The company also fits a standard 22kW AC onboard charger, meaning it can capitalise on faster three-phase charging where available. Access to the Mercedes me Charge network of public chargers, one of the largest networks in Europe, is also standard.
The Mercedes-Benz EQT uses a 122PS EV motor, which drives the front wheels. The company hasn't yet revealed performance figures, but says the top speed will be limited to 83mph, in the interests of maximising range.
Is the Mercedes-Benz EQT safe?
It may be a van-derived MPV but the Mercedes-Benz EQT still has high safety standards. The related Mercedes-Benz T-Class scored five stars in Euro NCAP testing, with the EQT offering plenty of active safety aids and a total of seven airbags including a centre airbag between driver and front passenger.
Can you tow a caravan with the Mercedes-Benz EQT?
The Mercedes-Benz EQT has an impressive braked towing capacity of 1,500kg. This qualifies it as a towing vehicle for hauling both caravans and boat trailers.
How child-friendly is the new Mercedes-Benz EQT?
Because it is so commodious, the new Mercedes-Benz EQT allows parents to fit three child seats across the rear bench seat. Sliding doors with tall openings makes it super-easy to clip in child seats (and errant toddlers).
Before you step into a showroom, read our in-depth guide to all the new cars coming in the next 12 months and beyond – some are well worth the wait.
Latest news
Ask HJ
How to choose a good used camper van?
I am selling my house and thinking of buying a larger camper van to live in while looking for a new place as my current camper is too tiny to do this. I am looking at various models based on a Fiat Ducato van. For instance, a 2017 2.3-litre 130bhp 16,000 miles. Any particular pros and cons of a five-year vehicle? Would a 2018/2019 model be more economical or reliable or is there little difference? I have looked into the MPG and it would be my only vehicle.
Avoid low-mileage Ducatos that spend half of the year parked up on a driveway doing nothing. These vehicles will be prone to costly problems with the injectors, EGR valves and DPF. Large diesel vans are designed to cover large mileages over seven or eight years before being scrapped. They are not designed for 2,000 or 3,000 miles a year and long periods in storage. So what will a good used Ducato camper van look like? It will be used regularly and the owner will have a comprehensive history file for the vehicle that shows an annual service (and oil change) every 12 months or 12,000 miles (whichever comes first). If the van has gas, pay for a habitation safety check. Listen for any knocks from the suspension when test-driving the van (this will point to wear). Also, check the tyres for uneven wear pointing to poor alignment of the suspension.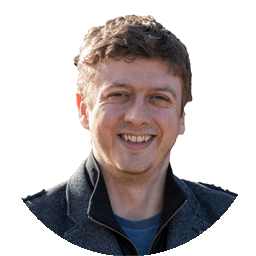 More Questions
Ask HJ
Volkswagen Transporter or Mercedes-Benz Vito?
Which do you think I should be looking to buy, a Mercedes-Benz Vito or Volkswagen Transporter? I will be keeping the vehicle for approx 10 years.
Both the Volkswagen Transporter and Mercedes-Benz Vito are excellent vans. However, if reliability is key, I'd recommend the Toyota Proace. The Proace is easy to drive, practical and backed by a warranty that will last up to 10-years/100,000 miles (so long as you service the van within the Toyota dealer network).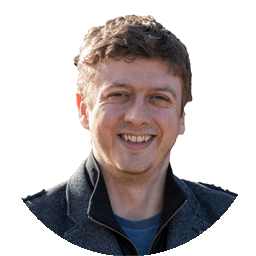 More Questions